Three-legged Luna the Belgian Malinois abandoned after heart-breaking surgery
Luna's injury meant she needed to have one of her legs amputated – and her owners walked away!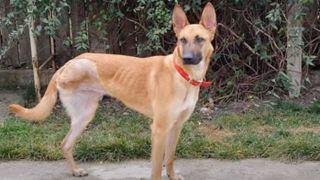 (Image credit: Howls Of a Dog)
After Luna badly injured her leg, vets soon realized they had only one choice – to amputate the limb.
As you can imagine, this was an agonizing decision but, with plenty of life left in the year-old Belgian Malinois, they knew that love and support would see her through.
Unfortunately, Luna's owners had a different idea. Rather than see her with three legs, they told the vet they wanted the pooch to be euthanized.
Thankfully, the vet refused to carry out their wishes yet, when the owners discovered what would happen, they decided to simply walk away and abandon their beautiful pet.
Step forward, then, the kind-hearted souls at Howl of A Dog rescue who took Luna under their wing with a view to finding her a caring, responsible adoptive family.
"Her disability did not break her beautiful spirit," they wrote in a post on their website. "She is full of life and joy, cuddly and playful and does what dogs know best: fully live in the present moment."
The shelter is based in Romania and staff have created a video which they have posted on YouTube, showing Luna at her energetic best.
They reveal her previous owners had bought Luna as a puppy and housed her in a kennel in the backyard of their home.
The video also shows her bouncing around, although her energy wears out quickly due to extra effort needed to compensate for the extra leg, the rescue adds.
Sadly, Luna is still looking for a new family but her plight has led to lots of support. One commenter repeated a heartbreaking line in the video: "She lost her leg, but she grew wings."
The commenter then adds: "This baby girl is flying high and smiling. We should all follow her example." Another said: "Who would abandon such a sweet dog?"
Given how strongly the highly-intelligent Belgian Malinois breed bonds with one person makes this story even more heart-breaking. The breed tends to flourish with experienced owners who can handle them confidently.
Get the best advice, tips and top tech for your beloved Pets
David Crookes has been a journalist for more than 20 years and he has written for a host of magazines, newspapers, websites and books including World of Animals, BBC Earth, Dogs and Canines, Gadget and The Independent. Born in England, he lives in a household with two cats but he's also keenly interested in the differences between the huge number of dog breeds — in fact, you can read many of his breed guides here on PetsRadar. With a lifelong passion for technology, too, he's always on the lookout for useful devices that will allow people to spend more time with their pets.