In pictures: Tompkins Square Halloween dog parade in New York City
Pooches and their owners dressed to impress for the Tompkins Square Halloween dog parade in New York City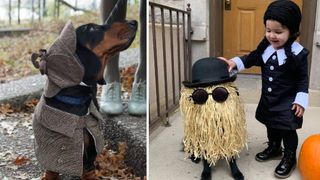 (Image credit: Facebook Tompkins Square Halloween dog parade / Twitter @missbreton)
With the spooky season fast approaching, what better way to celebrate than at the country's most famous Halloween dog parade? Hundreds of people gathered at the city's East River Park Amphitheater to both enjoy and take part in the Tompkins Square Halloween dog parade, which returned for its 31st year after the coronavirus pandemic forced it to be cancelled last year.
Forget the traditional ghost look and the go-to pumpkin outfit, these canines pulled out all the stops for this year's event.
Here's a round-up of some of the best costumes spotted at the parade:
Best in Show
This year's Best in Show was awarded to this pair, who entered the Heroes category. Their cool costumes were dedicated to the essential workers who continue to help get the public through this pandemic.
Cousin It and Wednesday Addams
HERE ARE ALL THE DOGS I SAW AT THE TOMPKINS SQUARE HALLOWEEN DOG PARADE (thread) Staring with my dog, Cousin It, and my daughter, Wednesday Addams pic.twitter.com/pG7Y8tbf6xOctober 23, 2021
You wouldn't even realise that there was a pooch in this fantastic Addams Family costume if it wasn't for those little legs sticking out of the bottom!
Alexandria Ocasio-Cortez
A familiar Met Gala look made an appearance at this year's Tompkins Square Halloween dog parade in the form of politician and activist Alexandria Ocasio-Cortez's "Tax the Rich" gown.
Sherlock Holmes
This adorable Dachshund donned the famous British detective's hat and cape before parading out in front of the judges.
Loveable lock-up
Don't be fooled by the face! This pooch may be giving the best puppy dog eyes around but check out what they're being charged with… approach if you dare!
Cruella de Vil
If she doesn't scare you, no evil thing will! This pet owner may not have actually attended the parade with a pair of Dalmatians but they're spotted outfits are still super cute.
Pokémon
This dynamic duo, dressed as Pokémon trainers Ash and Misty, certainly managed to catch themselves a cool pair of furry, four-legged Pokémon characters!
We'd love to see your pooches dressed in their spook-tacular Halloween costumes.
If you're looking for a spot of inspiration be sure to visit our guide to the best Halloween dog costumes for 2021 and be sure to tag @wearepetsradar over on social media.
Get the best advice, tips and top tech for your beloved Pets
Chloe is a freelance writer, editor, and proofreader, who has more than ten years' experience in creating animal-focussed content. From National Geographic to Animal Planet, Chloe's passion for creating fact-filled features all about wildlife and the environment is evident. But it's not just wild animals that Chloe's fascinated by. Having written more than 75 articles for PetsRadar - and having her very own four-legged friend by her side - it's no wonder that her love of dogs (and, of course, cats) has grown exponentially.
Her website, www.chloemaywrites.com, and social media pages - @ChloeMayWrites on Instagram, Facebook, and Twitter - showcase her knowledge through daily facts and trivia tidbits. For example, did you know that snails have teeth?!