"Undesirable" German Shepherd gets a second chance after being scheduled to be put to sleep
She was due to be put to sleep until a rescue group stepped in to find her a forever home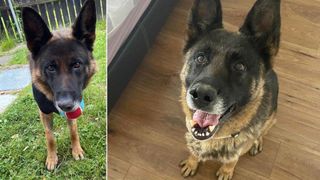 (Image credit: Friends of Rescue)
It's not been the best year for Abbie the German Shepherd. She's a beautiful eight-year-old girl, but when her owner became seriously ill she found herself placed in a dog pound, where it soon became apparent that she didn't get on with other dogs. And despite being in fine health, she was quickly deemed "undesirable" and scheduled to be put to sleep.
However that's when Friends of Rescue stepped in. It's a foster-based rescue service that aims to find homes for unwanted and stray cats and dogs in the North West of Northern Ireland, and having decided that Abbie's death sentence was ridiculous, it took her on and put her into a foster home for assessment.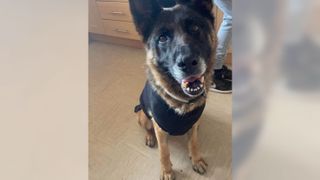 While German Shepherds have a bit of a reputation for being aggressive, as you'll learn from our German Shepherd dog breed profile, they're loyal, intelligent and loving, just as long as they're properly trained and given all the exercise and stimulation that strong working dogs need.
And while Abbie definitely has a problem with other dogs, Friends of Rescue found that she's far from the stereotypical aggressive German Shepherd.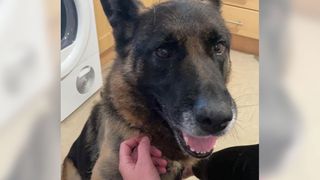 Having settled into her foster home, Abbie has proven herself to be a happy, friendly and smart dog who loves humans and kisses, and now she's in search of a forever home.
If you're wondering, "Are German Shepherds good family dogs?", the answer's generally yes, and in Abbie's case, while she doesn't like dogs (or indeed cats), she's suitable to live with children aged 12 and upwards who are dog-savvy.
Friends of Rescue notes that while she's actually quite a gentle dog, she's also a big and friendly girl who loves to jump up for cuddles, so she wouldn't be the best fit around small children.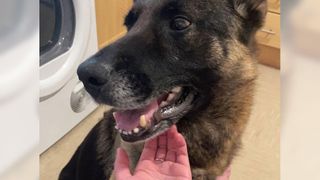 Despite her age, she's still very agile, so she'll need a secure garden to keep her safe from escaping, and because, as Friends of Rescue's Danielle Magee explained to Belfast Live, she's never been trained or socialized well, she's be best with a family with plenty of German Shepherd experience.
Want to know more about her? You can find all Abbie's details at Friends of Rescue, and get in touch if you're able to offer her a home.
Get the best advice, tips and top tech for your beloved Pets
Jim is a writer, performer and cat-wrangler based in Bath, who last year adopted a pair of sibling rescue cats who turned out to be effectively feral, and has spent a lot of time since then trying to get them accustomed to people (some success) and each other (ongoing project).