'Unicorn dog' who lost an ear at birth takes Internet by storm
Rae's single ear has grown on top of her head and her playful nature has gathered a large number of followers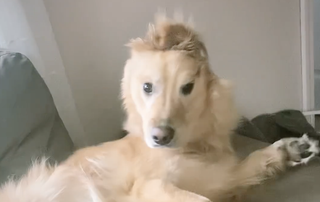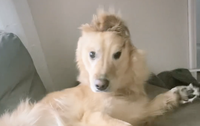 (Image credit: Instagram/@goldenunicornrae)
If you're looking to bring a little ray of sunshine to your day, then it's time to check out an adorable pup called Rae.
Although the Golden Retriever was involved in an unfortunate accident when she was born, leaving her with just a single ear, Rae has overcome such adversity to become an online star.
It's largely thanks to her right ear having migrated to the top of her head to become a distinguishing feature – hence why people refer to her as unicorn dog.
Indeed, this has caused the Internet to fall head over heels in love with her and, according to Rae's owner, Brianna Aardema, the young dog is certainly in good spirits.
Following the accident, Rae (which is "ear" backwards) ended up at the Family Friends Veterinary Hospital in Grand Rapids, Michigan where hospital staff feared she wouldn't make it past a couple of years.
After a week, however, she was taken in by Brianna, the hospital's receptionist, when her previous owners felt they couldn't give round-the-clock care which included routine bottle feedings.
Since then, more than 214,000 people alone are following Rae's Instagram account, goldenunicornrae, with millions more having seen her on TikTok.
Thankfully the single ear doesn't cause pain and she's still able to hear.
"The minute I saw her, I knew I wanted to raise her and be there for her even though I knew the road to recovery wouldn't always be easy," Aardema told Good Morning America.
Get the best advice, tips and top tech for your beloved Pets
David Crookes has been a journalist for more than 20 years and he has written for a host of magazines, newspapers, websites and books including World of Animals, BBC Earth, Dogs and Canines, Gadget and The Independent. Born in England, he lives in a household with two cats but he's also keenly interested in the differences between the huge number of dog breeds — in fact, you can read many of his breed guides here on PetsRadar. With a lifelong passion for technology, too, he's always on the lookout for useful devices that will allow people to spend more time with their pets.