US Army tests Augmented Reality goggles for combat dogs
Military dogs have been trialing augmented reality (AR) goggles, designed to let them receive orders from afar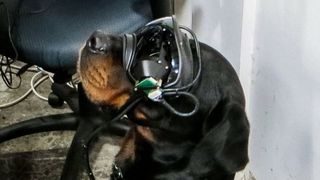 (Image credit: Command Sight / US Army)
These combat dogs are used to scout ahead for bombs and other dangers, but need instructions from their handlers.
That's where this clever tech, created by Command Sight and managed by the US Army Research Laboratory, comes in. Normally, soldiers direct their animals with hand signals or using laser pointers, which means they need to be nearby.
But with the AR goggles, the dogs can see a visual indicator that they can be trained to follow, directing them to the right spot. The handler, meanwhile, can see what the dog sees through a remote video feed.
"AR will be used to provide dogs with commands and cues; it's not for the dog to interact with it like a human does," said Dr Stephen Lee, a senior scientist with the Army Research Laboratory (ARL).
Augmented reality works differently for dogs than for humans, Dr Lee explained, adding: "The military working dog community is very excited about the potential of this technology."
The goggles themselves are not new – military dogs are already used to wearing them as protection in bad conditions or for aerial drops, but the augmented reality system is the latest development.
The project is still in its "beginning research stages" said Command Sight's founder Dr AJ Peper, but early results were "extremely promising". A lot of the research had been done with his own dog – Mater, a Rottweiler (pictured).
Get the best advice, tips and top tech for your beloved Pets