Vegan dog food trend continues to grow in 2022
Eco-conscious pet owners are letting their pets take part in Veganuary - and beyond - by investing in vegan dog food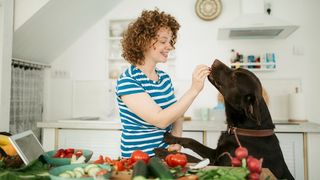 (Image credit: Getty )
When you think of the modern day, eco-friendly pet owner, the first thing that may come to mind is Vegan dog food.
Now, you might find yourself thinking: can a dog be vegan? Well, these eco-conscious pet owners certainly believe so!
Trying to ensure you provide your pooch with the best dog food can be a little overwhelming at first - Is dry dog food best? Meat-based or meat-free? What are the benefits of raw dog food?
Consumer concerns for the environment and our ever-changing health, paired with the growing number of pet owners as a result of the pandemic, has revealed the demand for a canine's diet to match that of their owners.
And, as it turns out, people are willing to pay that little bit extra, too - although there's always time to make your own DIY vegan dog treats!
This trend has encouraged the launch of a variety of pet products - from plant-based dog food to tasty pet treats that are made from insects.
It's thought that the links between how much meat is consumed and the levels of damage being done to the environment, as well as concerns for their pup's health as a result of consuming processed foods, is similar to those shared by the human lifestyle of flexitarians - people who consume a largely plant-based diet but occasionally eat meat and dairy.
This has led to a new term being coined - "flexi-dogian" - describing canine's that are fed a largely vegetarian or vegan diet with the odd meat treat thrown in.
"We're going through a climate crisis. It's going to be unacceptable for dogs to eat meat for every meal in the future", explained the co-founder of vegan pet food start-up, Judy Nadel.
Researchers at Edinburgh University, Scotland, estimated that agricultural land measuring twice the size of the UK is used every year to create dry pet food for cats and dogs around the world.
They also discovered that half of dry pet food is made using crops, such as rice and corn, combined with meat products.
But it's not just the smaller companies that are buying into this movement.
Mars, the owner of popular pet food brands Royal Canin, Pedigree, and Whiskas, launched a "plant-first" food in the US this year, containing 60% non-GMO plants and supplemented with animal ingredients.
Get the best advice, tips and top tech for your beloved Pets
Chloe is a freelance writer, editor, and proofreader, who has more than ten years' experience in creating animal-focussed content. From National Geographic to Animal Planet, Chloe's passion for creating fact-filled features all about wildlife and the environment is evident. But it's not just wild animals that Chloe's fascinated by. Having written more than 75 articles for PetsRadar - and having her very own four-legged friend by her side - it's no wonder that her love of dogs (and, of course, cats) has grown exponentially.
Her website, www.chloemaywrites.com, and social media pages - @ChloeMayWrites on Instagram, Facebook, and Twitter - showcase her knowledge through daily facts and trivia tidbits. For example, did you know that snails have teeth?!