Want the perfect pooch when guests come over? Trainer shares four easy tips to set up success with visitors
Is your dog a grade A student on his own but unreliable in company? Follow these simple tips for perfect party manners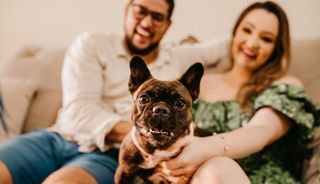 (Image credit: Unsplash)
Some dogs are just party people. They love spending time alone with you, but they also love being the center of attention when guests drop by. This can lead to bad manners such as jumping up, barking and racing around, even when distracted by the best puppy toys. Other dogs can be nervous around guests and prefer to keep out of the way.
According to expert trainer Erika Gonzalez, setting your dog up for success needs a bit of forward planning. In content posted on Instagram, certified trainer Gonzalez shares four easy tips to make visiting a success.
According to Gonzalez, who specializes in positive reinforcement training, setting up your pooch for success is a matter of planning. Here's her four non-negotiables when it comes to preparing your pup for guests arriving...
Tip 1: Exercise: Take your dog out before your guests get there. If you've got a lot to do at home for the visit, taking your pooch for a run can be the last thing you want to do but it will pay dividends. Having guests over can be an exciting or stressful time for your dog depending on their personality, and they need to burn off some energy first.
Tip 2: Lay down rules. Let your guests know in advance what the house rules are. Ever heard the saying 'You need to train your guests, not just your dog'?! This is especially important if your dog is nervous around other people. Decide in advance what your guests need to know and make up a list. For example: Please ignore dogs on arrival, they will come to you when they're happy; please don't feed dogs table scraps; dogs aren't allowed on the furniture. Circulate these rules beforehand by text message, or put a note on your door. Dogs will be much happier and more relaxed if they know the normal rules still apply!
Tip 3: Enrichment. You may be putting lots of effort into planning an evening with your guests, so don't leave your dog out. Plan something to keep him occupied while your chatting with friends – check out our guide to the best dog toys and dog enrichment for ideas.
Tip 4: Management. If your dog is nervous and prefers his own space or has a tendency to get a bit above himself, then make a management plan. Have a leash handy so you can hold onto him, or use a crate or gate to create a quiet area where he can decompress.
With a little forward planning, both Fido and your family should be able to enjoy themselves on a visit. If you still need a little help, we recommend contacting a registered professional dog trainer for advice.
For more tips on how to soothe a nervous pooch, why not check out our guide on how to calm down a dog.


Get the best advice, tips and top tech for your beloved Pets
Sara is a freelance journalist and copywriter of many years' experience with a lifelong love of animals. She's written for a range of magazines and websites on subjects varying from pet care to travel. A horse rider since the age of five, she's currently a full time pet slave to horse Blue and gorgeous, goofy English Springer Spaniel Olly. Adorable Olly has a huge sense of adventure and no sense of direction, keeping Sara on her toes.