Want to improve your dog's leash walking skills? Try this trainer's clever tip for small dogs
Unlock a trainer's nifty tip to improve your dog's walking skills, specially designed for small dogs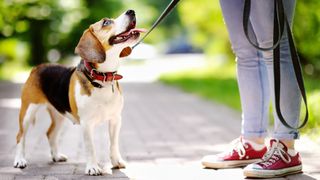 (Image credit: Getty Images)
Walking your four legged friend on a leash is an essential part of being a dog owner, but sometimes it can turn into a tug of war or a zigzag dance. And if you're working with a little pooch, you might find the challenge even greater.
If you own one of the most popular small dog breeds then you'll know that their short stature and proximity to the ground can make learning how to stop a dog pulling on a leash a bit tricky.
Enter Certified Canine Behavior Consultant, Jenna Pellerito, also known as The Future Is Force Free on Instagram. Pellerito is a professional dog trainer who has shared a nifty trick for improving your dog's leash walking skills, particularly beneficial for smaller dogs.

Her trick involves using a spatula and some soft cheese or anything spreadable that your dog enjoys eating.
Before you grab these items, you can watch Pellerito demonstrate the leash training trick with a little pup below. You can also read up on how it's supposed to work underneath the video…
Pellerito understands the struggles of maintaining good leash walking behavior, especially with dogs that are close to the ground and more likely to make a common leash walking mistake.
Her hack involves a simple kitchen tool and a delicious incentive. The trick is to use a cooking spatula or a wooden spoon and smear a tempting treat, like soft cheese, onto it. Holding the spatula just above the dog's head, Pellerito encourages the dog to follow the treat while maintaining proper walking form.
This clever method teaches the dog to walk neatly beside the owner, creating a positive association with walking alongside rather than pulling or meandering.
Pellerito elaborates on her Instagram post, "Reinforcing your dog in the desired position is a key step when working to improve leash walking behavior! Though, this can be challenging when your dog's mouth is only 1ft off the ground."
She notes, "A cooking spatula or wooden spoon works wonders. This way, we can focus on reinforcing the desired behaviors and positions without having the added step of bending so far down to the ground."
The beauty of this technique lies in its simplicity. By using a tool that positions the treat at a higher level, you're able to focus on rewarding your dog without straining your posture. This not only makes training more efficient for you but also helps your dog associate good leash behavior with positive rewards.
Plus, the variety of treat options – from spray cheese to peanut butter, canned food, yogurt, or cream cheese – allows you to cater to your pup's individual taste preferences.
If you begrudge buying endless supplies of the best dog treats, using products that you consume yourself and are dog friendly of course, also makes it a more cost effective way to reward your dog during training.
Get the best advice, tips and top tech for your beloved Pets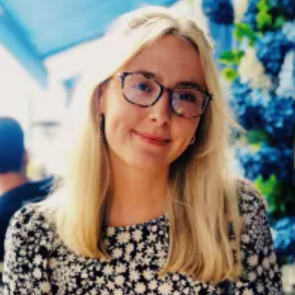 Jessica is Staff Writer at PetsRadar who joined the team after spending over a year writing for the brand's sister site, Fit&Well. She is an avid dog spotter whilst out for her weekly runs and brings to the team a passion for creating informative and helpful digital content, which she has been putting to practice since graduating with a degree in Magazine Journalism in 2021.