Watch: Shelter dog melts hearts online with video of much-deserved vacation
Shelter dog named 'Meatball' has the most heartwarming reaction to his cottage vacation!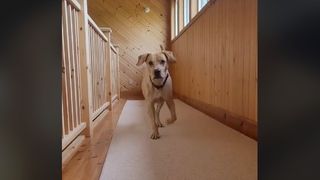 (Image credit: TikTok)
Rescue dog Meatball has warmed the hearts of nearly a million TikTok users worldwide in this tear-jerking video clip posted by Stephanie Munroe to her channel @stephaniemunroe7.
Clearly taken with Meatball, who currently resides in Dog Tales Rescue and Sanctuary in Ontario (Canada), Stephanie decides to treat him to a much-deserved countryside break away from shelter life. It seems Meatball is very pleased about it!
Stephanie opens the video by stating that 'the shelter is a hard place for Meatball, so I took him to a cottage to give him a break.' During the beautiful clip, we see adorable Meatball enthusiastically getting stuck into some of his new toys, napping peacefully amongst blankets, and bounding through woodland, looking very comfortable in his new surroundings.
And it was a much-needed break, too, as Stephanie says 'I got to see a whole other side of him, a side of him I knew was there.' But it's a side not often seen when dogs are living in shelters. And this good boy doesn't go short on cuddles during the break either, as the video shows Meatball leisurely sprawled out on his back, ready to receive plenty of belly rubs. We would place bets that his rapidly wagging tail isn't lying!
Meatball is looking for his forever home and, according to Stephanie, he's up for many adventures with his newfound family– as we can see when this talented boy perfects his paddleboarding skills and splashes around in a lake with best pal Stephanie.
"He is so precious and so perfect!" commented user Teresa K-z. "Please keep us updated on Meatball. I hope he finds his forever home!" user Connie Watt Arruda adds.
We hope it won't be too long before Meatball is scooped up to a new home, either. Plenty of users are expressing interest in adopting this beautiful boy. Stephanie also promises to post a video soon on how to adopt Meatball soon.
Get the best advice, tips and top tech for your beloved Pets