Your dog uses its tongue to show stress, here's what to look out for
This lesson will teach you the meaning behind a nose lick or tongue flick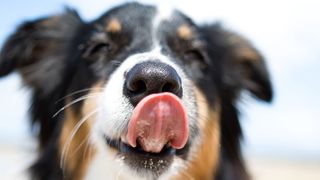 (Image credit: Getty)
Figuring out what dogs are trying to communicate to us mere humans is no easy task but a canine behavior specialist reckons she's got it licked!
Taking to Instagram to divulge her findings, Dani Stephens-Lewis says you simply need to pay special attention to a dog's tongue and two particular moves. "The nose lick or tongue flick," she writes, "A really important communication signal to learn."
Posting under the name agenticpaws, Dr Stephens-Lewis has shared a super short demonstration video which first shows her dog, Mr Bungle, looking towards the camera and licking his nose before lying down. This, the specialist says, is a signal that a pup might need space.
Moments later, the Saint Bernard is videoed being fed the best dog treats. After eating, he again licks his nose and Dr Stephens-Lewis says it's a sign that a dog may wish to end a training session. In these cases, the dog is negotiating a difficult situation and using the lick as a calming signal.
In a third situation, the dog is being given attention by a tradesman – a stranger, it would seem. Concerned about an interaction, again, there is a flick of the tongue and a nose lick, which the specialist says is communicating stress.
Watch Mr Bungle demonstrate tongue communication
"These flicks can be an indication that your dog is anxious, concerned, stressed or cautious about a situation," Dr Stephens Lewis writes. "Often, these can occur when a dog feels some violation of space, requesting others to back off."
The video seems to have been well-received, and it's an important watch for anyone concerned about anxiety in dogs, for example.
Dr Stephens-Lewis, who has a PhD in Psychology, is in the final stage of a Level 5 Canine Behaviorist course in the UK and she is aiming to become a Clinical Animal Behaviorist.
"While the science behind animal behavior is still growing, I draw a lot of my knowledge and understanding from human psychology," she writes.
Get the best advice, tips and top tech for your beloved Pets
David Crookes has been a journalist for more than 20 years and he has written for a host of magazines, newspapers, websites and books including World of Animals, BBC Earth, Dogs and Canines, Gadget and The Independent. Born in England, he lives in a household with two cats but he's also keenly interested in the differences between the huge number of dog breeds — in fact, you can read many of his breed guides here on PetsRadar. With a lifelong passion for technology, too, he's always on the lookout for useful devices that will allow people to spend more time with their pets.