YouTuber builds a 'cat elevator' to help senior pet sunbathe
One YouTuber went above and beyond the call of duty to build a cat elevator for his senior pet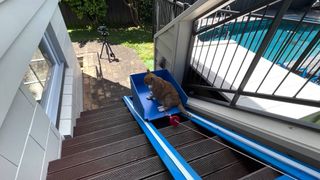 (Image credit: YouTube / Liam Thompson)
We all want to make our senior pets' lives a little easier, whether it's spending hours finding the perfect cat bed or lifting them in and out of the car. One YouTuber, though, has taken things to a whole new level by building a cat elevator to help his senior furbaby sunbathe!
The name 'Frodo' is associated with unusual and challenging journeys – but where Frodo the Hobbit went in search of the One Ring, Frodo the cat just wanted to reach the swimming pool.
Frodo's owner, 21-year-old YouTuber Liam Thompson, happily set off on his own quest to help his beloved senior pet.
All the 20-year-old ginger puss wanted was to stretch out on the decking and soak up some serious sun – but a set of wooden steps lay between him and cat nirvana. Frodo was just as determined as his fictional namesake though and hobbled down to pool every day, despite his 'ancientness'.
New-Zealand based cat-dad Liam – whose creative videos and engaging manner have won him over 1.8m subscribers to his YouTube channel – set out to solve the problem: by building a cat elevator!
The video, which has been viewed over 735,000 times in five days, shows former engineering student Liam designing and making his invention from sliding door rails, hardboard and an electric hoist.
Fortunately, Frodo isn't invited to test the prototype and the honor goes to a stuffed toy cat named Jimbo. The footage shows the device on the first run being stopped too quickly and the patient Jimmy being thrown out over the front, causing Liam to exclaim, "I'm so sorry, Jimbo!" The second run goes perfectly, as a delighted Liam shouts, "You have got to be kidding me!"
The test run results in more safety precautions including an improved elevator car.
Finally, the great moment comes and Frodo – looking calm and untroubled – lounges back at his ease and enjoys his first ride down as Liam exclaims, "Whaddya think buddy, was that fun?"
As Frodo moves into position for a sunbathe, Liam jokingly says, "Well, if you ask me this is the greatest day of my life!" before accidentally tripping up the steps himself – maybe someone should build him an elevator?
Liam ends the video by saying he's 'absolutely fizzing' over the success of his new invention - and we hope Frodo is too!
Get the best advice, tips and top tech for your beloved Pets
Sara is a freelance journalist and copywriter of many years' experience with a lifelong love of animals. She's written for a range of magazines and websites on subjects varying from pet care to travel. A horse rider since the age of five, she's currently a full time pet slave to horse Blue and gorgeous, goofy English Springer Spaniel Olly. Adorable Olly has a huge sense of adventure and no sense of direction, keeping Sara on her toes.