6 DIY cat wall shelves and perches to build for your feline friend
From petite to palatial, these cat wall shelves come in all shapes and sizes with a design to suit every home and kitty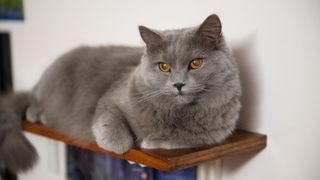 (Image credit: Getty Images)
Looking for some inspiration to help you build and mount a series of cat wall shelves in your home? You've come to the right place.
There's nothing our feline friends love more than a high perch from which to survey their kingdom and if you work a few clever cat toys into your design, you can offer them a place to both rest and play.
If your kitty has a tendency to jump up on your dining room table, curl up in your bookshelf or sit on the top of your couch, rest assured they're not deliberately trying to be annoying. Our feline friends are hardwired to seek out elevated resting spots because in the wild it's how they protect themselves from predators, so scaling your furniture and surveying the goings on in your home from a height is their way of feeling safe and secure.
Unless you already have one of the best cat trees, building a set of cat wall shelves is a great way of tapping into your fur baby's natural instincts by giving them a designated space to climb, rest and play.
From elaborate labors of love that take up a full wall to inexpensive and compact options that are ideal for apartment dwellers, you'll find the call wall shelves below have something for everyone.
1. DIY wall mounted cat shelves
If you're pretty good at working out your own measurements for things and don't need too much detailed instruction, this video by The Saunders Pack (opens in new tab) provides easy to follow visuals that walk you through the basic process of creating your own set of wall mounted cat shelves.
Cut the boards to different sizes to add some variety or attach some toys to make these shelves even more enticing.
2. Climbing wall for cats
These cat shelves courtesy of Vivianne Yi Wei (opens in new tab) are absolutely ingenious, not just because there are so many different types of shelves and angles involved in the design but also because they're a great way of making the most of small spaces.
There's also the option of attaching a large scratching post to one of the shelves, so you can kill two birds with one stone. This one will probably take you a bit of time, but the instructions are easy to follow and the finished product makes it well worth the labor of love.
3. DIY hammock shelves for cats
We have a feeling this one will prove pretty popular with the feline in your life thanks to its hammock design and cloth covers that will leave your kitty feeling like they're floating on a cloud.
The instructions for this purrfect project by Aaron Fixes Stuff (opens in new tab) are nice and detailed and the materials are minimal and inexpensive, so these shelves are ideal if you're on a budget and looking for a design that will blend seamlessly into your home
4. Cat ledge
If you're like us and you're not hugely confident when it comes to DIY, you'll love this tutorial from Pet Meadow (opens in new tab) that's been targeted at beginners.
Alongside the video there is a full set of detailed step-by-step instructions as well as a material list, so you'll have everything you need to create and mount this shelf for your feline friend. The ledge is supported by a carpeted scratching post, so this design is perfect if you're looking to incorporate two pieces of cat kit into one.
5. IKEA budget cat wall shelves
Another wonderfully affordable option is to use some cheap and cheerful materials from IKEA to construct your wall shelves. This idea from Liyana DIY (opens in new tab) won't take you long to mount and your cats will love not just sleeping on them but running up and down them as well.
6. Martha Stewart's cat window perch
Not all of us want a whole series of shelves lining our walls, so if you're in that basket and would prefer to opt for something a little simpler, then this cat window perch courtesy of Martha Stewart (opens in new tab) is a real winner.
It still provides your feline friend with a place to perch and gives them a decent vantage point from which to survey their kingdom, but it's more subtle and less intrusive than a full set of shelves, so you'll find it blends into your home in a much more seamless way.
Kathryn is a freelance writer who has spent the past two years dividing her writing time between her two great loves - pets and health and wellness. When she's not busy crafting the perfect sentence for her features, buying guides and news pieces, she can be found hanging out with one very mischievous Cocker Spaniel, drinking copious amounts of Jasmine tea and attempting to set numerous world records for the longest ever FaceTime calls with her family back home in NZ.
Thank you for signing up to Petsradar. You will receive a verification email shortly.
There was a problem. Please refresh the page and try again.