10 inventive dog toy storage ideas
From wine racks to shoe cubbies, these clever dog toy storage ideas will help you keep your pet's playthings organized and your home clutter-free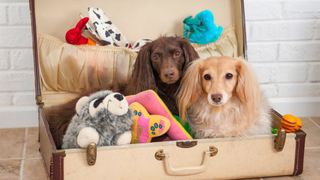 (Image credit: Getty Images)
Having a few dog toy storage ideas up your sleeve is a great plan for those moments when you feel like your home has suddenly become overrun by all your pooch's playthings.
Given how much you love your furry friend, we bet you've spoiled them plenty by investing in some of the best dog toys. Which is a great thing by the way, because just like us humans, our pets can suffer from boredom, stress, and anxiety when they don't have enough to do, and that can lead to all sorts of destructive behaviors.
But we also have a hunch that you have times when you survey your home in horror and wonder how on earth every single square inch of space has ended up being dominated by all of your beloved dog's belongings!
If you're wanting to tear your hair out right now with all the clutter, then trust us, you've come to the right place because we've found some ingenious dog toy storage ideas that are going to have your home looking like something Mary Poppins would be proud of in no time. Promise!
1. Canvas storage bin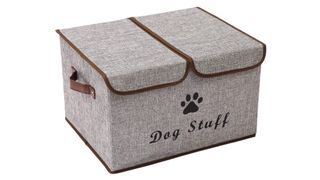 Stylish and functional, canvas storage bins blend beautifully into any home decor and the fabric can be easily cleaned with a damp cloth, making them a great low-maintenance choice. We particularly love this Morezi storage box which has convenient side handles, an easy-to-fasten lid, and a collapsible design that makes transporting it a breeze.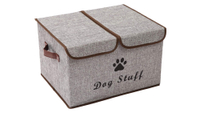 Morezi Large Dog Toy Storage Box
Measuring 17" Lx 12" Wx 10" H, this canvas storage box is perfect for holding dry dog treats, leashes, collars, toys, blankets, outfits, grooming supplies and more.
2. Wine racks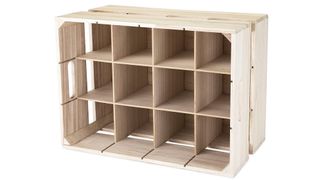 Now, we know what you might be thinking, you'd quite like to keep your wine racks for actual wine, right? Well, don't worry, you can, but it might also be a good idea to invest in an extra one for your dog's toys as the humble wine rack performs a great double duty here. Choose a cubby style with a sealed back to keep everything secure.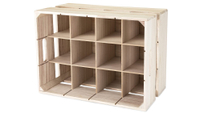 True Store Wine Rack
With a timeless farmhouse chic style, this wine rack is made from unfinished paulownia wood and looks great as it is, stained, or painted. It has 12 cubbies, so it's perfect for holding all your dog's playthings.

3. Storage ottoman or footstool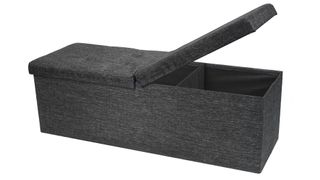 Not only can the right storage ottoman or footstool add a touch of class to your living space, but it's also a great place to store all those extra toys. There are tons of chic options to choose from, although we're particularly loving the budget-friendly Otto & Ben ottoman-style toy box chest that comes in a wide range of colors.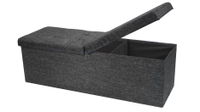 Otto & Ben Folding Toy Box Chest
This multi-purpose ottoman is a bench, storage option and footrest all in one. Perfect for discreetly storing your dog's toys and accessories in style.
4. Crates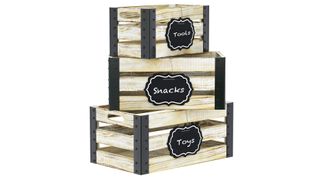 Wooden storage crates have tons of rustic charm and they're ideal for keeping the spaces around your home free from clutter. Nesting crates are particularly great as you'll get different sizes, plus some even come with cute signage attached so you can quickly see what's in each. You could use one for toys and the other ones for your dog's grooming and walking supplies.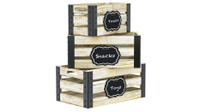 Greenstell Store Wooden Nesting Crates
Sturdy and attractive, these nesting crates are crafted from solid wood materials and reinforced by iron strip, making them incredibly durable. There's a lovely farmhouse-inspired chalkboard on each crate which you can personalize to suit and the cutout handles make them easy to move around.
5. Shoe cubbies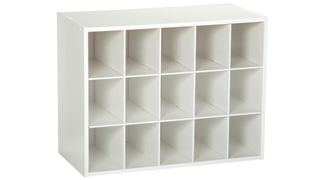 Not just for your footwear, shoe cubbies are also ideal when you're looking for a little bit of extra storage space. You can invest in vertical or horizontal cubbies in a range of sizes depending on the layout of the room you're wanting to put it in and how many toys you have, but you'll probably find something like a 15-unit organizer to be more than adequate.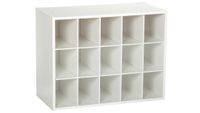 ClosetMaid 8989 Stackable 15-Unit Organizer
Available in three different colors, this 15-Unit Organizer not only stores your shoes, but is ideal for your dog's knick-knacks too. Each cubby's inner dimension measure 5.75-inch H X 4.5-inch W X 11-inch D, the perfect amount of space for chew toys and balls.
6. A toy hammock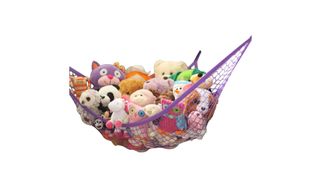 Want to keep your dog's toys off the floor? Enter the hammock! This is an ingenious way of keeping your floors clear of clutter by suspending the toys in the corner of a room. It also prevents your pup from having access to them when you don't want them to, so that's a nice bonus.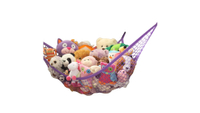 MiniOwls Storage Hammock
Available in L and XL and a variety of bright and neutral colors, this hammock from MiniOwls is a great way of keeping your dog's toys off the floor. Woven polyester mesh and a durable elastic border combine to create a hammock that's stretchy as well as sturdy, comfortably holding over 35 toys.
7. Ladder shelving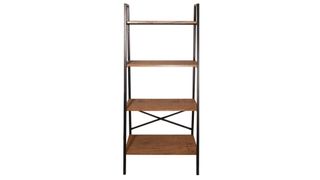 Ladder shelving gives a beautiful modern look and it can be a nice way of displaying your dog's toys alongside other items. You'll find all sorts of lovely finishes in a range of tier levels, but we particularly like the combination of wood and metal offered by homeware brand Blissun.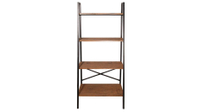 Blissun Ladder Shelf
Easy to assemble and clean, this 4-tier ladder shelf has a metal frame and chipboard shelving and is a great way of storing and displaying your pet's belongings. The shelves are spacious and the protective caps on the bottom ensure the structure stays stable and prevents your floors from being scratched.
8. Vintage suitcases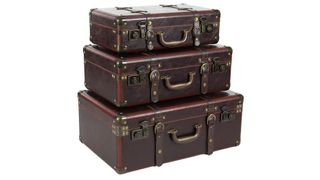 If you're a fan of the retro or vintage look, why not store your dog's toys in a suitcase? Purchasing two or three in various sizes enables you to stack them for a unique look that makes for a great talking point. You'll find some great buys at your local thrift shop, but here's an example from Deco 79 to give you an idea of the sort of look you can achieve.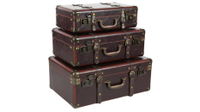 Deco 79 Suitcases
These elegant vintage suitcases feature a matte finish and are made from leather. They're ideal for rustic-inspired homes and because each suitcase is a different size, they look stunning stacked one on top of the other. There's plenty of storage, so you'll be able to use the bigger case for your dog's blankets.
9. Wicker basket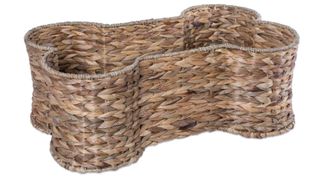 The humble wicker basket never goes out of fashion and they look stunning no matter where you put them, plus they're budget-friendly, which is always a winner in our books! We have to admit we're crushing hard on this cute option from the Bone Dry Store that's made from durable and long-lasting hyacinth material that's been woven into a metal frame.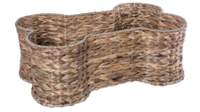 Bone Dry Store Toy Storage Basket
Available in a variety of sizes and colors and shaped like a bone, this adorable storage basket is durable, long-lasting, and can be easily wiped clean. Cute and stylish, it'll hold toys, grooming supplies, treats, leashes, and collars - the perfect all-in-one storage solution.
10. Over-the-door shoe organizer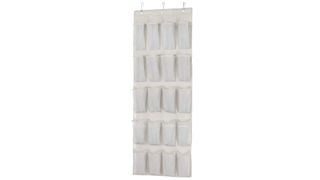 If you want to keep those toys firmly hidden away, why not go for an over-the-door shoe organizer? These hook over the inside of your door and come with pockets that you can place many of your pet's items in. Once you've placed everything in the pockets, close the door and voila, out of sight, out of mind! AmazonBasics offer a great cheap and cheerful organizer with 20-pockets, more than enough to hold all those toys.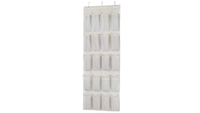 AmazonBasics Over-the-Door Shoe Organizer
This little beauty has 20 mesh fabric pockets that measure 10" tall x 4.5" wide, with the total dimensions for the organizer being 64.3" tall x 20" wide and because it hangs on the inside of your door, it's the perfect way of keeping your dog's toys out of sight.
How to store your dog's toys
Although all of the above storage options are a great way to keep your pooch's playthings organized, there are a few additional tips that can help you extend the longevity of both the toys and whatever you're choosing to store them in.
Just like our clothes and bedding need washing regularly, you'll also want to make sure you regularly give all of your dog's toys a good clean to rid them of bacteria, yeast and mold. Rubber and plastic toys can be easily wiped down, but fabric toys often need to go in the washing machine at around 40-60 degrees to kill germs.
Make sure you check your dog's toys regularly too and when you notice fraying or pieces starting to come loose or break off, it's time to throw them in the bin and get a replacement.
Because dogs chew on their toys, your chosen storage option will need a good regular clean too. To make your life easier, look for materials like wood or metal that you can quickly go over with a damp cloth or fabrics like canvas, which can often be machine washed or spot-cleaned.
Get the best advice, tips and top tech for your beloved Pets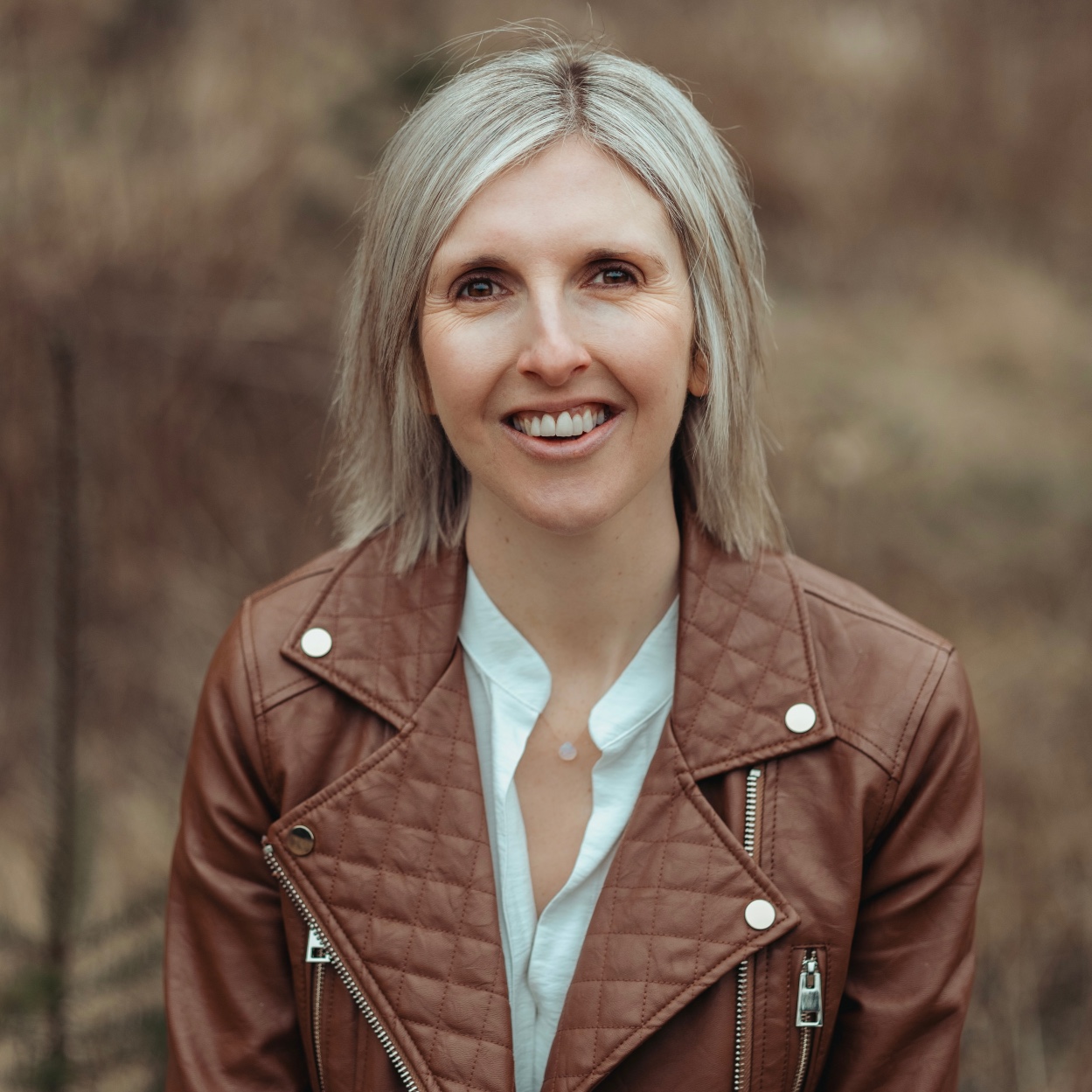 Kathryn is a freelance writer who has been a member of the PetsRadar family since it launched in 2020. Highly experienced in her field, she's driven by a desire to provide pet parents with accurate, timely, and informative content that enables them to provide their fur friends with everything they need to thrive. Kathryn works closely with vets and trainers to ensure all articles offer the most up-to-date information across a range of pet-related fields, from insights into health and behavior issues to tips on products and training. When she's not busy crafting the perfect sentence for her features, buying guides and news pieces, she can be found hanging out with her family (which includes one super sassy cat), drinking copious amounts of Jasmine tea and reading all the books.