32 everyday fears and phobias in dogs
It's not just fireworks or thunder that furry friends can be scared of! Discover the common fears and phobias in dogs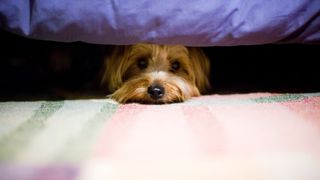 (Image credit: Getty Images)
Any pet parent will know each dog is unique. Just like humans, canines have their own likes and dislikes and the same goes for their fears and phobias.
Some owners might be restricted to local walks due to their dog's fear of the car, others may have a ban on guests entering their house due to their petrified pup and for some, housekeeping might get held up by their hound hiding from the vacuum.
Anxiety in dogs isn't unusual. Many fears and phobias experienced by our four-legged friends are caused by either low exposure or a history of trauma directly. So understanding what exactly your dog is fearful of and its root cause is the first step on your journey back to the life you had imagined. Of course, knowing how to calm a dog down is always useful. But the best dog treats can go a long way at enticing your cute companion out of its hiding place too.
To help you keep your pooch calm today, tomorrow and beyond and limit periods of stress, we have compiled 32 of the most common everyday fears and phobias in dogs.
32 everyday fears and phobias in dogs
1. Loud noises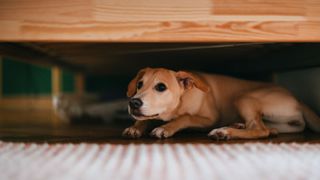 The slamming of a door, the smashing of a plate, or the sound of an alarm. Dogs have super sensitive hearing so a loud sound to us is unbearably loud to them — awarding this fear its well-earned place at the top of our list.
2. Fireworks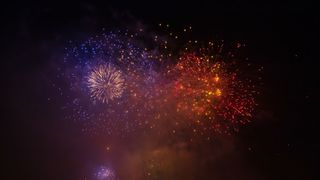 Fireworks are not only noisy but they are stealthy. And once they get going, this loud noise can come back time and time again to haunt your dog with very little warning. So learning how to calm your dog during fireworks is something every pooch parent should know how to do.
3. Thunder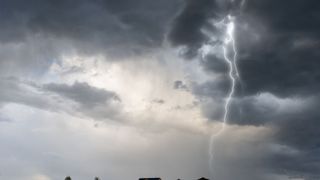 Thunder is a common fear among humans and dogs alike. Sometimes the most natural phenomena can be the most unsettling. Often accompanied by flashes of lightning, thunder is neither man nor dog's best friend. Discover the best ways to calm your dog during a thunderstorm.
4. Riding in the car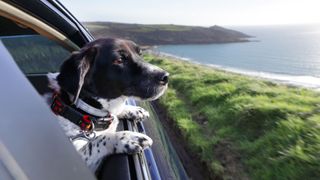 A fear of the car is often rooted in previous trauma. If you have a rescue it's always good to explore the possible causes if your dog is showing signs of distress when heading out. For others, it could be, like many of us experience, motion sickness or anxiety heightened by the world rushing by.
5. The stairs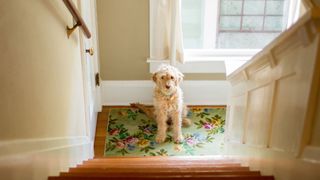 Is your dog scared of the stairs? The staircase can become your puppy's worst fear and although it may sound trivial, the fear is often due to lack of exposure. In the first weeks of their lives puppies are unlikely to have seen or experienced a set of stairs and so, where possible get your pup familiar with yours.
6. Bicycles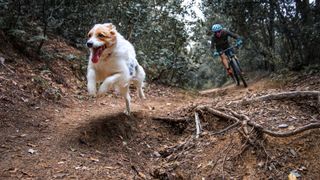 Often approaching your dog head-on, or sneaking up at high speed from behind during their walk, bicycles can be quite the phobia in your dog and understandably so.
7. Skateboards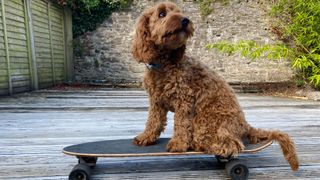 This fear builds similarly to bicycles. Skateboards create low-level noise that for many dogs, will sit right beneath their ears whilst they simultaneously try to manage the vibrations that reverberate beneath their paws. These sensations are overwhelming and form the foundation of the common phobia.
8. Scooters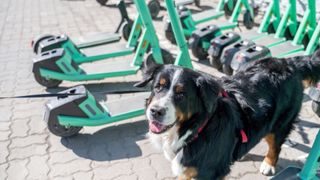 Not only is your dog contending with the vibration, the sound of the scooter and the sound of the happy child riding said scooter — but also the unpredictable path kids carve when using them. This presents a number of unknowns for your dog leading to high levels of anxiety.
9. Being alone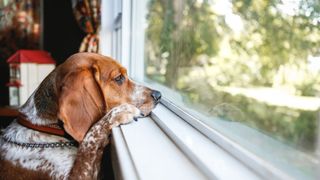 Dogs are pack animals, they thrive in numbers. When you bring a puppy home you become its pack. And, as you begin training and establishing a hierarchy within your home, your dog will find its place and will seek comfort there. When this is removed by being left alone, your dog can experience separation anxiety which may develop into a fear of phobia of being without you. To reduce separation anxiety in dogs, look this way.
10. The vets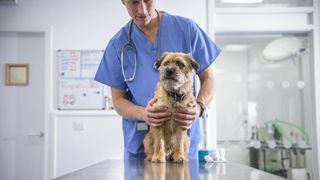 Like humans and doctors, we often only visit them when there is something wrong. Your dog's earliest experiences with the vet will have been for injections, chipping or neutering. Your dog may associate those early experiences and feelings with the location and before you know it, you have a dog doing everything in their power to avoid that waiting room.
11. Men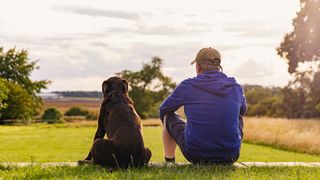 The main reason your dog may be showing signs of a fear of men could come down to a lack of exposure or past trauma. It is important to understand which of these is the cause for your pup before trying to support them through this particular discomfort.
12. Other dogs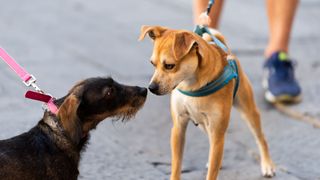 A fear of dogs is rooted in memories as early as the litter from which your puppy came. The runt of the litter for example may become cautious of other dogs based on those experiences. Similarly, if your dog has ever been attacked this trauma can later present itself as a phobia.
13. Strong/unfamiliar/strange scents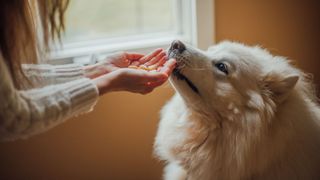 People often say that dogs follow their noses, their heightened sense of smell helps them navigate the world around them, find their belongings, identify safe spaces and…locate their dinner. However, when your dog picks up an overpowering scent you may notice they become stiff and tense or withdraw.
14. Strangers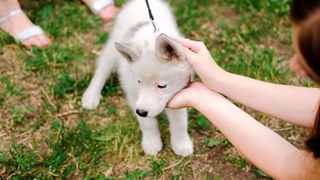 When presented with a stranger your dog may experience high levels of stress, anxiety, and fear at the potential danger this unknown presents.
15. Children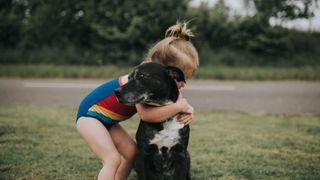 A fear of children is often rooted in negative past experiences. The unintentional heavy hands or wobbly nature of small children are frequently the cause of a dog's upset, the reaction to which often results in the dog being reprimanded and isolated from their pack.
16. The vacuum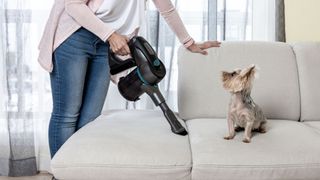 Yes, the best vacuum cleaners for pet hair are great as they suck up all their fuzz. But the loud noise they make, how it varies with movement, and just how quickly they comes towards your pooch can solidify a fear — and fast.
17. Blow dryers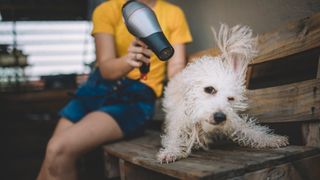 If your blow dryer is sending your dog into a frenzy, it's because they are loud! Try placing them out of harm's way to limit the disruption caused.
18. Lawn mowers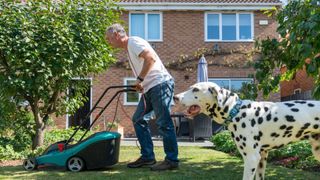 Much like your blow dryer, the sound of a lawn mower might be a pitch too high for your pup. With most loud noises, there is often very little you can do, other than to keep exposing your dog to it.
19. The washing machine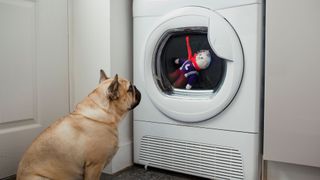 The washing machine and its various cycles elicit a variety of sounds and speed variations each slightly more aggressive than the last. That quick spin cycle is sensory overload for a dog and may cause them to bark.
20. Food processor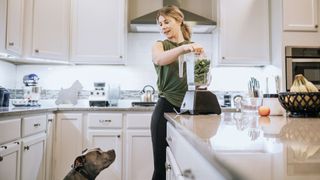 Food processors are a common fear of both dogs, babies or small children. The loud noise and the inability to understand what it's doing, and that it presents no harm makes these a common fear.
21. Sweeping brush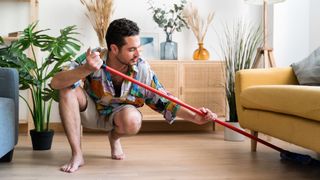 Brooms can trigger your dog's prey drive, sweeping closely to your dog, especially if they are young and playful, could enact an entirely new game!
22. Reflection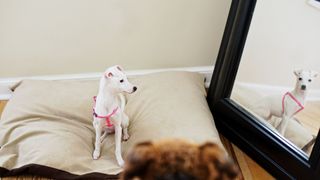 When a dog sees their reflection they do not recognize it as themselves instead see another dog before them. The act of the dog staring right back at them is a sign of aggression and in many cases may cause extreme anxiety.
23. Hats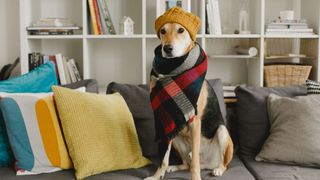 Hats — yes hats! These fashion accessories alter our outline, turning a once familiar person into an unrecognizable one. This change of appearance can unsettle a dog and once removed the discomfort felt is placed upon the hat itself.
24. Sunglasses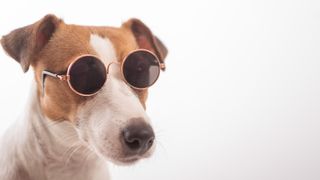 Being able to see our entire face is a huge part of how they pick us out from a crowd. Sunglasses not only remove this ability, but also increase the risk of them coming face to face with their reflection, or as they perceive it another dog.
25. Water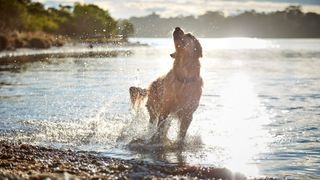 A fear of water — like many fears — is caused by infrequent exposure. Although we offer H2O to our dogs to drink, not all dogs have experienced swimming or playing in the liquid. The new sensation of the substance under their paws or on their fur is a lot to adjust to.
26. Floor coverings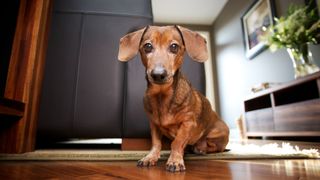 Floor surfaces that don't support your pup's natural gripping abilities and lead them to slip and slide all over the place, which can cause great stress. It can result in them refusing to cross that surface.
27. Wind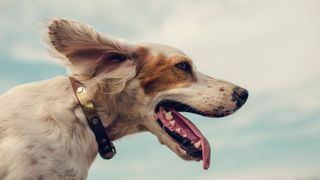 The wind is loud, it whips around your pup and through their fur. Their limited protection from these forces leads them to overwhelm and might halt them at the front door the next time you head out for a walk on a windy day.
28. Umbrellas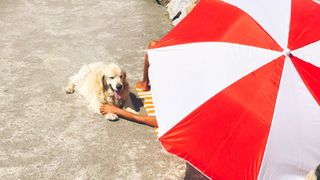 Just like hats and sunglasses, umbrellas are another distortion to a person's silhouette. The unrecognizable figure can turn even the calmest pup crazy with concern.
29. Balloons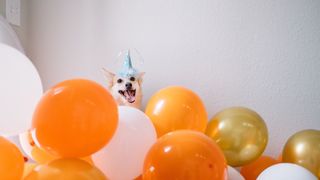 Having experienced a balloon bursting or caused one to pop, your dog might show high levels of anxiety as they anticipate another to burst. Without this factor, the unpredictable movement and strong smell of balloons are enough to make your dog wary.
30. Ceiling Fans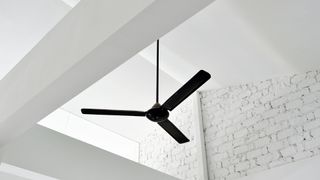 Ceiling fans produce a constant noise. Your dog's first response may be to growl, bark, or even jump up at your fan in an attempt to regain a sense of control. The continuous motion may be perceived as a threat, the fear of which leads to this behavior.
31. Stroller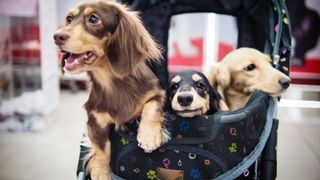 Dog strollers are unpredictable, unrecognizable, large, and loud. These attributes make them an unlikely friend for your dog and if your pooch is expressing negative behaviors when presented with a stroller, this form of transport might not be for them.
32. Outside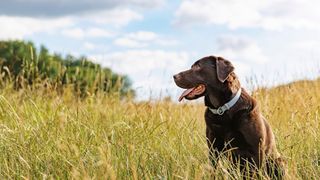 Dogs who miss out on critical socialization as a puppy can develop phobias of the outside, or more generally the wider world around them. If kept indoors and sheltered from other people or pooches, sounds and/or smells — everything beyond their everyday surroundings will seem incredibly daunting.
So, as you can see, there are a number of reasons why your dog is anxious and if you have a nervous canine, this could impact their quality of life — and yours! You might also want to get to grips with your dog's body language so you have a better understanding of how your pooch is feeling.
Get the best advice, tips and top tech for your beloved Pets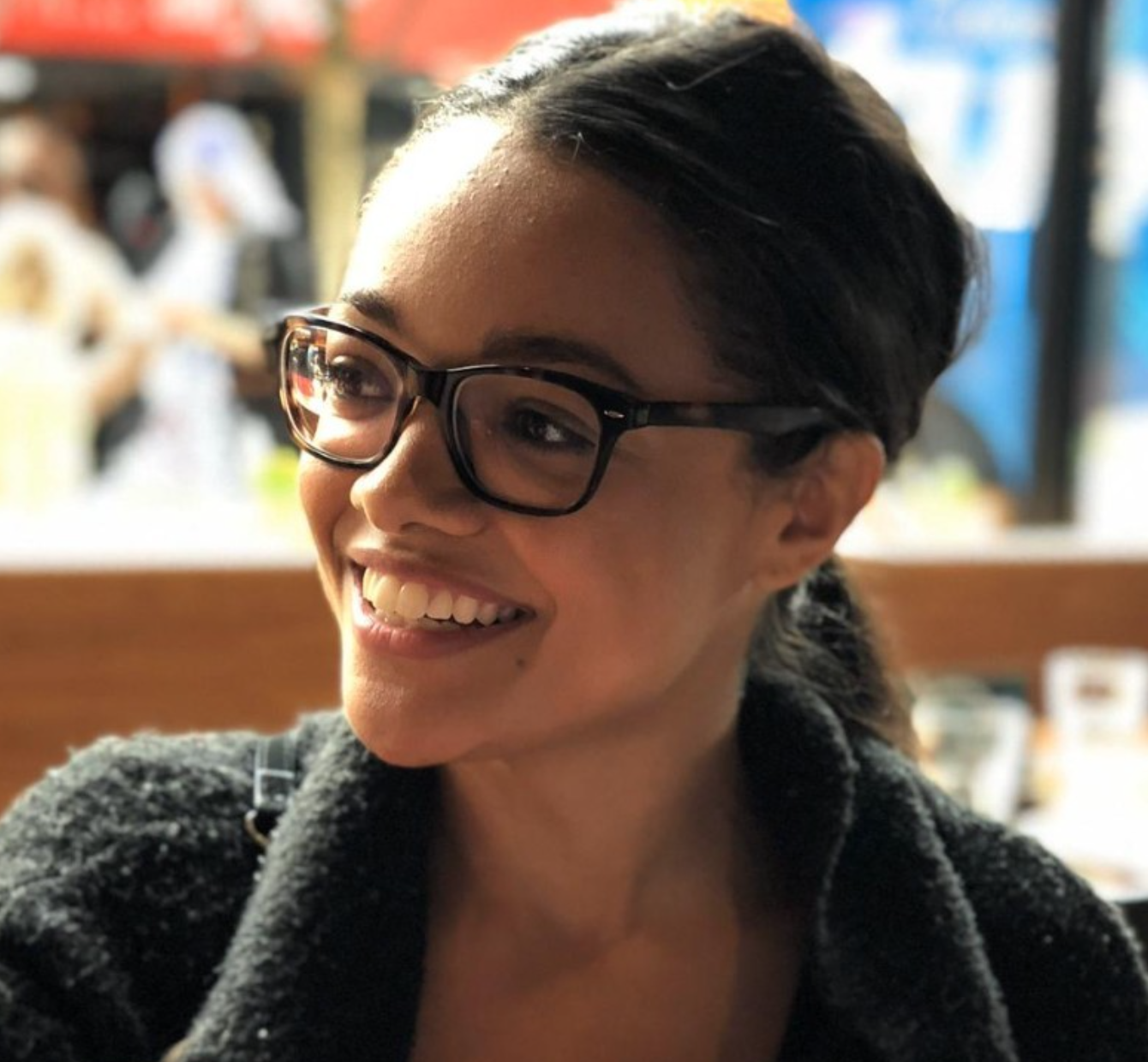 Becks is a freelance lifestyle journalist who has more than 9 years of experience in the world of digital and print journalism. She covers health, wellness and family interests for a range of titles. When she's not putting pen-to-paper (or finger-to-keyboard) she's reading, in the gym, or taking her Dog Aunt title very seriously looking after the handful of four-legged creatures in her life.