How to mount a GoPro on a dog
Mount a GoPro on a dog and get a canine view of the world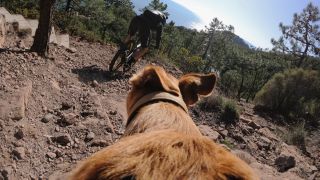 (Image credit: GoPro)
If you want to discover how your canine companion views the world then find this guide to fitting a GoPro on a dog will do just that. GoPro is one of several brands which has made a dog harness with a camera mount, and it's just launched a camera – the GoPro Hero 9 Black - designed with dogs in mind. Here's how to make your four-legged friend the star of his very own blockbuster.
Harness how-to
The key thing to remember when working out how to attach a camera to your dog is that neither the camera nor the harness should restrict your dog's mobility in any way. For this reason, only use harnesses designed specifically for dogs - fashioning one out of an old pair of pants is a bad idea for multiple reasons. A harness which hasn't been designed with dogs in mind won't allow enough freedom of movement, and could easily lead to injuries and accidents, whether it's joint-related issues or problems caused by excess pressure of vital organs and airways.
"The harness should not affect movement in any way," emphasises Anna Korzeniowska, a doctoral researcher at the University of Sussex's Dog Lab. "The dog should be able to flex every limb freely, so the straps of the harness should not go across any joints. I recommend avoiding so-called 'non-pull harnesses' which tighten when the dog pulls (by straps being pulled beneath the dog's armpits). These can be very uncomfortable, and there's a reason why dogs will stop pulling while wearing this type of harness. Quite simply, the sensation is unpleasant."
Try and see the situation from your dog's perspective. How would you like to be manhandled into a tight-fitting tangle of straps and loops on a regular basis? "Key features to look out for include lots of clips so the harness can be put on without having to pull it over the dog's head or lifting the dog's feet up into it," points out Anna Korzeniowska. "Wider straps are better than thin straps because they will not dig into the skin. This is especially true with long-haired breeds - you don't want to have too much fabric as it will rub against the fur and lead to matted areas."
In the same way it takes time to wear in a new pair of shoes, allow your dog plenty of time to get used to the sensation of wearing a harness and camera. "It's important that the dog gets used to it gradually," says Anna Korzeniowska. "Don't just stick it on and hope for the best. Put it on for a short period of time, have fun with your dog, then take it off. By slowly prolonging the period of time the camera is on, and by making the whole process fun, the dog should gradually get used to the sensation."
Finally, the whole man's best friend thing could quickly take a turn for the worse if you use a camera which is too heavy, chunky or unstable. Take a moment to check the quality of the camera mount - a cheap, flimsy mount could snap or crack, potentially exposing sharp edges which could injure your dog. Unsurprisingly, weight is one of the most important factors. "The camera should not weigh more than 10% of the dog's body weight if it's going to be attached to your dog for a long walk, or 20% for a short walk," says Dr James Bennett, a vet based at London's Wolfe Vets. "Make sure the camera does not pitch, yaw or roll around. You don't want it hitting your dog on the head. It's also important to ensure that the bracket does not end up resembling a tiny spike if the camera falls off or the bracket snaps."
Our pick of the best dog harnesses with camera mounts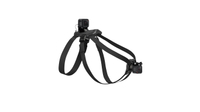 (opens in new tab)
GoPro Fetch Dog Harness Mount for Camera £39.99 (opens in new tab)
The crème de la crème of camera dog harnesses. GoPro's Fetch harness is easily adjustable and has a removable chest plate which allows it to accommodate dogs of different shapes and sizes. We also love the fact that it's got two mounting positions – one on the back and one on the chest.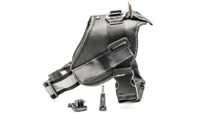 (opens in new tab)
Protastic Deluxe Dog Mount (Large) £19.99 (opens in new tab)
A great option for larger dogs, this harness has been designed specifically for use with GoPro kit, although it's compatible with most types of small, mountable action cameras.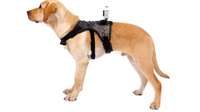 (opens in new tab)
Four mountable action cameras to make your dog the star of the show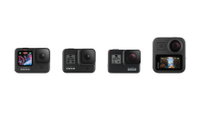 (opens in new tab)
GoPro Hero 9 Black, £429.99 (opens in new tab)
Although GoPro has avoided stating that the Hero 9 Black camera, which launched in early September 2020, has been designed specifically with pets in mind, the brand describes it as one which is particularly suitable for animals, thanks to its small size (it measures 22.4 x 11.6 x 7.4cm and weighs 0.48kg) and its HyperSmooth stabilization feature, which ensures super-stable footage with in-camera horizon levelling.
The best of the rest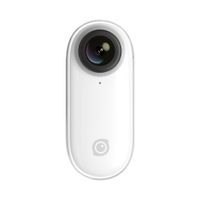 (opens in new tab)
Insta360 Go, £189.99 (opens in new tab)
This tiny, 20-gram camera records 30 or 60-second clips, making it ideal for pet owners keen to catch specific types of canine caper, whether it's POV footage as Fido flings himself over the assault cause you've constructed in your back garden, or greeting your neighbour's new puppy for the first time. The Insta360 Go clips on surprisingly securely using magnets, although the wide range of mounts it comes with allows it to be attached to a range of harnesses in different ways.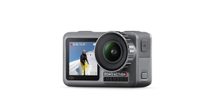 (opens in new tab)
DJI Osmo Action Camera, £259 (opens in new tab)
Okay, the dual screen feature of this 4K camera, which can be used with GoPro's Fetch harness, might be a bit wasted here, but it's still a great option for anyone who wants to attach a camera to their dog. DJI's RockSteady feature does a great job of making footage seem smoother and clearer, while the HDR video setting is worth its weight in gold – a shooting mode which delivers natural transitions between light and dark areas.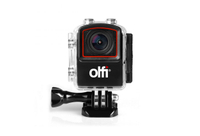 (opens in new tab)
Olfi One Five Black Action Camera, £149.99 (opens in new tab)
This 4K, 16mp camera is another camera which can be used with GoPro's Fetch harness, and it's particularly suitable for small dogs prone to a bit of rough and tumble – it's small, weighing in at just 60 grams, and has an extra-rugged replaceable cover. It's also waterproof to 30 metres, so muddy puddles and spontaneous swims in stick-filled streams are no match for this bad boy.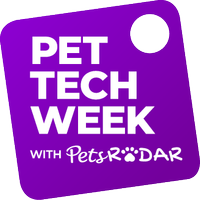 (opens in new tab)
Pet Tech Week on PetsRadar
Pet Tech Week is brought to you by PetsRadar.com. Throughout this week we'll be showcasing the new tech that will make your pets happier and healthier. Whether you want a smart cat flap, a canine camera or the best vacuum cleaner for pet hair, we've got you covered.
Get the best advice, tips and top tech for your beloved Pets
Tamara Hinson is a freelance writer who grew up with huskies but unfortunately now has a husband who is allergic to dogs. Luckily she has a neighbour who lets her dog-sit her Maltese terrier and a nearby greyhound rescue centre where she can walk the residents.
Thank you for signing up to Petsradar. You will receive a verification email shortly.
There was a problem. Please refresh the page and try again.