Which are the hardest dogs to train? We name the breeds that have even professional trainers pulling out their hair
Got a headstrong hound? See if it makes our list of the 10 hardest dogs to train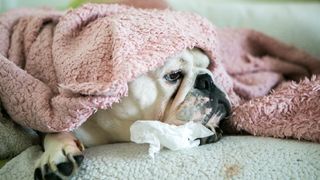 (Image credit: Getty Images)
Own a mischievous mutt? It may be on our list of the 10 hardest dogs to train. Much like children it's easy to turn a blind eye to your furry friend's failings, but a lack of discipline may not be your fault. Some breeds are known for their disinterest in learning to obey their owners, making it an uphill struggle for any pet parent, or even trainer, to get them to do what they want.
Of course, that doesn't mean they are impossible to train, just that it will take a lot more patience and time to get them to understand right from wrong. The key, as with all dogs, is to use positive reinforcement to encourage mild manners. You can see how this is done in our guide to training dogs with treats: How to reinforce good behavior the right way.
Want to see if your four-legged friend is acknowledged as one of the 10 breeds most difficult to train and unlikely to be included in our list of What are the most obedient large dog breeds? Check out our top candidates for canine coaching catastrophe below.
Read more:
What makes a dog difficult to train?
This could boil down to a number of things. Many commonalities found in the least obedient dogs include being fiercely independent and very intelligent, which when added to the fact that many of them are super stubborn, is the perfect cocktail for making them trickier to train.
From not listening and following simple commands, to chewing things and constantly barking at (seemingly) nothing, there are plenty of ways to spot a dog that is perhaps not as obedient as they should be.
But that's okay. As with lots of training, patience, and positive reinforcement from an early age, (most of the time) you'll have the perfect pup in no time.
So, let's take a look at some of the hardest dog breeds to train.
Bulldog
Mischievous and stubborn, bulldogs seem to go out of their way when it comes to refusing to be trained. They are well known as a dog that takes a long time to learn anything as they like to do things at their own pace – or not at all if it isn't of interest to them! These couch potatoes aren't keen when it comes to walkies either, but it's a necessary evil as they are particularly prone to obesity.
If you want to learn more about the bulldog in your life check out our French Bulldog: Breed profile and our six fascinating French Bulldog facts.
Afghan hound
Bred to spend their days chasing, it's unsurprising that these sighthounds have issues concentrating on their owners. Sadly, no amount of training can overcome this natural instinct. However, letting them run free around a large, secure area every week will help satisfy their need to run and chase.
Dachshund
Small but mighty, Dachshunds were bred to hunt and dig tunnels in search of badgers and moles. They are often independent, brave, lively, vocal, and stubborn. Due to being a highly intelligent breed, their minds and bodies need to be kept active as doggy boredom can fuel disobedience.
Old English Sheepdog
This iconic breed is incredibly smart and independent. However, they can also be very strong-willed and require a fairly strict training regime that focuses more on respect training rather than dog obedience training.
Pug
The comical pug is very easy to please, but they aren't so good when it comes to pleasing their owners. Notably stubborn, they regularly turn a deaf ear to commands, and are slow to move from their favorite spot if it doesn't suit them. They also use their endearing qualities to do all they can to beg for food and attention, making it very difficult to not give into them, even when you know it would be better for them if you didn't!
You can read more on these canine clowns in our Pugs: Breed profile and 10 facts about Pugs.
Boxer
Bright, energetic, and often very headstrong dogs, Boxers require lots of exercise and mental stimulation to keep unwanted behaviours at bay. This includes chewing things that shouldn't be chewed and digging... lots of digging.
Chow Chow
These teddy-bear-like dogs have the temperament of a cat. Yes, that means aloof, stubborn and very difficult to get them to do what you want! Chow Chows are renowned for their ability to completely ignore their owners and often have behavioral problems like dog aggression and strong territorial tendencies. The key to getting them to behave is to ensure they are socialized from an early age, but even then it can be an uphill struggle.
You can see more on the temperament of Chow Chows in our Chow Chow: Breed profile and learn more about this regal breed here: 10 intriguing Chow Chow facts.
Dalmatian
One of the world's most easily recognisable breeds, Dalmatians were originally bred to have the energy needed to guard horses and coaches. Should they not receive the correct training from a young age or have a poor relationship with their owner, this can lead to them being incredibly disobedient.
You can learn more about their temperament and typical lifestyle in our Dalmatian: Breed profile.
Shih Tzu
No matter how much you train a Shih Tzu, they will still have their stubborn outbursts from time to time. However, with early intervention, unwanted behaviors such as nipping, excessive barking, and aggression can be trained out of this breed.
Maltese
Maltese are often described as being set in their ways and, if they have been unable to make use of their high energy levels, they may begin constantly barking, chewing, and pacing about, making exercise essential for this breed.
Get the best advice, tips and top tech for your beloved Pets
Chloe is a freelance writer, editor, and proofreader, who has more than ten years' experience in creating animal-focussed content. From National Geographic to Animal Planet, Chloe's passion for creating fact-filled features all about wildlife and the environment is evident. But it's not just wild animals that Chloe's fascinated by. Having written more than 75 articles for PetsRadar - and having her very own four-legged friend by her side - it's no wonder that her love of dogs (and, of course, cats) has grown exponentially.
Her website, www.chloemaywrites.com, and social media pages - @ChloeMayWrites on Instagram, Facebook, and Twitter - showcase her knowledge through daily facts and trivia tidbits. For example, did you know that snails have teeth?!