The best horse clippers: Keep your noble steed looking stupendous
A stable session with the best horse clippers will keep your pony's locks looking luscious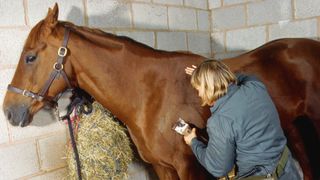 (Image credit: Getty Images)
Clipping is an essential part of horse ownership, and thanks to the best horse clippers you can get the job done quickly and safely. Whether you're competing in events or just wanting to hit the trails for some quality time with your trusty steed, a good trim will ensure your horse always looks their best.
If you don't have much experience with body clipping horses, then choosing the right horse clippers can feel like a daunting experience. But the good news is, it doesn't have to be. Thinking through a few basic questions can help ensure you get the right clippers for the job.
The first thing to consider is the temperament of your horse and how calm and settled they're able to stay around loud noises. If you have a very skitterish horse on your hands or one that isn't too keen on getting clipped, choose a clipper with a low noise output of around 120 volts.
Next, think about what you're wanting to use the clippers for. If you're wanting to do small trims now and again, then you won't need anything too powerful, but for full-body clipping sessions, a clipper that lets you adjust speeds, change blades, and has a good strokes-per-minute output will make life a lot easier.
Quality and budget are two other areas that are important when selecting horse clippers. Many of the best horse clippers will easily set you back as much as you would expect to pay on a decent pair of human clippers and while that can be a turn-off, choosing the highest quality clippers you can in your price range can save you money in the long run. Look for solid and durable clippers that will go the distance.
Now that you know a little bit more about what you're looking for, let's take a closer look at the best horse clippers lining the shelves in 2021...
Lister Star large animal clipper with fine blade
Best overall horse clippers
Specifications
Strokes per minute:
3,000
Reasons to buy
+
Easy to use
+
A ready-to-begin kit
+
Slim casing for smaller hands
Lister is one of the UK's leading manufacturers of clipping products, hold the royal warrant, and are recognized internationally for their quality products being of great value. The Lister Star is a medium-duty clipper, powerful enough to complete multiple full body clips – it's the ideal handset for owners with up to three horses. The advanced motor ensures you get a constant working speed, even if the coat is really thick, which helps to give a smart and professional finished look. It has a replaceable filter that allows for efficient ventilation and cooling – which prevents any discomfort to your horse – and the enclosed gearbox makes it low maintenance and lengthens its life. The self-cleaning head prevents blades from overheating, and it has a user-friendly tensioning system that makes it easy to set the correct blade tension. It also has a removable and replaceable air filter, so cleaning and maintenance are easy.
The lightweight and slim casing fits comfortably in small hands and it has grips on either side for improved handling and control, making it a favourite of ladies and teenagers. The lead is 16ft, which gives you lots of flexibility and room for movement.
The blade included is 3-inches wide so you're able to cover a large area quickly, and it has a cutting length of 1.4mm – this is comparable to a size 15 clipper blade. This kit also includes a 2.1oz bottle of Lister R15 Oil, clipper cleaning brush, and a spare filter; backed by a one-year manufacturer's limited warranty.
Wahl Professional Animal Bravura corded/cordless clipper kit
Best light-duty clipper kit
Specifications
Power source:
Rechargeable lithium ion battery or mains
Strokes per minute:
Up to 5,500
Reasons to buy
+
Corded and cordless
+
Easy to maneuver
+
Super quiet
+
Includes 5-in-1 blade
Reasons to avoid
-
Not really suitable for a full clip
-
More expensive
Wahl is a well-known quality clipper brand with a wide range of clippers, trimmers, attachments and necessary accessories. This particular set, in addition to the Bravura clipper, includes a 5-in-1 fine blade set, six plastic attachment guide combs, a cleaning brush, blade oil, instruction book, charge stand and charger, plus a soft storage case. It's a pretty comprehensive kit with everything you need, and the 5-in-1 blade set gives you real flexibility with your clipping.
The clipper handset itself is small (7-inches) and lightweight (8.8 ounces), so is ideal for trimming bridle paths, ears, muzzles or tidying up feathers, but some users with light-coated horses report to have successfully completed a full clip. Being so lightweight is a great advantage as your hand is less likely to fatigue, meaning you can clip comfortably for longer, and the handset's grip surface is designed in such a way that it's really easy to hold. It's simple to maneuver and suitable for any experience level – you don't need to be a clipping master to get good results with these.
These clippers will run cordlessly at full power for 90 minutes after a 60-minute charge. When it has run out of charge – there is a handy battery indicator on the front – you can either recharge fully in one hour or, if you're not quite finished, you can attach the cord, plug them into the mains and continue. They will also automatically provide more power when you get to tougher areas, but they stay cool without the need for a cooling spray.
The Bravura is available in a choice of five colours (berry, gunmetal, pink, purple or turquoise), which is a fun touch, but handy too for telling yours apart if anyone on the yard has a similar set. The kit comes with a one-year guarantee, which is typical of most quality brands.
Heiniger Xplorer cordless clipper
Best medium-duty horse clippers
Specifications
Power source:
Rechargeable lithium ion battery
Reasons to buy
+
Battery within handset
+
Intelligent charger
+
Slim handset
The Heiniger Xplorer is a modern-looking and powerful cordless clipper. Its battery is contained within the handset, meaning you get a totally cable-free clipping experience, which makes it stand out from other cordless clippers that might have an external battery pack that you can attach to your belt, for example. The battery provides up to two hours running time from an hour's charge. The charger also shows you how much the battery is charged and the fast recharge time means with a second battery you could clip continuously.
The handle is really slim making it easy to handle and the handset is light for its size – they are slightly longer and heavier than the Lister Star clippers. These clippers are also considerably quieter than most of a similar size, making them ideal for owners of nervous horses. Being a sealed unit prevents hair and dirt getting inside, which reduces servicing costs, and less heat is generated, so minimises operating problems. Most users can't find enough good things to say about this model from Heiniger.
This brand of clippers is at the higher end of the market, but it has a great reputation and offer products that are built to last. This particular medium-duty clipper would be an ideal investment for an owner of two or three horses, who is clipping fairly regularly. This clipper comes with a three-year guarantee, which is the longest we've come across while searching for the best selection of clippers.
Wahl Professional Animal Pro Ion Equine cordless horse clipper
Best cordless horse clippers
Specifications
Power source:
Rechargeable lithium ion battery
Strokes per minute:
Up to 6,000
Reasons to buy
+
Quick-charge feature
+
Bonus how-to DVD
+
Adjustable blade
Reasons to avoid
-
Slightly heavier than other similar clippers
The Wahl Pro Ion cordless clipper can be used for light body clipping as well as trimming ears, faces and fetlocks. For a small, cordless handset, it offers substantial power and speed without producing additional heat or noise – great for your horse's comfort during clipping.
The battery gives two hours of run time and there is a 15-minute quick-charge feature that provides an extra 10 minutes of clipping – handy if you're really close to finishing when they run out or if you just have a small job to do. This clipper has an adjustable blade (#30-15-10), which gives you plenty of choice if you're just trimming, and it operates at 6,000 strokes per minute, making the job fast. The handset is ergonomic and comfortable, although slightly heavier than other similar models.
As well as the handset, you get a storage case, charging cord, styling comb, cleaning brush, blade oil, stainless-steel scissors, and attachment guide combs – so you'll be ready to start straightaway. A bonus how-to DVD means that even the most novice clipper can feel confident using this set. The clipper is also backed by a one-year warranty.
Masterclip V-Series Premium variable speed clipper
Best heavy-duty horse clippers
Reasons to buy
+
Two-year warranty
+
Brushless motor
+
Can purchase battery pack to make cordless
The Masterclip V-Series is a variable speed heavy duty horse clipper with a sleek, modern look. It offers a fast and hassle-free clip – it's ideal for novice clippers, too, as it's lightweight for a heavy-duty clipper (just 1.8lb) and easy to use. It has a non-slip handle and is shaped to best fit your hand. It comes with one set of 1.5mm blades, a bottle of clipper oil and a handy carry case. While it's mains-powered with a long cord, you can purchase a separate compatible battery pack, which will allow you to clip cordlessly – the best of both worlds.
The V-series has a brushless motor and variable clipping speeds – 1,500–2,00rpm. The benefits of a brushless motor include a high torque to weight ratio, which gives an increased performance as well as increased efficiency and reliability. It also means high levels of efficiency as there's less friction, so there's more power, but with less weight and noise. Users do say that this model is quiet, which is a real bonus if you have a nervous or young and inexperienced horse. Brushless motors typically have less wearing parts than traditional style motors, which makes them easier to maintain.
These clippers have a two-year warranty, which is longer than the majority of manufacturers.
BEETRO Horse Clipper Electric Animal Grooming Kit
Best horse clippers set
Specifications
Strokes per minute:
2,400
Reasons to buy
+
Easy to use
+
Durable
+
Choice of six speed settings
With a powerful 500W motor and six-speed control, this electric horse clipper gives a professional trim every time. Featuring up to 2,400 strokes per minute and a comfortable grip for precise cutting, it's easy to use and has a simple operation mode that makes it great if you're new to grooming.
We love that this clipper comes in a hard carry case for easy portability with a clean brush, replacement carbon brush, and 100ml bottle of oil so you can keep the clipper lubricated. The blades are made of high-quality steel making them tough and hardy and extending their lifespan, plus there's a rotatable button to adjust the tension.
The aluminum head and rugged reinforced nylon PVC body reduce noise and vibration while the cooling air fan keeps the blades from overheating while in use. There are six-speed settings to choose from with the lower ones being great for precision trimming around sensitive areas and the higher ones offering a fast trim over the entire body.
Oster Lithium+Ion Pro3000iTM cordless horse clipper
Heavy duty, fast-charging clippers that offer two hours of constant clipping
Specifications
Power source:
Rechargeable lithium ion battery
Strokes per minute:
3,000
Reasons to buy
+
Cordless
+
Charging stand
+
Fast-charging
This heavy-duty cordless clipper can run for up to two hours on a single charge, which is a more than fair amount of time for a large handset. Having a lithium ion battery means the power is consistent throughout the running time, and it only loses 3% of its charge a month while not in use, compared with an NiMH battery that could lose 30%.
Unlike some of the other products on the market, to change clipping lengths you'll need to switch blades. The positives are that they're reported to be easily changeable and the clipper is compatible with all A5 detachable blades, which are easy to get hold of and come in a wide range of cutting lengths. The wide blade that's included offers balance as well as power. For a heavy-duty clipper it's particularly lightweight, and the design looks comfortable.
Being cordless means you can work away without worrying about power leads getting tangled up or even needing to be in a location with mains power. It's sold with a battery, power adapter and charging stand, which can charge a second battery pack separately or while installed in the handset, allowing you to clip all day uninterrupted – if you needed to. It also has a fast-charging capability and a year's warranty.
Some users report that this handset can get hot, but this is to be expected and clipper oil should solve the problem quickly and easily.
How to choose the best horse clippers
Why you can trust PetsRadar Our expert reviewers spend hours testing and comparing products and services so you can choose the best for you. Find out more about how we test.
Clippers are split into four categories – heavy duty, medium duty, light duty and trimmers. Heavy-duty clippers are ideal for professionals, busy yards or if you have a horse with very thick, coarse hair. They tend to be slightly heavier and larger, but have extra speed and power to make clipping any horse easy work. Due to the need for extra power they are usually mains powered. Medium-duty clippers are a popular choice and in most cases are ideal for those clipping up to five horses. Most medium-duty handsets are light and easy to use, and there is a wide choice of cordless and mains-powered handsets. Light-duty horse clippers are only really suitable for horses with very fine and easy coats to clip or if you plan to use them for a quick tidy. Finally, cordless trimmers are the ideal solution for small areas, such as tidying legs.
When choosing a handset, it's important to consider…
The size of your hands – what size clippers are you realistically able to hold comfortably?
The number of horses you have, their hair type and personality – this will determine what duty will be best, but also whether you may be better to opt for a cordless or quieter model
Access to mains electricity – cordless options are usually more expensive and you need to remember to charge the batteries
Brand quality, reputation and price – there are many cheap clippers on the market, but these are often best avoided
Get the best advice, tips and top tech for your beloved Pets