Best laser toys for cats: Satisfy your feline's natural instincts
Laser toys for cats are a great way to bond with your kitty and they can be used independently too, making them ideal for days when you're too busy to play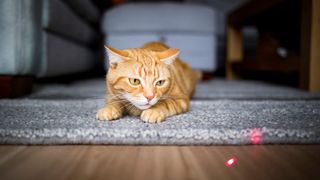 (Image credit: Getty)
Investing in one of the best laser toys for cats can mean hours of fun for both you and your furry friend. Lasers can offer a way to keep your cat physically and mentally stimulated while bonding with your cat with minimal effort – and you don't even have to operate them, if you don't have the time!
Laser toys are some of the best cat toys to choose for your kitty as they tap into all of their natural predatory instincts, including stalking, chasing, and pouncing. The red dot moving around the room acts as prey that your kitty can stalk and "catch", allowing them to exercise both their mind and their bodies, and offering them a challenging workout that will leave them feeling satisfied.
Lasers are one of the best interactive cat toys as there are many options available that can be operated by your cat without you having to intervene. This is helpful if you are out of the house for long periods of time during the day or find that you need to keep your needy kitty occupied for a while so that you can focus on other jobs.
If you have any concerns over the safety of laser toys, let us reassure you that there isn't anything to worry about. Laser toys have specifically been designed to be safe for your feline's eyes and most work on a timer, automatically switching on and off to ensure your kitty doesn't become overstimulated.
Laser toys are also a great example of one of the best automated cat toys, and can offer an alternative to teaser toys which can be a little bit awkward to play with for long periods of time. To help you find the right type of laser toy to suit your little mouser, take a look at our picks of the best laser toys for cats to suit every budget.
PetsRadar's pick of the best laser toys for cats
Why you can trust PetsRadar Our expert reviewers spend hours testing and comparing products and services so you can choose the best for you. Find out more about how we test.
Best overall laser toy for cats
Specifications
Power source:
Rechargeable
Reasons to buy
+
Motion activated
+
USB rechargeable battery
+
Three installation options
Reasons to avoid
-
Laser is a bit predictable
This motion-activated toy with a built-in smart sensor automatically turns itself on and off whenever it registers that your kitty is nearby. Working in 5 minute bursts, the laser toy will continuously switch itself on and off to ensure your cat doesn't become overstimulated.
The laser toy comes with a USB rechargeable 600Amh battery and will provide around 3 hours of working time for every 3 hours of charging time. You can of course leave the toy plugged in if you're going to be out for the day and want it to be able to be used continuously without running out of juice.
There are two modes of operation (slow and quick) and the laser rotates in a random pattern across floors and walls. You've got three options when it comes to installation - mounted on a wall or window or loosely placed on a shelf. The motor is silent, so you don't have to worry about being disturbed, and the toy comes with a one year warranty.
MULY Interactive Cat Laser Toy
Best interactive cat laser toy
Specifications
Power source:
AA batteries
Power source:
USB charging or 4 AA batteries
Reasons to buy
+
Five adjustable, different circling ranges
+
10-minute timer
+
Automatic 15-minute timer
+
Fast or slow light flashing mode
Reasons to avoid
-
Can be easily knocked over
-
Mirror prone to falling off
The MULY automatic laser toy is a fun, interactive toy that comes with five, adjustable circling ranges, offering a variety of 360 degree pattern movements. It also features an automatic, 15-minute switch-off to give your kitties a break from all the excitement. In addition, it comes with a fast or slow light flashing mode function so that owners can set the speed according to their cat. It's auto-timer function also means owners could leave the toy on during the day, especially if busy with chores or when going out for a few hours.
The cat-shaped design is attractive, and it is light to carry around. The only downside to this is it's prone to being knocked over if placed on the floor. So if you have over-excited cats, it may be worthwhile to place it higher up on a table or shelf.
Another bonus is it's powered by either USB charging or batteries, so the fun never has to end when those batteries die. Bear in mind, the toy would need to remain in the USB plug socket for it to work efficiently.
Overall, playful kitties will love this laser toy during playtimes, and the random circling movements will certainly keep them amused and active.
PetSafe Dancing Dot Laser Toy
Best for compact spaces
Specifications
Power source:
3 AAA batteries
Reasons to buy
+
Two play modes
+
Rest mode to give your cats a break
+
Versatile to elevate in various places
Reasons to avoid
-
Expensive
-
Movement speed can be too fast
PetSafe is well-known for quality pet products and toys, and this Dancing Dot Laser Cat Toy is one of their most popular. Featuring a Certified Class 1 laser, the random pattern movements guarantee plenty of feline fun without harming their eyes. Cats love the unexpected nature of the moving red dot which will keep them active and entertained during playtimes.
It also comes with two play modes – a one-time-play and play-all-day modes, which is handy for when owners have to pop out for an hour or so. The one-time-play mode automatically turns off after 15 minutes, while the play-all-day mode has 15-minute intervals every two hours, to prevent any over-stimulated kitties.
The selling point about this toy is its compact size and versatility for elevated play. Equipped with a sturdy base and lanyard, you could either place on the floor, an elevated surface or easily hang up on a door. This is particularly handy if you have multiple cats prone to knocking toys over. More so, if you have a compact space and don't want anything broken by an excitable cat, this is the ideal laser toy. The design is simple and not very attractive, but it's lightweight and easy to use at just a press of a button.
Owners gave good feedback, stating how much their cats enjoyed playtimes. It also enabled one user to get on with some uninterrupted work! Downsides mentioned included the moving light being too fast for their kitties, and there is no option to adjust the speed. A few customers also mentioned the toy being too small and flimsy for its expensive price tag. While it is rather costly compared to other cat laser toys, owners agree it kept their feline friends active and occupied for hours.
FYNIGO Rechargeable Pet Cat Light Toy
Best budget buy
Specifications
Power source:
USB rechargeable
Reasons to buy
+
USB rechargeable and charges under 2 hours
+
Ergonomic switch
+
4-in-1 different light modes (4 patterns and 1 dot)
+
Pocket-sized and versatile
There's nothing more frustrating for your cat than when their laser toy runs out of battery life, and playtime stops. FYNIGO rechargeable chaser tool guarantees hours of fun, at a small cost. This handheld laser pointer is rechargeable, and fully charges from a USB port in just over an hour.
The design itself is small and sleek, making it handy enough to carry around. Its anti-drop clip enables you to easily clip into a pocket, ready to whip out when your cat is ready to play.
The usual press button design is now a convenient slide button switch, which saves you from continuously holding down on the pointer. A key selling point is its 4-in-1 light modes and versatility. So when your feline pal is tired of chasing around the red dot, they can enjoy the choice of several shapes that includes a smiley, star, mouse and butterfly.
The laser toy is also equipped with a convenient flashlight, handy for searching for a hiding cat at night, while the UV mode can help identify those strange stains your cat has gifted you. Plus you can use it to detect counterfeit money, which is always a bonus!
Although the market has an abundance of similar laser toys, this model is particularly praised for its quality and durability. And priced from just $8, this offers incredible value for money.
Owners have mentioned how happy their cats are during playtime, and the chasing keeps them active. Bear in mind, that the red light can be very bright in comparison to other models. So exercise caution with over-excited cats prone to bump into things. However, if your cat ever needs a break, the laser toy comes with a cute play mouse, which is always a bonus!
Overall, cats will love chasing the red dot around and various fun patterns bouncing off the walls. It's a simple and compact laser toy to carry around the house, and will keep you and your cats occupied for hours!
SereneLife Automatic Cat Laser Toy
Best versatile cat laser toy
Specifications
Power source:
3 AA batteries
Reasons to buy
+
Rotating laser dot
+
Adjustable speed
+
Versatile design for any surface
+
Automatic timer
If you're looking for an interactive laser toy with style and substance, this smart cat toy is ideal. Designed to keep your feline pals entertained, it comes equipped with automatic pilot playtime that turns off after 30 minutes, offering plenty of exercise.
An advanced feature is its adjustable circling speed. Simply tap the top button and cycle the pattern mode between slow circle, medium, and fast speed, or pause the rotation for more variation. The random movements create an unpredictable path for excitable cats to chase the laser, and engage their sensory stimulation.
With its unique, 12-sided die design, it is sturdy, attractive and can be placed on any surface. And with versatility being top priority, it can either be used as a handheld toy or flipped for the floor, table or window ledge. Simple to use with a one button operation, it's also small enough for travel.
What's more impressive is the price. Considering its advanced features, it is reasonably priced from $27.99, which is great value for money.
The only downside mentioned in reviews was that the light was too dim in naturally lit rooms, while others said the light was barely visible in a dark room. However, it might be worthwhile to look into the battery type, as alkaline batteries are typically advised.
Nevertheless, this is a great toy to occupy energetic cats on the prowl, providing a more varied play. The rotating laser and handy different speeds match your cats play preferences, although it may be worthwhile to clear the area of any breakables!
Owners highly recommended this SereneLife model, saying their cats enjoy playtimes even more and love the chase. Plus it provides plenty of sensory stimulation, especially for kittens.
How to choose the best laser cat toy
In a market saturated with fun laser cat toys, it can often be a challenge to find a suitable one. But there are some useful features to consider when choosing for your playful cat.
Firstly, laser toys come in either manual or automatic mode. Manual toys are usually handheld by an owner who is in control of the pointer. This is also a great way to engage and interact with your feline friend. But if you prefer a more hands-free approach, automatic laser toys are ideal for providing entertainment without being there. There are models with a handy automatic timer that will prevent your cats from becoming over-stimulated, or ones with a manual option if you want to take back control.
The speed of the laser is important for determining if your cat is interested in interacting or not. Some cats may get bored with a slow speed while fast speeds may be too much for others. Since every cat has different play preferences, it might be ideal to buy one with variable speeds so you can easily change the setting.
Also, consider the location, as your laser toy requires somewhere where it can shine a light down onto the floor or chosen play area. Cats can become over-excited chasing the moving red dot, and can send your floor-based toys flying! So be mindful of any obstructions or fragile items. There are various wall-mounted or hanging laser toys ideal for smaller spaces, and the majority are designed to sit firmly on shelves or tables.
Design, features, and cost are also useful considerations. On average, an advanced laser toy can start from $20. But you can find simple laser wands for as little as $8, depending on your needs. You may need to trial out a few before finding the perfect laser toy. But your feline pal will enjoy hours of play in the meantime!
If you need some more options for feline play time be sure to read our guide to the best interactive cat toys.
Get the best advice, tips and top tech for your beloved Pets
Cynthia Lawrence is freelance lifestyle journalist. Starting off her career in national magazines, she moved to digital and e-commerce publications. When she's not reviewing exciting products, she is obsessed with home interiors and her neighbour's cat!