Best rabbit toys: Enrich your bunny's environment
The best rabbit toys tap into their natural instincts and offer essential health benefits for your bunny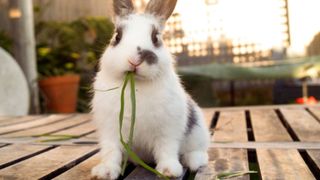 (Image credit: Getty Images)
Keep your rabbit mentally and physically stimulated with our pick of the best rabbit toys at every budget. These perfect playthings will not only provide them with opportunity to play but offer essential health benefits too. When you've got a flop-eared friend you'll need to consider how to keep their teeth in the best shape and provide them with safe refuge from any scary noises.
Rabbits love to run, hop, burrow and nibble, so selecting toys that tap into all these natural instincts will ensure your bunny stays happy and healthy. It's essential to provide your bunny with plenty of chew toys that are made from non-toxic wood to keep your bunny's teeth at an appropriate length, while tunnels, tubes and bridges all create a stimulating environment.
If you're looking for something more challenging than your standard playthings, however, foraging mats can be a really great way of making your bunny work for their food by having to sniff it out and then move the different parts of the mat about to access it.
Just ensure you have plenty of space for your rabbit's housing arrangements. Investing in a spacious rabbit hutch can be a great way of making sure your bunny has lots of room to roam and can help you spread out their toys so that they're not all squeezed together in one area.
If you're worried about not having enough room for your bunny and all their belongings, we highly recommend purchasing a good quality rabbit run or a connection kit to add onto your bunny's hutch to provide a ton of extra space that's safe and secure, without you having to worry about them being attacked by predators.
Let's take a look at our roundup of the best rabbit toys, with a range of options that'll tap into all of your rabbit's natural instincts.
PetsRadar's pick of the best rabbit toys
Why you can trust PetsRadar Our expert reviewers spend hours testing and comparing products and services so you can choose the best for you. Find out more about how we test.
Kaytee Apple Orchard Sticks
Best overall rabbit toy
Specifications
Type of toy:
Edible treat
Made from:
Sustainable trees
Dimensions:
16.5 x 11.4 x 1.9cm
Reasons to buy
+
Edible
+
Made from sustainable trees
+
Good for rabbit's teeth
Reasons to avoid
-
They won't last around hungry pets
-
Your bunny may not like the taste
We've chosen the Kaytee Apple Orchard Sticks as the best rabbit toy overall, which is sure to go down a treat with your pets. These chew sticks are made from apple wood and they're perfect for your rabbits to chew on when bored or hungry. The sticks are made from all-natural ingredients and the sticks are hard, which is not only safe for your pet but they also help your rabbit maintain healthy teeth by cleaning and trimming them down.
These apple wood sticks come in a pack of ten, so they should last a while, depending on how many rabbits you have and how quickly they can gnaw through them. Of course, not all pets are guaranteed to like this flavor, but 84% of customers who bought these said their furry friends loved them.
Chewing is a natural habit for rabbits, and these sticks are ideal to prevent them from gnawing other things, such as their hutches, or things that could cause damage or be toxic to their bodies. In addition, these treats are made from sustainable trees, and they're super cheap too, so that makes them a guilt-free treat for both you and your pets.
Woodlands Large Bull Rush Ball
Best budget rabbit toy
Specifications
Dimensions:
12.7 x 12.7 x 12.7cm
Reasons to buy
+
Small and light
+
Affordable
+
Safe to chew
Reasons to avoid
-
Not a treat
-
May get destroyed quickly
This ball made from straw is great for keeping your little bunnies occupied either out in the garden or inside. Not only does it provide your rabbits with the exercise they need and the ability to play and have fun, but it's also safe for chewing on and good for their teeth.
While this ball is not an edible treat, it can easily be stuffed with treats to make it extra fun to play with and chew. Bunnies like hay, so this can also be stuffed inside the ball and made into a game for your rabbit to find the treats inside. We recommend keeping it in sight though and not leaving it with your pets overnight – if they mark their territory it can get gross pretty quickly, and that's not something you want rolling around your house.
Depending on how much your rabbit loves this ball, then you may find they get through it quickly. Some buyers of this product say they purchase one a month, but at this price, it's a bargain. Pets At Home currently have this rabbit toy on a three-for-two offer, so you get even more for your money.
Rosewood Small Animal Activity Toy Rabbit Tube
Best tunnel rabbit toy
Specifications
Made from:
Vegetable parchment
Dimensions:
30cm x 21cm dia
Reasons to buy
+
Thick and sturdy
+
Big enough for rabbits to fit through
+
Safe to chew
Reasons to avoid
-
Essentially a large toilet roll
-
Rabbits may destroy it
This basic tube may seem like an overpriced toilet roll, but to your bunny, it's so much more than that. This sturdy tube is made from durable materials and can withstand even the most mischievous bunnies trying to gnaw through it.
The tube can be used as a tunnel for your rabbits to play and explore, or they may simply wish to use it as a place of shelter from the sun when out in the garden. It's big enough for rabbits to lay in or crawl through, and you can even buy multiple tubes to make one big bunny assault course.
This product is far better than a plastic tube, which could be chewed into small pieces and swallowed. The cardboard is safe for rabbits, made from 100% vegetable parchment, so they can chew on it without ripping it to pieces. The tubes also come in different sizes so you can buy a variety depending on the size of your rabbits.
You'll be surprised at the hours of fun your rabbit will have playing, hiding and sleeping in this colorful tube. The price is affordable and the tubes can be recycled afterward, so they're a sustainable option for your household too.
Pets At Home Gnaw Fir Cone and Carrot Garland
Best decorative rabbit toy
Reasons to buy
+
Looks pretty
+
Chewable
+
Affordable
Reasons to avoid
-
Easy to break
-
Natural wood can splinter
This natural wood garland with fir cones and carrots is a cute way to make your rabbit feel at home. This can be hung up in their hutch or in your home, not just as a decorative toy but something for your rabbits to nibble on. The garland has different sized items on its string, making it perfect for all sized pets.
Gnawing is part of your pet's natural behavior, and even though you may think this garland is too pretty to chew, it's specifically designed with textures that are appealing to rabbits. Chewing these items isn't just fun for them, it will also keep their teeth healthy and strong.
However, it is advised to keep an eye on the wear and tear to this garland, as natural wood can splinter over time, which could cause damage if not thrown away when it has had its day. You may find this rabbit toy ends up on the floor quickly after hanging it up, but if your pet is enjoying running around with it too, then that's a bonus.
Best rabbit toy for sleepy bunnies
Specifications
Dimensions:
37 x 37 x 35cm
Reasons to buy
+
Outdoor or indoor use
+
Snuggly fur inside
+
Includes pegs
Reasons to avoid
-
Nylon could get ripped
-
Not waterproof
This rabbit wigwam is the best rabbit toy for outdoors on a sunny day. The tent, made from Nylon, includes rustling foil that rabbits will love to play with and that gives them some shade when out in the heat. It comes with tent pegs so you can pitch this rabbit wigwam in the garden or you can set it up indoors on a rainy day for some entertainment for your bunnies.
The inside features a snuggly fur lining, which makes it a super cozy place for your pets to take a nap or relax. The outer is made from Nylon, however, which could get ripped if you have mischievous bunnies, so be sure to keep an eye on the wire in case any holes appear.
This little tent is also not totally waterproof, so make sure you don't leave it outdoors overnight or use it as a permanent place for your rabbits to sleep, as if they pee in it, it will seep through onto the floor.
Overall, this is a stylish little house that gives your rabbits an extra bit of freedom to relax outside of their hutch.
Tokihut Rabbit Foraging Mat
Best rabbit toy for enrichment
Specifications
Type of toy:
Foraging mat
Dimensions:
25 x 25 inches
Reasons to buy
+
Machine washable
+
Encourages natural foraging skills
+
Well made
Reasons to avoid
-
Not suitable for more than two rabbits
So yes, you could just put your bunny's food in a bowl, but where's the fun in that? With this fantastic foraging mat from Tokihut you can turn mealtimes into a game, providing your floppy-eared friend with plenty of mental enrichment while they eat.
Sized at a generous 25 x 25 inches, this delightfully decorated mat provides plenty of space to hide pellets and treats and will put your pet's nose and brain to work, mimicking how they would hunt for food in nature. Encouraging natural foraging skills while piquing your rabbit's intellectual curiosity, this mat will keep them entertained while they search for their food.
If you have a fast eater on your hands, a foraging mat is a great way to help slow them down, and it's an excellent boredom buster too. The mat folds away easily for easy storage after use and it's machine washable on a gentle cycle, making clean up a breeze.
Meric Rabbit IQ Treat Ball
Best rabbit toy puzzle
Specifications
Type of toy:
Food dispenser
Dimensions:
7 x 5 x 4 inches
Reasons to buy
+
Engaging
+
Promotes slow eating
+
Mentally stimulating
Reasons to avoid
-
Super clever bunnies may figure out how to open it
You've probably seen interactive food dispensing toys for dogs and cats but you might not have spotted that they've started making them for bunnies too. This one from Meric is one of the best we've seen, designed to minimize boredom and maximize logical skills.
Your floppy-eared friend will need to work for his food, but this treat ball is so fun he probably won't even notice. The transparent part of the ball lets your bunny see through to the treats inside, keeping him motivated, and the slow-feeding inner structure makes sure he can't gobble through too much food all at once.
IQ treat balls are a fantastic choice if you're wanting to improve your bunny's eye-paw coordination as he'll have to figure out how to roll it to get the ball to release the treats. Weighing in at 11 ounces and with a four-inch diameter and five-inch height, it's perfect for bunny paws and will happily hold diced vegetables, fruits, and other snacks.
Improving both mental and physical health as well as being entertaining, the Meric Rabbit IQ Treat Ball is the must-have toy for 2021.
Natural Timothy Hay Sticks
Best rabbit toy for dental health
Specifications
Type of toy:
Dental chew sticks
Made from:
Timothy Grass, Fruit Tree Grass, Barley Grass, Alfalfa
Dimensions:
4.7 inches long
Reasons to buy
+
Full of nutrition
+
Aids digestion
+
Great for teeth
Reasons to avoid
-
Some bunnies may not like the taste
Amazing value for money, this pack of high-quality chew sticks are the perfect way to keep your bunnies chompers in tip-top condition. Made from natural timothy hay with alfalfa, barley grass, and fruit tree grass, the sticks are full of fiber and will help your rabbit to wear their teeth down.
The high fiber content means these sticks are brilliant for your bunnies digestion, helping their gastrointestinal system to function smoothly and they're full of protein and minerals too.
Each pack contains 20 chew sticks measuring 4.7-inches in length and 0.59-inches in diameter, so if you're looking for a way to keep your bunny occupied while at the same time making sure their teeth and gums stay healthy, these sticks are a fantastic choice that won't break the budget.
How to choose the best rabbit toys
Remember, every rabbit is unique and has different wants and needs. You know your pet better than anyone, so consider their behavior before choosing the best rabbit toys for them.
Chew toys are good for all rabbits as one of their most natural behaviors is gnawing. Chewing on things (as long as they are good things), can help them keep their teeth healthy and wear them down so they don't grow too large.
Make sure you always check that the rabbit toy you want does not contain any toxic materials that could be harmful if your rabbit were to chew on them. There are lots of different chew treats and toys available, and it's not guaranteed that your rabbit will like everything, so it's a case of trial and error.
Rabbits need lots of exercise, so toys that can make their daily venture outside a bit more interesting are always a plus. Accessories like tubes, tunnels, steps and bridges are great little additions to rabbit runs and hutches.
And finally, you may wish to consider comfort. If your rabbit is more of a sedentary pet and enjoys lounging around, hiding and burrowing, then something like the pop-up tents and pens are a great comfort for them.
Get the best advice, tips and top tech for your beloved Pets
Sarah is a freelance writer and marketer, covering a variety of topics from lifestyle and fitness to sustainability and travel. When she's not writing for PetsRadar or other websites, she can be found looking after her pet chickens or relaxing with a cuppa and a cute doggo snoozing on her lap!