Best rabbit toys: Make sure you never have a bored bunny
We round up the best rabbit toys to keep your furry friend happy, healthy and amused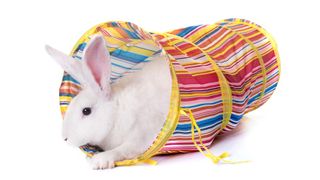 (Image credit: Getty Images)
Many people assume that rabbits are quite sedentary animals, spending most of their day eating and sleeping, however, this is not true. Rabbits are used to the wild, which is why it is important to give them the best rabbit toys to provide plenty of exercise and entertainment.
You will find a range of different rabbit toys on the market, all of which can keep your rabbit occupied for hours. There are chew toys that help with the maintenance of your rabbit's teeth and climbing toys for the adventurer in them. You can even get puzzle-type rabbit toys to keep your bunnies mentally stimulated. But what are the best rabbit toys?
Rabbit toys are relatively inexpensive, but you'll want to choose a toy that's right for your pet. All rabbits are unique, but they need to be able to carry out their natural behavior, such as digging, jumping and chewing, so it's always good to provide your rabbit with a variety of toys to let them live a fulfilling lifestyle. Always be sure to check there are no small parts your rabbit could swallow, and ensure toys are non-toxic to avoid any upset.
We've picked out some of the best rabbit toys 2020 has to offer for your furry friends.
PetsRadar's pick of the best rabbit toys
Kaytee Apple Orchard Sticks
Type of toy: Edible treat | Made from: Sustainable trees | Dimensions: 16.5 x 11.4 x 1.9cm
Edible
Made from sustainable trees
Good for rabbit's teeth
They won't last around hungry pets
Your bunny may not like the taste
We've chosen the Kaytee Apple Orchard Sticks as the best rabbit toy overall, which is sure to go down a treat with your pets. These chew sticks are made from apple wood and they're perfect for your rabbits to chew on when bored or hungry. The sticks are made from all-natural ingredients and the sticks are hard, which is not only safe for your pet but they also help your rabbit maintain healthy teeth by cleaning and trimming them down.
These apple wood sticks come in a pack of ten, so they should last a while, depending on how many rabbits you have and how quickly they can gnaw through them. Of course, not all pets are guaranteed to like this flavor, but 84% of customers who bought these said their furry friends loved them.
Chewing is a natural habit for rabbits, and these sticks are ideal to prevent them from gnawing other things, such as their hutches, or things that could cause damage or be toxic to their bodies. In addition, these treats are made from sustainable trees, and they're super cheap too, so that makes them a guilt-free treat for both you and your pets.
Woodlands Large Bull Rush Ball
Type of toy: Ball | Made from: Straw | Dimensions: 12.7 x 12.7 x 12.7cm
Small and light
Affordable
Safe to chew
Not a treat
May get destroyed quickly
This ball made from straw is great for keeping your little bunnies occupied either out in the garden or inside. Not only does it provide your rabbits with the exercise they need and the ability to play and have fun, but it's also safe for chewing on and good for their teeth.
While this ball is not an edible treat, it can easily be stuffed with treats to make it extra fun to play with and chew. Bunnies like hay, so this can also be stuffed inside the ball and made into a game for your rabbit to find the treats inside. We recommend keeping it in sight though and not leaving it with your pets overnight – if they mark their territory it can get gross pretty quickly, and that's not something you want rolling around your house.
Depending on how much your rabbit loves this ball, then you may find they get through it quickly. Some buyers of this product say they purchase one a month, but at this price, it's a bargain. Pets At Home currently have this rabbit toy on a three-for-two offer, so you get even more for your money.
Rosewood Small Animal Activity Toy Rabbit Tube
Type of toy: Tube | Made from: Vegetable parchment | Dimensions: 30cm x 21cm dia
Thick and sturdy
Big enough for rabbits to fit through
Safe to chew
Essentially a large toilet roll
Rabbits may destroy it
This basic tube may seem like an overpriced toilet roll, but to your bunny, it's so much more than that. This sturdy tube is made from durable materials and can withstand even the most mischievous bunnies trying to gnaw through it.
The tube can be used as a tunnel for your rabbits to play and explore, or they may simply wish to use it as a place of shelter from the sun when out in the garden. It's big enough for rabbits to lay in or crawl through, and you can even buy multiple tubes to make one big bunny assault course.
This product is far better than a plastic tube, which could be chewed into small pieces and swallowed. The cardboard is safe for rabbits, made from 100% vegetable parchment, so they can chew on it without ripping it to pieces. The tubes also come in different sizes so you can buy a variety depending on the size of your rabbits.
You'll be surprised at the hours of fun your rabbit will have playing, hiding and sleeping in this colorful tube. The price is affordable and the tubes can be recycled afterward, so they're a sustainable option for your household too.
Pets At Home Gnaw Fir Cone and Carrot Garland
Type of toy: Chew toy | Made from: Natural wood | Dimensions: 72 x 5 x 5cm
Looks pretty
Chewable
Affordable
Easy to break
Natural wood can splinter
This natural wood garland with fir cones and carrots is a cute way to make your rabbit feel at home. This can be hung up in their hutch or in your home, not just as a decorative toy but something for your rabbits to nibble on. The garland has different sized items on its string, making it perfect for all sized pets.
Gnawing is part of your pet's natural behavior, and even though you may think this garland is too pretty to chew, it's specifically designed with textures that are appealing to rabbits. Chewing these items isn't just fun for them, it will also keep their teeth healthy and strong.
However, it is advised to keep an eye on the wear and tear to this garland, as natural wood can splinter over time, which could cause damage if not thrown away when it has had its day. You may find this rabbit toy ends up on the floor quickly after hanging it up, but if your pet is enjoying running around with it too, then that's a bonus. For just £5, this is one of the best rabbit toys for beautiful bunny homes.
Rabbit Wigwam
Type of toy: Shelter | Made from: Nylon | Dimensions: 37 x 37 x 35cm
Outdoor or indoor use
Snuggly fur inside
Includes pegs
Nylon could get ripped
Not waterproof
This rabbit wigwam is the best rabbit toy for outdoors on a sunny day. The tent, made from Nylon, includes rustling foil that rabbits will love to play with and that gives them some shade when out in the heat. It comes with tent pegs so you can pitch this rabbit wigwam in the garden or you can set it up indoors on a rainy day for some entertainment for your bunnies.
The inside features a snuggly fur lining, which makes it a super cozy place for your pets to take a nap or relax. The outer is made from Nylon, however, which could get ripped if you have mischievous bunnies, so be sure to keep an eye on the wire in case any holes appear.
This little tent is also not totally waterproof, so make sure you don't leave it outdoors overnight or use it as a permanent place for your rabbits to sleep, as if they pee in it, it will seep through onto the floor.
Overall, this is a stylish little house that gives your rabbits an extra bit of freedom to relax outside of their hutch.
Cool Club Wooden Watermelon Bridge
Type of toy: Outdoor accessory | Made from: Wood | Dimensions: 7 x 7.5 x 15cm
Outdoor or indoor
All natural materials
Cute design
May be too small for larger rabbits
This cute watermelon bridge can transform your rabbit run into your pet's very own Club Tropicana. Simple yet fun, this design can add an extra bit of entertainment to your rabbit's daily exercise and brighten up their living space. The wooden bridge is made from all-natural materials, making it pet safe. If they do want to gnaw away at it then that's fine!
Place it into their run with other toys, such as the toy rabbit tube, to create a little assault course in the garden. This rabbit toy can also be used indoors inside a playpen or hutch to give your rabbit a bit of variety during playtime.
The bridge may be too small for some larger bunnies, and you must be sure to always check for wear and tear so your bunny doesn't harm itself, but overall, whether it's chilling or chewing, this is one of the best rabbit toys to add to their collection.
How to choose the best rabbit toys
Remember, every rabbit is unique and has different wants and needs. You know your pet better than anyone, so consider their behavior before choosing the best rabbit toys for them.
Chew toys are good for all rabbits as one of their most natural behaviors is gnawing. Chewing on things (as long as they are good things), can help them keep their teeth healthy and wear them down so they don't grow too large.
Make sure you always check that the rabbit toy you want does not contain any toxic materials that could be harmful if your rabbit were to chew on them. There are lots of different chew treats and toys available, and it's not guaranteed that your rabbit will like everything, so it's a case of trial and error.
Rabbits need lots of exercise, so toys that can make their daily venture outside a bit more interesting are always a plus. Accessories like tubes, tunnels, steps and bridges are great little additions to rabbit runs and hutches.
And finally, you may wish to consider comfort. If your rabbit is more of a sedentary pet and enjoys lounging around, hiding and burrowing, then something like the pop-up tents and pens are a great comfort for them.
Get the best advice, tips and top tech for your beloved Pets
Thank you for signing up to Petsradar. You will receive a verification email shortly.
There was a problem. Please refresh the page and try again.