Best indoor rabbit hutches: Six great places for your house bunny to live
Find the best indoor rabbit hutches to give your bunny their very own cosy home inside your house.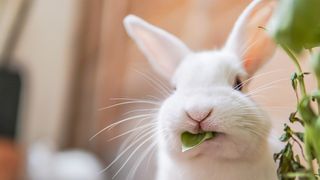 (Image credit: Getty Images)
Indoor rabbit hutches can give your bunny a safe and warm place indoors. Choosing the right space is important to ensure they live a happy and fulfilling life with you. Some rabbit owners choose to keep their pet indoors all year round, and others only in the winter, but either way, having the perfect indoor rabbit hutch will meet all their needs.
If you prefer to keep you rabbit outdoors, then you can check out our round-up of the best rabbit hutches for a wider selection of both indoor and outdoor options. Indoor rabbit hutches come in a variety of sizes, styles and with certain specs depending on your needs. It's important that your rabbit has ample room to move around, and you may also want to consider purchasing one of the best rabbit runs to provide more space, along with some of the the best rabbit toys to keep them entertained.
Check out some of our favourites below to find an indoor rabbit hutch that's perfect for your pet.
PetsRadar's pick of the best indoor rabbit hutches
Indoor Lounge Small Pet Rabbit & Guinea Pig Cage
Best overall indoor rabbit hutch
Size: LWH 107.5 x 58 x 118 cm | Material: Spruce Wood | Style: Double-tiered | Rabbit size: 2 regular sized
Sturdy
Looks good
Easy to clean
A little pricey
Tricky to assemble
This double tiered indoor rabbit hutch is spacious yet compact, and can accommodate up to two rabbits. It has a hatch between the tiers, so they can roam up and down via a ramp (as long as they get on well). The hutch is made from spruce wood, which is suitable for indoor use, and buyers of this hutch have praised its durability, even withstanding rabbit nibbles here and there. Some have noted it is not the easiest to put together, so you'll need to set aside some time for assembly, but once it's done it is a great little home for your house bunnies.
The gray and white design would look good in any home, and makes a change to a standard-looking cage. It's easy to clean, with removable trays, and the hutch has separate sleeping and living quarters, both sealed off with a bolt lock if necessary so your rabbits don't jump out in the night. This also means you can separate two rabbits who live together if there are any issues such as fighting or illness.
While the wood is waterproof, it is recommended to place this indoor rabbit hutch on a waterproof base to avoid any leakage or spills ruining your floor in your home. Overall, buyers love the design and overall look and feel of this indoor rabbit hutch.
Little Friends Paris Indoor Rabbit Cage
Best budget indoor rabbit hutch
Size: LWH 99.5cm x 57cm x 54cm | Material: Metal, plastic | Style: Cage | Rabbit size: 1 medium sized rabbit
Accessories included
Smooth base
Spacious for medium-sized rabbit
No assembly instructions
Litter tray is small
This is a great value indoor rabbit hutch if you're shopping on a budget. While it looks a little small, this cage is surprisingly spacious, and is ideal for your house bunny to sleep in indoors. It comes with all the accessories you need, including a water bottle, litter tray, shelf, and bowl. The litter tray is designed to help with litter training, however some pet owners have said the hood makes the tray a little restrictive for some larger bunnies.
The base is smooth and flat, so it's comfortable for your bunny's feet, and there's a little ramp leading up to the shelf where your rabbit can feed. Buyers said the indoor rabbit hutch didn't come with assembly instructions, but that it was easy enough to put together, and the cage has proved durable and sturdy. It is said to be the perfect size for a medium rabbit or two dwarf rabbits, and the cage style with white sides makes this indoor rabbit hutch light and airy. The metal bars are safe and will stop your rabbit from gnawing their way out.
Remember to always purchase a separate rabbit run either for indoors or outdoors so they have space to play.
Ferplast Krolik Rabbit Cage
Best large indoor rabbit hutch
Size: LWH 162 x 60 x 50 cm | Material: Metal, plastic | Style: Cage | Rabbit size: 2 regular sized rabbits
Removable extension
2 bottles and feeders
Easy top access
Takes up space
Water bottles not the best
Not the prettiest
This large indoor rabbit hutch is ideal for giving your bun extra space. It has a removable 40cm extension, which is perfect for them to build a little nest or snuggle in the hay. The main cage comes with two bottles and feeders, plus one bowl, so if you have more than one rabbit there won't be any fights at feeding time. The top opening makes it easy to access the hutch and clean out, and while it's big, it's lightweight, so easy to move around if needed.
Users have said the bottles are not the best, so you may find you want to replace these, but with everything else that's included its good value for money. This indoor rabbit hutch is definitely more practical than it is pretty, and although it comes with an assembly kit, many found it tricky to put together. But rabbit owners said once together it is incredibly durable, and that their bunnies appreciate the extra space. A good buy if you want somewhere spacious for your rabbits to sleep soundly at night.
Ferplast Indoor Wooden Hutch
Best stylish indoor rabbit hutch
Size: LWH 108 x 59 x 102.5 cm | Material: Wood | Style: Double tiered | Rabbit size: Small rabbit
Looks gorgeous
Sliding door access
Easy to assemble
Not suitable for larger breeds
Quite pricey
If you're looking for a hutch that you will love as much as your rabbit then this is the indoor rabbit hutch for you. It's stylish and functional, with beautiful painted wood that complements any home. The double-tiered design means it's spacious for your pet, but you don't have to compromise on floor space. This rabbit cottage, as it's referred to, has a separate sleeping and living space, giving your bunny plenty of room to explore, burrow, and rest inside.
The hutch also has easy access from all areas, including a fold-out roof panel in the main section and in the sleeping quarters, plus a sliding side door at the bottom so your rabbits can get in and out with ease. There is a ramp inside for access to the second tier, and the trays are especially deep for your rabbits to be able to burrow without making a mess on your floor.
It's easy to clean, with a removable tray, and many users have mentioned it's easy to put together. While it does have a higher price tag than the rest of our round-up, and it's not suitable for larger rabbits, overall we rate it one of the best indoor rabbit hutches for its luxurious look and feel.
PawHut Portable Indoor Wooden Rabbit Hutch
Best portable indoor rabbit hutch
Size: 90 x 53 x 59 cm | Material: wood | Style: trolley | Rabbit size: small
On wheels
Weather resistant
Two levels
A little small
Casters slip sometimes
The PawHut portable indoor rabbit hutch is beautifully designed for small rabbits to live indoors. It is a compact design that won't take up too much space, plus it has four wheels so it is easily portable around the home to keep your furry friend nearby at all times. The hutch itself has three inner areas making this a cozy little apartment for your bunny, with a private "bedroom", a large open area at the bottom, and a ramp up to a higher tier, giving them the freedom to move around.
Despite this being an indoor hutch, it is made from fir wood which is coated with weather-resistant paint, so this will protect against any damp, liquid spillages and any wear and tear indoors, but you could also choose to use this hutch outdoors if you wanted to.
The hutch has easy access from the top opening roof, and it has a pull-out tray for easy cleaning, plus the wheels can be locked when not in use so that this hutch is stable and secure. The hutch also features mesh wire all around for a secure and safe space, and secure doors to ensure your bunny doesn't go wandering off when you don't know about it.
Overall this rabbit hutch is finished to a beautiful standard with lovely neutral colours that would look good in any home.
Little Friends Indoor Rabbit Hutch with Run
Best indoor rabbit hutch with a run
Size: LWH 80 x 44 x 43cm **Material:** Metal, Plastic | Style: Hutch & Run | Rabbit size: Small to medium sized rabbit
Comes with run
Ramp and toy house included
Affordable
Not for big bunnies
A little flimsy
This is a great buy if you're on a budget, as you get a whole bundle of fun for your bunny with this indoor rabbit hutch. The hutch comes with a run/indoor pen, so your rabbit can have some time out of the cage even when indoors. The hutch also comes with a little ramp and a metal toy house for them to play with. Rabbit owners have suggested it may not be suitable for larger bunnies, as they may be able to jump over the sides of the run. However, for smaller or younger house rabbits, this is ideal for helping them settle into your home while under supervision. It is also recommended that the toy house is kept away from the edges of the pen to stop your bunny from using it to jump over the pen railings.
The run is 45x45cm, giving your rabbit space to roam and play when it's not possible to go outdoors, and while some have said it was a little smaller than expected, the cage itself is sturdy and well made, making it worth the price for the indoor hutch alone.
How to choose the best indoor rabbit hutch
More and more people are adopting house bunnies, which with the weather in the UK being very unpredictable, means that these rabbits will always have a warm and snuggly place to sleep. However, there's a few things to consider before you purchase indoor rabbit hutches.
Primarily, you need to think about size. It's really important for the quality of life of your rabbit that they have enough space to be comfortable. Indoor rabbit hutches are generally smaller than outdoor hutches, and you will need to consider the space you have available inside your home, but you can always buy extensions for the hutches for your rabbits to play during the day time, too.
Even if you have a small rabbit, they grow fast, so it's better to invest in a larger hutch that will still be able to accommodate them even when they grow older. A multi-level indoor rabbit hutch is better for more active bunnies who may want to explore and wander around even when indoors.
The type of flooring on indoor rabbit hutches is important too, as mesh can begin to hurt your bunnies' feet over time, so something flat and smooth like plywood will be more comfortable for them.
You can also check out the best rabbit runs to add additional space for your rabbit to play.
Get the best advice, tips and top tech for your beloved Pets
Thank you for signing up to Petsradar. You will receive a verification email shortly.
There was a problem. Please refresh the page and try again.