Best indoor rabbit hutches 2023 for sleep, exercise and play
The best indoor rabbit hutches will keep your bunny warm, entertained, and protected from outdoor hazards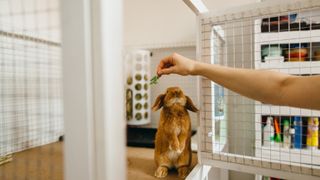 (Image credit: Getty)
Choosing to keep a bunny in one of the best indoor rabbit hutches instead of outdoors is becoming a popular option for many owners. While you may have more available space outside in your garden, an indoor hutch can provide a happier life for a rabbit.
Any good guide to rabbit care will emphasize how important your rabbit's comfort is in its day-to-day environment. One big bonus of keeping your small pet under the same roof as you is that it provides them with more human interaction. It will also protect your rabbit from harsh temperatures, predators, and parasites - all the while keeping your mind at rest. You'll always be able to keep an eye on them, check their food dispensers are topped up, and can even include your bunny in your evening pamper routine with one of the best rabbit brushes.
Dr Joanna Woodnutt, a qualified vet, says the features of your indoor rabbit hutch will depend on how often you intend to let your bunnies out. She also points out that rabbits should live in pairs, so whichever hutch you decide on should ideally be large enough for two.
"As a bare minimum, an indoor rabbit hutch should be large enough to allow your rabbit to stand and stretch and should be able to hop three paces without having to turn," she adds, "But this is assuming that your rabbit will spend most of the day out of their hutch, only returning for night hours. The RWAF recommends 3m x 2m of ground space and 1m high if your rabbit will confined for any daylight hours."
You'll also want to ensure you have space add in additional features for your bunnies' comfort such as special matting, a bed, litter tray, hiding areas, hay racks, and a variety of entertaining toys to make the room into a hutch.
There are plenty more options to suit different bunny and bunny owner needs in our roundup of the best rabbit hutches. Just keep reading to find the right one…
After graduating as a veterinarian from the University of Nottingham, Dr Joanna Woodnutt went on to practice companion animal medicine in the Midlands, UK. Dr Woodnutt is specifically interested in consulting and helping her clients understand their pets better, whether it's around medical problems such as dermatology, behavior, and nutrition.
PetsRadar's pick of the best indoor rabbit hutches
Why you can trust PetsRadar Our expert reviewers spend hours testing and comparing products and services so you can choose the best for you. Find out more about how we test.
MidWest Homes for Pets Wabbitat Deluxe Home Kit
Best overall indoor rabbit hutch
Specifications
Size:
39.5" x 23.75" x 19.75" / 1m x 0.6m x 0.5m
Space for:
1 large rabbit / 2 small rabbits
Reasons to buy
+
Accessories included
+
Extensions available
+
Easy to clean
What buyers say
Buyers love how generous in size this hutch is and this is without the extension options. Reviewers note how there is space for their rabbits to chill on the shelf, room to run around, and the hideout is a great place for bunnies to take refuge in if they feel uncomfortable. While buyers have awarded this 4.5 out of five stars on Amazon, they do say the water bottle is on the small side and the clips can be a little stiff when assembling the unit.
If you're looking for a roomy home for your rabbit, then the MidWest Homes for Pets Wabbitat Deluxe Rabbit Home offers plenty of space - plus the option to extend!
The standard cage measures up at 39.5 x 23.75 x 19.75 (LxWxH) inches, while you can also buy an extra spacious wire extension offering at 47.16 x 23.62 x 19.68 inches (LxWxH). The multiple extensions for this deluxe rabbit home, include a stylish private wooden retreat for your furry friend to retreat to. Despite this Midwest model being on the cheaper end of the scale compared to the likes of the more elaborate-looking Kinbor Indoor Rabbit Hutch below, it gets excellent reviews from buyers and is generally more popular amongst pet owners.
The cage comes equipped with many beneficial features including an elevated feeding area, hay feeder, bowl, and water bottle, although they could be slightly better quality in some areas. The water bottle, for instance, sometimes does not disperse enough water.
All in all, this deluxe rabbit home is praised for its high quality albeit it can be challenging to assemble. If you can offer up the necessary patience to put this luxury rabbit home together, it's worth it to see your rabbit reap the benefits of this sturdy and comfortable rabbit hutch.
Kinbor Indoor Rabbit Hutch
Best stylish indoor rabbit hutch
Specifications
Size:
60.14" x 17.86" x 37.9" / 1.5m x 0.4m x 0.9m
Reasons to buy
+
Well-ventilated
+
Multiple removable trays for cleaning
+
Room for sleep and play
What buyers say
Buyers have awarded this Kinbor hutch 3.5 out of five stars and enjoy the safe home this provides their rabbits with. One buyer said their cat even loves the space. Another user highlights that the instructions miss out on how to install the ramp provided but they also said it's fairly easy if you've built your own furniture before.
For those reading this that take pride in their home decor, we get it, you don't want a large clunky rabbit hutch ruining the feng shui of your living quarters. Thankfully, with an option like the Kinbor Indoor Rabbit Hutch, you'll be hard-pressed to find a more stylish enclosure for your bunny than this offering from Kinbor with its beautiful wooden design and eco-friendly lacquered finish.
Measuring 60.14" x 17.86" x 37.9 " (LxWxH), the hutch is suitable for two bunnies, and comes with a nesting box, resting box, and ramp. Even though keeping a rabbit indoors is already safer, this hutch has lockable doors on each floor of the model to ensure your bunnies stay where they are meant to and aren't playing hide and seek around your home. There's also an additional side door that's connected to the ramp, so plenty of ways to get your rabbits in and out safely.
Durable and secure, the mesh wiring allows for plenty of ventilation so you needn't worry about your rabbit overheating in hotter months. Nobody enjoys cleaning out a rabbit hutch but it has to be done, thankfully, Kinbor has made this chore much easier with a design that features three removable pull-out trays. It also comes with tools and detailed instructions, which ensure it's a breeze to assemble. However, it does state on Amazon that using your own tools could make the process easier so it's worthwhile doing a recce of what tools you own before purchasing this hutch.
Ferplast Krolik Rabbit Cage
Best first-time rabbit hutch
Specifications
Size:
39.4" x 23.6" x 19.7" / 1m x 0.6m x 0.5
Reasons to buy
+
Well accessorized
+
Detachable base for cleaning
+
Easy access with full front door
What buyers say
Buyers have awarded this Kinbor hutch 3.5 out of five stars and enjoy the safe home this provides their rabbits with. One buyer said their cat even loves the space. Another user highlights that the instructions miss out on how to install the ramp provided but they also said it's fairly easy if you've built your own furniture before.
If you are about to become a first-time rabbit owner or are making the transition from keeping your bunnies in an outdoor enclosure to an indoor one, you'll benefit from buying one that's already decked out with the essentials. If this sounds more than ideal to you then look no further than the Ferplast Krolik Rabbit Cage, which comes fully kitted out with a large water bottle, feeding bowl, hay feeder & elevated feeding area.
This Ferplast enclosure has helpful additions to make daily use as simple as possible. For example, the full front door provides quick and easy access to your bunnies and the bottom of the hutch can be detached for cleaning or emptying litter out. The drinking bottle provided comes with a hook that you can firmly attach to the caging and the bottle has a large volume capacity which you can check via the handy water level indicator.
Although some users complain of the Ferplast hutch being hard to assemble, once it's up it's incredibly durable. We rethink it's worth it if you want a spacious indoor enclosure for your bunny that's kitted out with all the essentials. We also love the added bonus of being able to extend the size of the hutch if needed. Perhaps when your bunny grows into an adult rabbit or you decide to welcome another rabbit for company, you have the option to purchase a special extension that can be attached to the cage structure for more space.
New Age Pet ecoFLEX Park Avenue Indoor Small Animal Hutch
Best eco-friendly indoor rabbit hutch
Specifications
Size:
39.4" x 23.6" x 19.7" / 1m x 0.6m x 0.5m
Materials:
ecoFlex (a composite of recycled polymer & wood)
Reasons to buy
+
Made from recyclable materials
+
Stylish
+
Easy clean-up
+
Easy to assemble
Reasons to avoid
-
Not designed for big rabbits
-
Nowhere to attach a water bottle
What buyers say
Buyers describe this product as an attractive and sturdy hutch for a rabbit but others repeatedly express that this is a very small hutch not suitable for bigger rabbits. Overall it scored 3.4 out of five stars on Petco.
Made from recycled materials including weatherproof ecoFLEX and plastic polymer composite, this stylish hutch will fit seamlessly into any room with its simple, sleek design while also being resistant to moisture, odor, and mildew. Featuring a slide-out bottom drawer, you should find maintaining the general cleanliness of this New Age hutch pretty easy.
The hinged lid and mesh cover makes for easy access. If you want to bring your bunny out to play or simply top up their food and water, there will be no faff required. It's worthwhile noting here that there isn't an obvious place to clip on a water bottle. The more sophisticated design means there isn't an overly practical spot to attach a bottle to. If you can find somewhere to screw an attachment on yourself or find a way to dangle it from the top wiring, problem solved.
Rabbit owners should be aware of the size, however. If your bunny is on the larger side or does not often free-roam the house, you might consider a larger hutch. Otherwise, this is a perfect multi-floor pet penthouse for bunnies on the smaller side who love nothing more than popping into their own private hideaway once in a while.
GUTINNEEN Indoor Rabbit Hutch
Best easy to clean indoor rabbit hutch
Specifications
Size:
39.4" x 23.6" x 36.2" / 1m x 0.6m x 0.9m
Reasons to buy
+
Stylish
+
Easy to assemble
+
Removable wire netting for simple cleaning
Reasons to avoid
-
Smells can soak into the wood
-
Not good for chewers
What buyers say
According to buyers, assembly is easy for this GUTINNEEN rabbit hutch although some people did receive faulty parts in their delivery. However, it is said to be a sturdy and great looking hutch for indoors and people's rabbits love using the two levels. Overall, it scored 4.2 out of five stars on Amazon.
This stylish hutch is made from natural fir wood and painted with eco-friendly waterproof non-toxic varnish to create a beautiful home for your floppy-eared friends. We like that it will blend seamlessly with modern decor and most agree that this hutch is easy to build. However, we do recommend that you have a helper with you to make the process even more seamless. Two of the wheels on this hutch have breaks attached, so you can fix the hutch in place, and it's easy to assemble with pre-drilled holes.
Measuring 40.6 x 26 x 37.6 inches (LxWxH), the hutch is comprised of two tiers with a lower level providing space for your bunny to move about and a ramp leading to an upper-level sleeping area. The access door makes it easy to give your rabbit the freedom to move between their hutch and your living space if you so wish and the sturdy latch means you can lock them in safely at night or when you're out and about.
One of the major advantages of this hutch is how easy it is to clean. The trays come with removable wire netting, so your bunny won't be standing in their business and you can slip the wire off the trays when you're wanting to clean them. The trays are also deep and won't leak.
However, this model is made from wood which poses two hiccups worth noting. First, if you don't regularly clean this hutch, urine and feces smells can seep into the wood and linger around the room. Another issue with it being made from wood is that bunnies who love to chew will stick their teeth into their hutch, tainting the appearance and potentially breaking parts of it.
Frisco Wire Small Pet House Shaped Cage
Best basic indoor rabbit hutch
Specifications
Size:
48" x 31.18" x 39.29" / 1.2m x 0.8m x 1m
Material:
Metal, coated metal
Reasons to buy
+
Spacious
+
Easy to transport and assemble
+
Dual door access
What buyers say
There is a general consensus amongst the reviews for this product that it looks bigger in pictures. However, many people agreed it was easy to build and looked good. It gained praise for how easy it is to clean and that it feels sturdy and safe to store a bunny in. The positives seemed to outweigh the negatives and this Frisco model boasts a 4.2 out of 5 stars scoring on Amazon.
This spacious cage hutch is simple in design, with fewer bells and whistles on offer than the likes of the MidWest Homes for Pets Wabbitat Deluxe Home Kit in our guide but it sizes up well as 48 x 31.18 x 39.29 inches (LxWxH), meaning it provides plenty of room for play, sleep, and eating. With plenty of space and metal caging you can easily upgrade this hutch and add whatever accessories you want your rabbit to enjoy.
The basic design makes this Chewy rabbit hutch easy to assemble and saves anyone allergic to DIY from having a mini meltdown. The option to sit the hutch on wheels is included, if you choose to attach them you'll find transporting the whole cage much easier. The dual doors on the sides provide easy access for you to attend to your bunny and you can use the pull-out trays to clean up their toilet mess.
The one thing we think is important to warn you of before buying this model is that the flooring is made from wiring, which could hurt your rabbit's feet. Simply placing some cardboard or other material over this is a quick fix but one to plan ahead before placing your rabbit in this hutch.
While it may not look like much, this spacious hutch is the perfect blank canvas for you to spruce up.
What to look for in an indoor rabbit hutch
More and more people are adopting house bunnies, which with the weather in the UK being very unpredictable, means that these rabbits will always have a warm and snuggly place to sleep. However, there are a few things to consider before you purchase indoor rabbit hutches.
Size
Primarily, you need to think about the size. It's really important for the quality of life of your rabbit that they have enough space to be comfortable. Indoor rabbit hutches are generally smaller than outdoor hutches, and you will need to consider the space you have available inside your home, but you can always buy extensions for the hutches for your rabbits to play during the daytime, too.
A general rule of thumb is to find a hutch that is minimal four times as long as your bunny. Even if you have a small rabbit, they grow fast, so it's better to invest in a larger hutch that will still be able to accommodate them even when they grow older. A multi-level indoor rabbit hutch is better for more active bunnies who may want to explore and wander around even when indoors.
Materials
What your rabbit hutch is made of is also extremely important and will vary across different styles. The most common materials you will spot when perusing your options are plastic, wood, and metal. The best thing to keep in mind is practicality. Although a wood design may be more attractive and stylish for sitting inside your home, it can attract chewing from your bunny and can absorb toilet smells. Whereas plastic or metal cages are often more affordable and are easier to clean.
Flooring material is also key for kitting your bunny out with a plush pad. If a rabbit hutch features wire flooring, you should ensure you cover this with better supportive material, or else it may be uncomfortable for your rabbit.
Extras
Rabbit hutches aren't cheap so you'll want to get your money's worth from your purchase. Has the brand included a pull-out tray in the hutch for making your cleaning duties easier? What is there inside the habitat to keep your bunny entertained? Will you have to buy separate water containers and food bowls or are these included?
How often should you clean an indoor rabbit hutch?
According to Woodnutt, "Indoor rabbit hutches will need cleaning at least weekly, and more often if your rabbits are not neutered or toilet trained. They'll also need cleaning more often if your rabbit is confined to a smaller area – a dedicated room is often easier to keep clean than a small cage!".
Where is best to put an indoor rabbit hutch?
Woodnutt says your hutch will need to be put somewhere with an even temperature – not too warm or cold. Avoid areas like conservatories that heat up in summer and get very cold in winter, as these extremes of temperature can be dangerous for rabbits. Consider the flooring – you might not want to install it on carpet – and how easy it will be to let your rabbits out for exercise. You should also make sure it isn't placed too close to hazards like electric cables.
Get the best advice, tips and top tech for your beloved Pets
Jessica is Staff Writer at PetsRadar who joined the team after spending over a year writing for the brand's sister site, Fit&Well. She is an avid dog spotter whilst out for her weekly runs and brings to the team a passion for creating informative and helpful digital content, which she has been putting to practice since graduating with a degree in Magazine Journalism in 2021.