Best indoor rabbit hutches: 12 beautiful bunny pads
With one of the best indoor rabbit hutches, you can ensure your floppy-eared friend has a comfortably safe space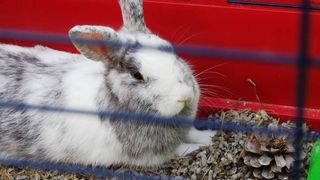 (Image credit: Getty Images)
Bunnies are quite happy outside but the best indoor rabbit hutches will also offer your pet a comfortable space inside your home. As well as ensuring they will be warm and safe from any potential predators, you can also stop your bunny from getting bored. This is important given how destructive and withdrawn a rabbit can become. But which indoor hutch should you choose?
One of the problems with hutches is the perception people have of them. Sure, the best rabbit hutches aren't always pretty and many of them are merely functional. But we're not talking about dragging one of those into your home. In this case, we're considering hutches that are made to look good while still offering practicality. To that end, you'll see rabbit hutches here that are stylish and designed to fit well with your décor. Many will double as great talking points.
Even so, there are some practicalities to consider, the primary one being space and whether or not your home or room is sufficiently large to house a bunny inside. As a guide, a hutch needs to be at least four to six times the length of a rabbit when stretched out and, really, you'll want to go as large as possible so that your bunny doesn't feel cramped. You should also consider the height of the hutch and make sure there is enough space for the best rabbit toys.
Pay attention, too, to the proposed location of the indoor hutch. If it's possible, you could turn a room in an extension of the hutch and offer an extra space in which a rabbit can roam. To do this, however, you'll need to be sure the room is rabbit proof and free of danger and wires because bunnies can get up to mischief. If this is a worry then consider the best rabbit runs which can also be used in combination with a smaller (but not too small) hutch.
The idea is that you'd keep your bunny in the hutch for good chunks of the day – certainly when you're sleeping so that you don't have to worry that they're nibbling your cables while you're not watching.
You can then let them roam more freely when you're supervising. Of course, rabbits shouldn't be kept inside all day. Like humans, they need their fresh air and they must be active and stimulated because they can develop terrible health problems.
With that in mind, let's look at some of the best indoor rabbit hutches for 2022.
PetsRadar's pick of the best indoor rabbit hutches
Why you can trust PetsRadar Our expert reviewers spend hours testing and comparing products and services so you can choose the best for you. Find out more about how we test.
Kinbor Indoor Rabbit Hutch
Best overall indoor rabbit hutch
Specifications
Size:
60.14" L x 17.86" W x 37.9 " H
Reasons to buy
+
Beautiful design
+
Durable and secure
+
Easy to assemble
Reasons to avoid
-
Not suitable for more than two rabbits
You'll be hard pressed to find a more stylish indoor/outdoor rabbit hutch than this offering from Kinbor with its beautiful wooden design and eco-friendly lacquered finish.
Measuring 60.14" L x 17.86" W x 37.9 " H, the hutch is suitable for two bunnies, and comes with a nesting box, resting box and ramp. Both floors feature a lockable metal bolted wire door. There's also an additional side door that's connected to the ramp, so plenty of ways to get your rabbits in and out safely.
Durable and secure, the mesh wiring allows for plenty of ventilation and the three removable pull-out trays will make easy work of keeping this hutch clean and tidy. It also comes with tools and detailed instructions, which ensure it's a breeze to assemble.
Ferplast Krolik Rabbit Cage
Best large indoor rabbit hutch
Specifications
Size:
LWH 162 x 60 x 50 cm
Rabbit size:
2 regular sized rabbits
Reasons to buy
+
Removable extension
+
2 bottles and feeders
+
Easy top access
Reasons to avoid
-
Takes up space
-
Water bottles not the best
-
Not the prettiest
This large indoor rabbit hutch is ideal for giving your bun extra space. It has a removable 40cm extension, which is perfect for them to build a little nest or snuggle in the hay.
The main cage comes with two bottles and feeders, plus one bowl, so if you have more than one rabbit there won't be any fights at feeding time. The top opening makes it easy to access the hutch and clean out, and while it's big, it's lightweight, so easy to move around if needed.
The bottles are not the best, so you may find you want to replace these, but with everything else that's included its good value for money. This indoor rabbit hutch is definitely more practical than it is pretty, and although it comes with an assembly kit, many found it tricky to put together.
But once together it is incredibly durable, and that their bunnies appreciate the extra space. A good buy if you want somewhere spacious for your rabbits to sleep soundly at night.
Ferplast Indoor Wooden Hutch
Best stylish indoor rabbit hutch
Specifications
Size:
LWH 108 x 59 x 102.5 cm
Rabbit size:
Small rabbit
Reasons to buy
+
Looks gorgeous
+
Sliding door access
+
Easy to assemble
Reasons to avoid
-
Not suitable for larger breeds
-
Quite pricey
If you're looking for a hutch that you will love as much as your rabbit then this is the indoor rabbit hutch for you. It's stylish and functional, with beautiful painted wood that complements any home. The double-tiered design means it's spacious for your pet, but you don't have to compromise on floor space. This rabbit cottage, as it's referred to, has a separate sleeping and living space, giving your bunny plenty of room to explore, burrow, and rest inside.
The hutch also has easy access from all areas, including a fold-out roof panel in the main section and in the sleeping quarters, plus a sliding side door at the bottom so your rabbits can get in and out with ease. There is a ramp inside for access to the second tier, and the trays are especially deep for your rabbits to be able to burrow without making a mess on your floor.
It's easy to clean, with a removable tray, and many users have mentioned it's easy to put together. While it does have a higher price tag than the rest of our round-up, and it's not suitable for larger rabbits, overall we rate it one of the best indoor rabbit hutches for its luxurious look and feel.
CO-Z Topnotch Weatherproof Indoor Wooden Rabbit Hutch
Best indoor rabbit hutch for bunnies who love to hide
Specifications
Size:
LWH 20 x 16 x 17 cm
Reasons to buy
+
Easy to assemble
+
Hard-wearing wooden design
+
Easy to access
Designed for both outdoor use as well as indoor, you can be certain that this budget bunny home is going to be a robust, hard-wearing hutch. Made of anti-corrosion wood, it will provide a great place for a rabbit to hide away and there's plenty of room for them to sleep and play too.
In many ways, it's as simple as they come. There are no accompanying accessories, so you'll have to provide those yourself, but it's evident some thought has gone into the design.
Not only does it look great in gray, but it's also easy to assemble (particularly if there are two of you). It's nice and sturdy and, if you don't like the color, we imagine it wouldn't be difficult to give it a lick of paint. There's a wooden ramp leading into the entrance that can close up as the door at night and, to ensure there's plenty of fresh air circulating, there are two air vents on the back.
Having a hinged roof is a good move. A quick lift and the stainless steel support stand will keep the lid up so that you can get inside, refill the food bowls and make sure everything is clean and fresh. It's also a great way to observe your bunny and ensure they're happy and content. For the price, it takes some beating.
Little Friends Indoor Rabbit Hutch with Run
Best indoor rabbit hutch with a run
Specifications
Size:
LWH 80 x 44 x 43cm **Material:** Metal, Plastic
Rabbit size:
Small to medium sized rabbit
Reasons to buy
+
Comes with run
+
Ramp and toy house included
+
Affordable
Reasons to avoid
-
Not for big bunnies
-
A little flimsy
This is a great buy if you're on a budget, as you get a whole bundle of fun for your bunny with this indoor rabbit hutch. The hutch comes with a run/indoor pen, so your rabbit can have some time out of the cage even when indoors. The hutch also comes with a little ramp and a metal toy house for them to play with.
Rabbit owners have suggested it may not be suitable for larger bunnies, as they may be able to jump over the sides of the run. However, for smaller or younger house rabbits, this is ideal for helping them settle into your home while under supervision. It is also recommended that the toy house is kept away from the edges of the pen to stop your bunny from using it to jump over the pen railings.
The run is 45x45cm, giving your rabbit space to roam and play when it's not possible to go outdoors, and while some have said it was a little smaller than expected, the cage itself is sturdy and well made, making it worth the price for the indoor hutch alone.
New Age Pet ecoFLEX Park Avenue Indoor Small Animal Hutch
Best eco-friendly indoor rabbit hutch
Specifications
Size:
39.4 x 23.6 x 19.7 inches
Materials:
Weatherproof ecoFLEX, a non-toxic recycled wood and plastic polymer composite.
Rabbit size:
Small rabbit
Reasons to buy
+
Made from recycled materials
+
Looks stylish
+
Easy to assemble
If considering the environment is as important to you as the finding the best indoor rabbit hutch to suit your bunny's needs, then look no further than the New Age ecoFLEX Park Avenue Indoor Small Animal Hutch.
Made from recycled materials including weatherproof ecoFLEX and plastic polymer composite, this stylish hutch will fit seamlessly into any room with its simple, sleek design while also being resistant to moisture, odor, and mildew.
The hinged lid and mesh cover makes for easy access while the slideable bottom is intended to make cleaning a whole lot simpler.
Rabbit owners should be aware of size, however. If your bunny is on the larger side or does not often free roam the house, you might consider a larger hutch.
Otherwise, this is a perfect multi-floor pet penthouse for bunnies on the smaller side who love nothing more than popping into their own private hideaway once in a while.
MidWest Homes for Pets Wabbitat Deluxe Home Kit
Best luxury indoor rabbit hutch
Specifications
Size:
39.5 x 23.75 x 19.75 inches (standard cage)
Materials:
Wire, wood and plastic
Reasons to buy
+
Extensions available
+
Free accessories included
+
Easy to assemble
Reasons to avoid
-
Expensive
-
Accessories could be better
If you're looking for a roomy mansion for your rabbit, then the MidWest Homes for Pets Wabbitat Deluxe Rabbit Home offers plenty of space. The standard cage measures up at 39.5 x 23.75 x 19.75 inches, while you can also buy an extra spacious offering at 47.16 x 23.62 x 19.68 inches.
The brand offers multiple extensions for this deluxe rabbit home, including a stylish private wooden retreat for your furry friend to retreat to. Or, you can buy a wire extension to create a separate litter area.
As standard, the cage comes with some nice features including an elevated feeding area, hay feeder, bowl and water bottle, although they could be better quality for the price in some areas. The water bottle, for instance, sometimes does not disperse enough water.
Altogether, the offering can be a little on the pricey side but if you're looking to truly treat your rabbit it may be worth going that extra mile and going XL.
This deluxe rabbit home is praised for its high quality and ease of assembly; all the pieces fit together and there are full instructions included.
GUTINNEEN Indoor Rabbit Hutch
Best easy to clean indoor rabbit hutch
Specifications
Size:
40.6 x 26 x 37.6 inches
Reasons to buy
+
Stylish
+
Easy to assemble
+
Removable wire netting for simple cleaning
Reasons to avoid
-
Best for just one rabbit
This stylish hutch is made from natural fir wood and painted with eco-friendly waterproof non-toxic varnish to create a beautiful home for your floppy-eared friends that will also blend seamlessly with any modern decor.
Measuring 40.6 x 26 x 37.6 inches the hutch is comprised of two tiers with a lower level providing space to move about in and a ramp leading to an upper level sleeping area. The access door makes it easy to give your rabbit the freedom to move between their hutch and your living space if you so wish and the sturdy latch means you can lock them in safely at night or when you're out and about.
One of the major advantages of this hutch is how easy it is to clean. The trays come with removable wire netting, so your bunny won't be standing in their business and you can slip the wire off the trays when you're wanting to clean them. The trays are also deep and won't leak.
Two of the wheels on this hutch have breaks attached, so you can fix the hutch in place, and it's easy to assemble with pre-drilled holes. The only downside is that this hutch is quite small and while it is supposed to hold two rabbits comfortably, some pet parents report it's best suited to one bunny.
COZIWOW Indoor Outdoor Rabbit Hutch
Best indoor outdoor rabbit hutch
Specifications
Size:
57 x 21 x 39.5 inches
Reasons to buy
+
Ideal for use indoors and outdoors
+
Spacious activity area
+
Cozy private attic
Reasons to avoid
-
No pan on the bottom tier
If you're looking for a super stylish hutch that will look equally at home inside as it will outside, then look no further because this beauty from COZIWOW ticks all the boxes.
This luxury yet affordable two-story wooden rabbit hutch measures 57"L x 21"W x 39.5"H inches and offers elegant apartment-style living with a generous activity area that measures 52.7"L x 19.6"W x 29.5"H.
Boasting a modern and rustic look, this pinewood hutch features a lovely private attic that will allow your floppy-eared friends to rest comfortably and there's two doors and a ramp for easy access.
Each area has a lockable door, so you can easily put your rabbit in and take them out again and the hutch is equipped with a pull-out tray for fast and effective cleaning. And if you do decide to place this hutch outside from time to time, you'll be pleased to know that the roof is waterproof and the panels are UV-resistant.
Aoxun 2 Story Rabbit Cage Indoor Hutch
Best indoor rabbit cage for viewing
Specifications
Size:
39.4 x 25.59 x 8.27 inch
Material:
Wood and iron wire
Reasons to buy
+
Looks stylish inside or out
+
Large cage
+
Easy to clean
This rabbit hutch is waterproof and durable so it's suitable for outdoor use. Since it's also rather good looking, it's ideal as an indoor hutch, too, providing a safe lockable home within a home while offering plenty of space.
Since a lot of the hutch is a wire mesh, it offers a great way for you to keep an eye on your bunny while also allowing your pet to clearly see what's happening in its surroundings. Just as importantly, there's a nesting box which offers privacy and allows a rabbit to feel secure. This has a lid which allows you to check on your rabbit while also making it easier to clean.
At the bottom of the hutch, there's a removable tray which runs along the entire length. The idea is that you pull it out, clean it and slide it back, again making maintenance easy (something that's particularly important when using a rabbit hutch inside).
We like the color scheme and the fact it has been painted using non-toxic paint. The roof is covered in asphalt for waterproofing but this is far less of a concern when using the hutch inside. Our alarm bells rang a little when the manufacturer suggested spraying bitter apple or detergent to avoid bunnies chewing the wood (will this withstand a rabbit's gnaw?). Some users also have issues with the build.
Prevue Pet Products Small Cage
Best moveable indoor rabbit hutch
Specifications
Size:
32.5 x 21.63 x 33 inches
Material:
Stainless Steel, Plastic, Meta
Reasons to buy
+
Can be wheeled around
+
Has two large doors for access
+
Easy to clean
Reasons to avoid
-
Debris can escape on to the floor
Worried that your bunny is getting bored? Want your pet to experience more of your home and maybe even pop outside for some fresh air? With this hutch on castors, you can move your bunny anywhere you wish – in the living room one evening, their own room at night, the kitchen in the morning. The choice is entirely yours.
But that's the beauty of having something small that sits on wheels: it offers a level of versatility that a fixed-location hutch does not. You simply move it into place and lock the wheels so that the cage doesn't roll. It then feels like a regular indoor hutch – one that not only elevated but big enough for a small rabbit, with room for toys as well.
What's more, the hutch doesn't compromise on sturdiness either. It's made of tubular steel so you're not going to worry that your bunny will gnaw through and escape. You can also move it around using the four handles on each of the corners so that you're not pulling on the bars themselves. And when it comes to cleaning, that's easy too.
There are two large doors allowing access into the hutch. There's also a deep pan beneath the grated floor that allows waste to collect. This isn't without its downsides, though.
Bedding, hay, poop and pee can escape since the floor is above the pan and there's no guard around it. You may also find that the hutch is too small if you have a larger rabbit so be sure you measure your pet and check them against the dimensions before you buy.
PawHut Wooden Indoor Rabbit Hutch
Best double-tiered indoor rabbit hutch
Specifications
Size:
110 x 50 x 86 centimetres
Reasons to buy
+
Beautiful design
+
Easy to clean
+
Easy to move
+
Lots of viewing areas
Reasons to avoid
-
Not ideal for outdoors use
With its gray and white color, this hutch is certainly striking and it's sure to look good inside any home. Large enough for two rabbits, you won't need to worry about a lack of space.
Neither will you need to be concerned that a bunny will become bored since, aside from there being plenty of room to move courtesy of a couple of tiers connected by a non-slip ramp, you can easily pack this hutch with toys.
We like that most of the hutch is finished with steel wire. Aside from ensuring that the hutch is safe (a bunny will find it very hard to chew through!), this affords you a good view of your pet (while letting your rabbit peek at the comings and goings of your household.
Thankfully this is not entirely at the expense of privacy. The upper tier is more enclosed, providing a handy rabbit hideaway. This is fitted with a securely lockable door for easy access.
Although you will have to spend some time assembling the hutch, the effort is sure to be worth it: by adding the wheels you'll be able to move the cage around your home.
Just be aware that, although the hutch is stated to be made from waterproof fir wood, it doesn't necessarily mean it's ideal for outdoor use and weathering the elements.
How to choose the best indoor rabbit hutch
More and more people are adopting house bunnies, which with the weather in the UK being very unpredictable, means that these rabbits will always have a warm and snuggly place to sleep. However, there's a few things to consider before you purchase indoor rabbit hutches.
Primarily, you need to think about size. It's really important for the quality of life of your rabbit that they have enough space to be comfortable. Indoor rabbit hutches are generally smaller than outdoor hutches, and you will need to consider the space you have available inside your home, but you can always buy extensions for the hutches for your rabbits to play during the day time, too.
Even if you have a small rabbit, they grow fast, so it's better to invest in a larger hutch that will still be able to accommodate them even when they grow older. A multi-level indoor rabbit hutch is better for more active bunnies who may want to explore and wander around even when indoors.
The type of flooring on indoor rabbit hutches is important too, as mesh can begin to hurt your bunnies' feet over time, so something flat and smooth like plywood will be more comfortable for them.
You can also check out the best rabbit runs to add additional space for your rabbit to play.
Get the best advice, tips and top tech for your beloved Pets