Best rabbit hutches: Find the perfect home for your bunny
The best rabbit hutches provide your bunny with a safe and comfortable space to rest and play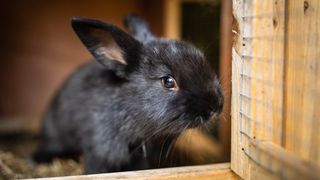 (Image credit: Getty)
The best rabbit hutches come in a variety of sizes and designs that will give your furry friend a safe and secure place to eat, sleep, and play. While choosing a rabbit hutch may seem like a straightforward task, there are several things that are worth considering before you part with your hard-earned cash.
Just like selecting the best cat bed requires pet parents to consider their budget and their kitty's health needs, taking some time to think about what kind of home would best suit your rabbit will pay dividends in the long run. While rabbits can be easier to care for than cats and dogs, they still need a space where they can live comfortably and it's always a good idea to pair your rabbit hutch with one of the best rabbit runs.
While the best indoor rabbit hutches are a great option for people who want to keep their floppy-eared friend close, many people prefer an outdoor home that meets their rabbit's needs while also being low-maintenance and easy to clean. If you're opting for an outdoor rabbit hutch, look for materials that are weatherproof, durable, and have been treated to ensure they're not toxic.
A good rabbit hutch will offer a high level of security, ensuring your rabbit is protected from predators. This usually consists of strong mesh that allows plenty of fresh air to circulate while making sure that dogs, cats, foxes, and other wild animals are kept out. If you're worried that all that mesh will make your rabbits home too chilly, you'll be relieved to know that most hutches also include solid compartments where your can take shelter and stay cozy in colder weather.
Once you've selected the best rabbit hutch, we recommend making it home sweet home for your floppy-eared friend by filling it with soft flooring for comfort, plenty of food and water, a litter box, and several of the best rabbit toys for entertainment. Ready to pick out a forever home for your furry friend? Here are a few of our favorites...
PetsRadar's pick of the best rabbit hutches
Best overall rabbit hutch: Petsfit Rabbit Hutch with Pullout Tray
Best stylish rabbit hutch: Pets At Home Foxglove Rabbit Hutch
Best budget rabbit hutch: KCT Napoli Single Rabbit Hutch
Best two-tier rabbit hutch: Pets At Home Bluebell Rabbit Hutch
Best fox-proof hutch: Chartwell Double Rabbit Hutch
Best easy-access rabbit hutch: KCT Two-Tier Rabbit Hutch with Run
Petsfit Rabbit Hutch with Pullout Tray
Best overall rabbit hutch
Materials: Finnish spruce | Dimensions: 38 x 19.5 x 34 inches | No. of rabbits: 1-2
Various colors
Spacious
Could use outdoors too
Easy to assemble
Pull out tray could be better
Whether you have one bunny or two, the Petsfit Rabbit Hutch with Pullout Tray is pretty spacious for your rabbits to spread out and relax.
There's two sections to this hutch: a decently sized open wire area and a hideout area that's easily accessible thanks to its top doors that can be lifted anytime to handle your pet.
If the thought of assembling a hutch fills you with dread, then you'll be pleasantly surprised by the Petsfit Rabbit Hutch as pre-drilled holes and a few simple steps ensures it's ready for your rabbit in no time.
Available in a lovely red or a beautiful blue, it's pretty stylish to boot and the ability to use inside or out makes it a versatile home for your rabbit's needs.
It's not entirely without flaw, however, with many pet owner's modifying the hutch in places, particularly for a guinea pig to reside alongside their flop-eared friend.
The pull-out tray option can be fiddly to put back and it lacks mesh as a way to separate your rabbit from the tray.
Best stylish rabbit hutch
Materials: Chinese Fir & mesh | Dimensions: 117 x 162 x 68cm | No. of rabbits: 2
Beautiful design
Two-storey hutch
Fox-proof
Requires assembly
Cover not included
A gorgeous design that would look great in any garden, the Foxglove Rabbit Hutch from Pets at Home is sure to make sure your rabbits feel right at home. There is room for two rabbits, including an upstairs and a downstairs so they both have their own space to sleep and relax.
Made from waterproof solid wood with mesh windows, as well an asphalt roof to ensure it is fully weatherproof if you plan to keep this in the garden, this is built to last. For added protection throughout the winter months, you can even purchase an extra roof for it.
If you choose to create a living space upstairs, then your rabbits will be able to use a small ladder to move between floors. Every door is secured with bolt locks, and the durable mesh is secure to the point that nothing will be able to get inside this hutch.
This is so spacious that your rabbits will be able to relax and play, safe in the knowledge that nothing is getting in, leaving them to stretch their legs in peace. This bunny mansion will have them living like carrot-munching royalty.
KCT Napoli Single Rabbit Hutch
Materials: High quality treated wood | Dimensions: 123 x 46 x 13cm | No. of rabbits: 1
Raised off the ground
Easy to clean
Small run
A little small
This little hutch is basic, yet practical, and provides everything your rabbit needs for a good night's sleep. Featuring a pull-out tray and roof opening, you'll easily be able to feed, clean, and pet your rabbit, as well as empty and clean the hutch with ease.
This product is made of high-quality treated wood and strong wire. Although the wire window looks quite open, the hutch is on raised legs, which is good for keeping predators away. With a small run area, your rabbit can still get fresh air while in this hutch, or go into the enclosed space to keep warm and dry.
It is only a single rabbit hutch, and there is not much space for your rabbit to play and stretch, so you would need to purchase an extra run to ensure your bunny stays happy and healthy. If you have just one pet, then this single rabbit hutch will serve you well, and at under £100, it's a bargain.
Pets At Home Bluebell Rabbit Hutch
Best two-tier rabbit hutch
Materials: Timber | Dimensions: 112 x 194 x 61cm | No. of rabbits: 2
Spacious
Private sleeping area
Weatherproof
Requires extra treatment
The large and spacious Bluebell Lodge is the best rabbit hutch for giving your pets space and privacy. With two tiers, this hutch has a private sleeping area that you can fill with warm hay for a cozy night's sleep. The mesh windows make it easy for you to see inside, and your rabbits can get fresh air and light but won't be able to chew through this sturdy material. Predators will be kept at bay too with this high-security hutch with secure locks so you can take your rabbits in and out with ease and have peace of mind they are safe inside.
The hutch itself is made from timber. It's described as weatherproof, but it is recommended to give this hutch a coat of treatment before the winter months to ensure it stays warm and dry. Be sure to use a pet-safe, non-toxic, and water-based treatment that will be harmless to your pets if they decide to chew away at the interior.
Standing at 6ft tall, there's certainly plenty of room for your rabbit to roam and stand, which makes it a responsible choice for a full-time living space, but your rabbit will still need time out of the hutch for more daily exercise in a run.
Chartwell Double Rabbit Hutch
Materials: Timber and fox-proof wire | Dimensions: 152.4 x 61 x 121.9cm | No. of rabbits: 2
Fox-proof wire
Lots of space
UK-made
Inside arch quite small
Rain cover sold separately
This is a super-spacious hutch that could provide room for two or more rabbits. With an upstairs and a downstairs, there's plenty of room for sleeping and playing. Larger bunnies may find the inside arch a little too small for them, but this can be adjusted at home.
As one of the only UK-based rabbit hutch manufacturers, the Chartwell Hutch is made from local timber, and the company prides itself on using tried and tested fox-proof wire, so you can have total peace of mind that nothing is getting in or out of the hutch without your permission. The sleeping area is high above ground, and with 10mm thick walls, this decreases the chances of foxes sniffing out your little critters.
The hutch provides at least 2ft of headspace, so your bunnies can stand up and roam freely, and you can easily clean this hutch with the pull out trays, which allows you to sweep waste directly into the bin – no fuss and no mess.
You can place this hutch either indoors or outdoors, and other accessories such as a rain cover can be purchased separately. For a home with two or more rabbits, this is the hutch for you.
KCT Two-Tier Rabbit Hutch with Run
Best easy-access rabbit hutch
Materials: High-quality wood | Dimensions: 155 x 53 x 70cm | No. of rabbits: 1
Easy access roof
Separate run
Weather proof
Bottom susceptible to damp
Get access all areas with this two-tier 5ft hutch that offers a spacious place for your pets to sleep and play. With an easy-access roof and pull-out tray, cleaning is easier than ever, and you'll be able to see clearly how your rabbits are getting on inside their new home.
Made from high-quality treated wood with a felt-lined roof to ensure it's weatherproof, your bunnies will stay warm and dry all year round. The hutch is finished with screen mesh to ensure your lovely little pets aren't greeted by any unwanted visitors.
Some buyers recommend putting down some cardboard first if placing directly on your lawn, as it can get damp underneath and decrease the longevity of this hutch. With separate sleeping quarters and a little run, this hutch is definitely spacious enough for your rabbits to live full-time. However, they will need to have time in a larger run to ensure they get enough exercise.
Overall, this is the best rabbit hutch for accessibility, and it's super easy to clean. Perfect for a busy household.
How to choose the best rabbit hutch for you and your pets
When looking to buy a rabbit hutch, it's important to consider your rabbit's welfare first and foremost. They need to have enough space to live comfortably as if it were their natural habitat. This includes being able to gnaw, burrow, stretch, and run.
Having a hutch that allows your rabbit to stand on their hind legs is a good indicator that it's a comfortable living space for them, and even if the hutch doesn't have a small run, you can purchase a separate rabbit run to ensure they get their daily exercise (see: best rabbit runs).
It's also important to consider space and where you want to put your rabbit hutch. If you want it outside in the garden, then ensure you choose the best place for it where it will be out of the wind and rain, and as far away from potential predators as possible. This means not near a fence or gate, and ideally up against a wall for a little bit of extra shelter.
If purchasing a rabbit hutch made from timber, check whether it has been treated first and consider that it may need extra treatments between seasons to protect it from the elements and prolong its lifespan. For those who are limited when it comes to space and budget, a small single hutch is an option, but ensure you provide your rabbit with extra stimulation, such as a run and some of the best rabbit toys.
Sarah is a freelance writer and marketer, covering a variety of topics from lifestyle and fitness to sustainability and travel. When she's not writing, she can be found relaxing with a cuppa and a cute doggo snoozing on her lap!
Get the best advice, tips and top tech for your beloved Pets
Thank you for signing up to Petsradar. You will receive a verification email shortly.
There was a problem. Please refresh the page and try again.