Best rabbit runs: Keep your bunnies safe and happy
Our selection of the best rabbit runs to give your floppy-eared friends the freedom to roam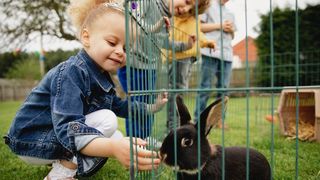 (Image credit: Getty Images)
The best rabbit runs will give your bunnies space to stretch their little legs and play. It is essential for your rabbits to get the daily exercise and fresh air they need, and while they do live happily either indoors and outdoors, they still need to have the freedom to roam as they would in the wild, and carry out their natural habits and instincts.
For two rabbits you'll need to provide a space which is 3mx2m, with a height of at least 1 meter. This is recommended as the minimum only, and if you have larger rabbits or more than two, then a bigger rabbit run will be needed to ensure their happiness. You can get hutches with attached rabbit runs, or purchase both separately to allow for more room.
While you want to give them their freedom, it's still important that you keep them safe from predators such as foxes, so the best rabbit runs will need to be secure so that nothing gets in and your bunnies don't get out. High-quality wire or mesh is usually the best, as rabbits have a tendency to gnaw and chew things!
They will try to chew through things though, so it's also important that the materials are not toxic in any way. Looking for untreated wood or wood that has been coated with non-toxic paint will make sure your bunnies stay healthy and happy.
Check out our selection of the best rabbit runs to give your pets the space to run and play. Whatever shape or size, we've got something for your rabbit to call home.
1. FeelGoodUK Rabbit Hutch: Best overall rabbit run
A little house and garden for your bunnies to sleep and play
Dimensions: WDH:150x66x100cm | Materials: Wood, wire, felt | Treated with: Water-based antifungal, environmentally friendly stain | Indoor/Outdoor: Outdoor | Number of pets: 1-2
Easy to assemble
Highly secure
Extension run available
A little small for more than two rabbits
This medium-sized rabbit run is perfect for 1-2 average sized rabbits. It's an outdoor hutch with a small run which provides a safe space for your pets. It is made from high quality wire with felt roofing that keeps the inside dry, and the wood has been treated with safe, water-based solutions so that it is not harmful to your rabbits or the environment. Some buyers have said it's a little small for their pets; however, this rabbit run can also be bought with an extension run, to give your bunnies even more space to roam free.
The hutch and run is a convenient size which would fit nicely in a garden, and compared to some other runs on the market, this one is good value for money considering its size and the quality of the build. Customers found this rabbit run easy to assemble, and the perfect little outdoor home for their pets.
2. Idepet Portable Outdoor/Indoor Rabbit Playpen: Best budget rabbit run
Allow your rabbits to run anywhere, anytime
Dimensions: W/H: 100x38cm | Materials: Mesh fabric | Treated with: N/A | Indoor/Outdoor: Both | Number of pets: 2
Lightweight
Portable
Affordable
Not highly secure
This lightweight, portable rabbit run is ideal for those on a budget, and it can be used anywhere, anytime. This run simply pops up and can be used both indoors and outdoors to provide a safe space for your rabbits to run and play. The top can either be covered over or unzipped so it's much more breathable for the rabbits. While the mesh fabric is not highly secure and it is not recommended to leave rabbits unattended in this rabbit run outdoors, it makes the perfect solution for indoor rabbits that need somewhere to run either indoors or outdoors during the day.
Customers say it's easy to pop open and pack away, but say they would prefer if it had a side opening as well as a top opening to make it easy for animals to go in and out. The breathable design means it doesn't cling to odors, and the zipper cover means you can ensure your pets don't jump out. Overall, it's the perfect pen to keep bunnies in your sight while allowing them time to play.
3. Pets Imperial Winchester Ark Rabbit Hutch Run: Best large rabbit run
Allow your bunnies to live freely in this magnificent ark!
Large hutch and run
Fox proof
Easy to clean
Quite large for small gardens
This large rabbit hutch and run is great if you have a few little bunnies you want to keep in the garden. It's spacious with room for rabbits to sleep, eat, burrow, and play. It features a big access door and a pull-out tray, making it easy to clean and feed your rabbits all year round. It also has a ramp for the rabbits to easily find shelter when they need it. Made from timber and high-quality galvanized mesh (chew-proof!), this rabbit run is totally fox proof, and will give you peace of mind your rabbits are safe from predators and will not try to escape this run.
This design is very large, so may not be suitable for those with a smaller garden, but if you have two or more rabbits then it will give them more than enough space to roam free whilst staying safe. Buyers have said the rabbit run is easy to assemble, and while sturdy, you may wish to use an extra padlock on the door just to be on the safe side.
Compared to other runs of this size on the high street, this Pets Imperial rabbit run is great value for money; however, you may wish to treat the timber each winter to ensure its longevity.
4. VivaPet Outdoor Octagon Rabbit Run: Best value rabbit run
A simple yet practical way to let your bunnies play
Dimensions: WD: 55x55cm | Materials: Weatherproof metal | Treated with: Non-toxic protective coating | Indoor/Outdoor: Outdoor | Number of pets: 2+
Weatherproof
Sturdy
Extendable
Not the biggest
Requires assembly
This rabbit run is loved by many pet owners for its practicality and sturdiness. If you simply need something to keep your rabbits safe and contained in the garden, then this is the ideal run for you. Made from galvanized metal, this octagon-shaped rabbit run comes in eight sections, making it lightweight and easy to assemble (although it is a little more effort than the pop up run).
While this product is designed for the outdoors, it could also be used as an indoor run without using the pegs to secure to the ground, and it is light enough to move around as you please. It comes with an outdoor sun shade/safety net which provides cover from the heat and also stops your rabbits from jumping out over the railings.
Although this run may seem small, if you have a lot of rabbits you can purchase more individual panels to create larger spaces for your rabbits, and it has one panel which opens as a door so you can let your rabbits in and out easily. Buyers have said these runs can be more practical over wooden runs, as they are more weatherproof.
5. Pets at Home Sycamore Lodge XL Rabbit Hutch with Double Run: Best rabbit run with shelter
he perfect living space for your rabbit
Dimensions: WHD: 120x120x180cm | Materials: Wood | Treated with: N/A | Indoor/Outdoor: Outdoor | Number of pets: 1-2
Recognised by Rabbit Welfare Association
Tall enough for rabbits to stand
Can be attached to a larger run
Not weatherproof
This rabbit hutch with double run provides a comfortable space for your rabbit to live and play. This rabbit run is recognized by the Rabbit Welfare Association as being beneficial to rabbits because it's tall enough for them to stand on their hind legs, it can be attached to a larger run, and it's secured with sturdy bolts which will keep the rabbits safe.
The design makes it warm and cosy on the inside and spacious and light on the outside, and you'll have peace of mind that your rabbits are happy, will not escape and predators will not get in. It's ideal for up to two rabbits to live together, and has space for hay racks so rabbits can dig and burrow so they feel at home.
Buyers found this to be a very reliable hutch that their pets love. It comes in two boxes and is easy to assemble. However, a weatherproof cover is recommended as heavy rain or wind could damage the wood in winter.
6. The Hutch Company Canterbury Folding Run: Best ecological rabbit run
An easy foldout space for when your rabbits need to roam
Dimensions: 235 x 120 x 48cm | Materials: Wood and wire | Treated with: Antibacterial Marcide Coating | Indoor/Outdoor: Outdoor | Number of pets: 2+
Plant-a-tree scheme
Folds away easily
Sturdy construction
Weather cover not included
This large rabbit run is basic, but provides everything your pets need to get their daily exercise. At 7.7ft, this is the largest folding rabbit run you can find, meaning it can be folded down and stored away when not in use. Buyers found this rabbit run to be very reliable, easy to construct and fold away when needed.
The run is ideal for homes with two or more bunnies, and with two top and two side openings, you can easily gain access to the run to feed or clean the rabbits, and you could even attach it to an existing hutch in the garden. The high-quality wood has been treated with antibacterial coating to stop the spread of disease. However, it doesn't specify if this is non-toxic for animals (although you'd expect this as standard).
The wire is thick to prevent animals gnawing through it, and this is also recommended to keep foxes and other predators away. The run doesn't come with a weatherproof cover, but this is sold separately if you wanted to keep your run out in the garden even when not in use.
Eco warriors will love this product, as it's made in the UK, and The Hutch Company plant two trees for every one they use, making this rabbit run great value for money, and a great investment in the planet.
How to choose the best rabbit run…
When it comes to picking the best rabbit run for your pet, then the bigger the better really. 8x4 is the absolute minimum space you should provide for your rabbits, but of course they are always going to appreciate more space if you can accommodate this. Wire pens are very popular as you can extend them by buying more panels as with the VivaPet Outdoor Octagon Rabbit Run, so if cost is a concern for you then these are a great option to consider, especially if you have more than two rabbits.
Remember to think about where you're going to put your rabbit run. If you have a small garden, then you may want to opt for a portable run which can be used both indoors and outdoors. If you're looking to buy a run with a hutch, then bear in mind these are either usually very small or extremely large, so be sure to consider how much space you're willing to give up for your pets.
You know your rabbits better than anyone, so if they have a tendency to gnaw and burrow, then be sure to opt for runs with mesh or high-quality wire to stop them chewing through the run. It is recommended that runs have a roof, to stop your bunnies from jumping out and to stop predators from getting in, but if you want easy access to your rabbit run then opt for ones with removable roofs which can be taken off during the day and under your supervision.
Get the best advice, tips and top tech for your beloved Pets
Thank you for signing up to Petsradar. You will receive a verification email shortly.
There was a problem. Please refresh the page and try again.