Best rabbit runs: The pick of the top rabbit homes
We pick the best rabbit runs for keeping your floppy-eared friends safe and sound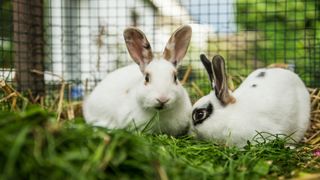 (Image credit: Getty Images)
If you've been looking for the best rabbit runs, you will likely have discovered that there are a number of factors to bear in mind.
Obviously, you will need something safe, that allows them to stretch their legs, and give them all the exercise they need. The best rabbit hutches can provide some of their needs, sure, but with this, you won't have to worry about letting your bunny out in the backyard because of that the threat of predators.
It can often be tricky to decide which rabbit run is suitable for your bunny, as they come in all sorts of shapes and sizes. Bearing this in mind, there are some factors to consider, such as what size rabbit run do you need? Generally, it's recommended to have a minimum area of 8 by 4 feet, with a height of at least a meter. This will give your bunny room to roam in and stretch out, without them feeling too boxed in.
Next, is it a safe and secure environment? It needs to be sturdily built and have a stable floor, with secure latches, and be durable enough to withstand adverse weather conditions. You don't want predators to be able to gain access easily, or allow your rabbit to enact a great escape.
While they are getting their dally exercise in the best rabbit run, why not include with it a few rabbit toys, like tunnels and tents?. Shade covers are another potential option, keeping them safe from the elements.
However, if you prefer to have an indoor run, take a look at our guide to the best indoor rabbit hutches, and pick one that you can give your rabbit access to for around 4-6 hours a day, but can be stored away safely when not in use.
Anyway, here's a selection of the best rabbit runs to keep them active, engaged, and entertained for hours.
Best overall rabbit run
Specifications
Dimensions:
WDH:150x66x100cm
Materials:
Wood, wire, felt
Treated with:
Water-based antifungal, environmentally friendly stain
Reasons to buy
+
Easy to assemble
+
Highly secure
+
Extension run available
Reasons to avoid
-
A little small for more than two rabbits
This medium-sized rabbit run is perfect for 1-2 average sized rabbits. It's an outdoor hutch with a small run which provides a safe space for your pets. It is made from high quality wire with felt roofing that keeps the inside dry, and the wood has been treated with safe, water-based solutions so that it is not harmful to your rabbits or the environment. Some buyers have said it's a little small for their pets; however, this rabbit run can also be bought with an extension run, to give your bunnies even more space to roam free.
The hutch and run is a convenient size which would fit nicely in a garden, and compared to some other runs on the market, this one is good value for money considering its size and the quality of the build. Customers found this rabbit run easy to assemble, and the perfect little outdoor home for their pets.
Idepet Portable Outdoor/Indoor Rabbit Playpen
Best budget rabbit run
Specifications
Dimensions:
W/H: 100x38cm
Reasons to buy
+
Lightweight
+
Portable
+
Affordable
This lightweight, portable rabbit run is ideal for those on a budget, and it can be used anywhere, anytime. This run simply pops up and can be used both indoors and outdoors to provide a safe space for your rabbits to run and play. The top can either be covered over or unzipped so it's much more breathable for the rabbits. While the mesh fabric is not highly secure and it is not recommended to leave rabbits unattended in this rabbit run outdoors, it makes the perfect solution for indoor rabbits that need somewhere to run either indoors or outdoors during the day.
Customers say it's easy to pop open and pack away, but say they would prefer if it had a side opening as well as a top opening to make it easy for animals to go in and out. The breathable design means it doesn't cling to odors, and the zipper cover means you can ensure your pets don't jump out. Overall, it's the perfect pen to keep bunnies in your sight while allowing them time to play.
Pets Imperial Winchester Ark Rabbit Hutch Run
Best large rabbit run
Reasons to buy
+
Large hutch and run
+
Fox proof
+
Easy to clean
Reasons to avoid
-
Quite large for small gardens
This large rabbit hutch and run is great if you have a few little bunnies you want to keep in the garden. It's spacious with room for rabbits to sleep, eat, burrow, and play. It features a big access door and a pull-out tray, making it easy to clean and feed your rabbits all year round. It also has a ramp for the rabbits to easily find shelter when they need it. Made from timber and high-quality galvanized mesh (chew-proof!), this rabbit run is totally fox proof, and will give you peace of mind your rabbits are safe from predators and will not try to escape this run.
This design is very large, so may not be suitable for those with a smaller garden, but if you have two or more rabbits then it will give them more than enough space to roam free whilst staying safe. Buyers have said the rabbit run is easy to assemble, and while sturdy, you may wish to use an extra padlock on the door just to be on the safe side.
Compared to other runs of this size on the high street, this Pets Imperial rabbit run is great value for money; however, you may wish to treat the timber each winter to ensure its longevity.
VivaPet Outdoor Octagon Rabbit Run
Best value rabbit run
Specifications
Materials:
Weatherproof metal
Treated with:
Non-toxic protective coating
Reasons to buy
+
Weatherproof
+
Sturdy
+
Extendable
Reasons to avoid
-
Not the biggest
-
Requires assembly
This rabbit run is loved by many pet owners for its practicality and sturdiness. If you simply need something to keep your rabbits safe and contained in the garden, then this is the ideal run for you. Made from galvanized metal, this octagon-shaped rabbit run comes in eight sections, making it lightweight and easy to assemble (although it is a little more effort than the pop up run).
While this product is designed for the outdoors, it could also be used as an indoor run without using the pegs to secure to the ground, and it is light enough to move around as you please. It comes with an outdoor sun shade/safety net which provides cover from the heat and also stops your rabbits from jumping out over the railings.
Although this run may seem small, if you have a lot of rabbits you can purchase more individual panels to create larger spaces for your rabbits, and it has one panel which opens as a door so you can let your rabbits in and out easily. Buyers have said these runs can be more practical over wooden runs, as they are more weatherproof.
Pets at Home Sycamore Lodge XL Rabbit Hutch with Double Run
Best rabbit run with shelter
Specifications
Dimensions:
WHD: 120x120x180cm
Reasons to buy
+
Recognised by Rabbit Welfare Association
+
Tall enough for rabbits to stand
+
Can be attached to a larger run
This rabbit hutch with double run provides a comfortable space for your rabbit to live and play. This rabbit run is recognized by the Rabbit Welfare Association as being beneficial to rabbits because it's tall enough for them to stand on their hind legs, it can be attached to a larger run, and it's secured with sturdy bolts which will keep the rabbits safe.
The design makes it warm and cosy on the inside and spacious and light on the outside, and you'll have peace of mind that your rabbits are happy, will not escape and predators will not get in. It's ideal for up to two rabbits to live together, and has space for hay racks so rabbits can dig and burrow so they feel at home.
Buyers found this to be a very reliable hutch that their pets love. It comes in two boxes and is easy to assemble. However, a weatherproof cover is recommended as heavy rain or wind could damage the wood in winter.
The Hutch Company Canterbury Folding Run
Best ecological rabbit run
Specifications
Dimensions:
235 x 120 x 48cm
Treated with:
Antibacterial Marcide Coating
Reasons to buy
+
Plant-a-tree scheme
+
Folds away easily
+
Sturdy construction
Reasons to avoid
-
Weather cover not included
This large rabbit run is basic, but provides everything your pets need to get their daily exercise. At 7.7ft, this is the largest folding rabbit run you can find, meaning it can be folded down and stored away when not in use. Buyers found this rabbit run to be very reliable, easy to construct and fold away when needed.
The run is ideal for homes with two or more bunnies, and with two top and two side openings, you can easily gain access to the run to feed or clean the rabbits, and you could even attach it to an existing hutch in the garden. The high-quality wood has been treated with antibacterial coating to stop the spread of disease. However, it doesn't specify if this is non-toxic for animals (although you'd expect this as standard).
The wire is thick to prevent animals gnawing through it, and this is also recommended to keep foxes and other predators away. The run doesn't come with a weatherproof cover, but this is sold separately if you wanted to keep your run out in the garden even when not in use.
Eco warriors will love this product, as it's made in the UK, and The Hutch Company plant two trees for every one they use, making this rabbit run great value for money, and a great investment in the planet.
Best heavy-duty rabbit run
Specifications
Dimensions:
LWH: 96" x 32" x 40"
Reasons to buy
+
Strong and durable
+
Multiple configuration options
+
Easy to assemble
There's no escaping from this sturdy and secure rabbit run, which has all the space your bunny needs to stretch and play. Made from heavy-duty rust-resistant metal, this rabbit run offers great durability and longevity.
Available in a variety of sizes, from the smaller 8-panel model through to the mammoth 32-panel model, this run is versatile and able to be set up in a variety of different configurations.
Featuring an easy-to-assemble design that requires no tools and foldable panels for easy storage and transportation, this rabbit run is a breeze to take with you and your rabbit wherever you go. It has two strong safety latches for dual-security and metal insert rods for stability.
While there's a lot to love about this rabbit run, the one drawback is the lack of roofing. We recommend supervising your bunny when they're using this outdoor enclosure or fashioning a roof of your own to ensure they remain safe and secure. Aside from that, reviewers praise this rabbit run for its quality and durability, with one pet parent giving it 5 stars and saying 'you get what you pay for'.
Paws & Pals Exercise Pen
Best foldaway rabbit run
Specifications
Dimensions:
WDH:150x66x100cm
Treated with:
Rust resistant coating
Reasons to buy
+
Easy to assemble
+
Portable and collapsible
+
Can clip two or more pens together
Do you need a rabbit run you can transport from place to place or one that is easily stored between uses? This lightweight 8-panel metal pen which clips together without needing any tools may be for you.
Designed for indoor or outdoor use, each of the different size frames (there are 3 to choose from) is made up of eight panels, meaning you can have it as an octangle or rectangular shape. It can even be used in a straight line to fence off a part of the garden. These pens can also be linked together, so if you buy more than one pen you can give your furry friend twice the space to roam.
The edges of the pen are rounded, so your rabbit won't be nicking its ears on anything sharp, and it comes with ground anchors to secure it down and prevent it tipping over. It also has a door built into one of the panels allowing you access to get at your hoppity friend without having to reach over the pen.
Some users have mentioned that the wire, at 0.5 of an inch, is a little thin. However, unless you have a very large or rambunctious rabbit, it should keep them safely contained. The thin wires also mean it's very portable and folds down flat, making it easier to store when not in use.
DINMO Rabbit Playpen
Best indoor rabbit run
Specifications
Dimensions:
61.4 x 25.4 x 16.4 inches
Materials:
PP Plastic Panel with Metal Frame, ABS Plastic Connector
Reasons to buy
+
Very easy to put together
+
Anti-slip mats protect the floor
+
See-through, so easy to see what they're up to
Reasons to avoid
-
Can't be used outside
-
Not ideal if you have other pets
If you don't have any outdoor space, then this could be a handy option.
Designed to be set up in your living room – or indeed, in any area of the house – this indoor rabbit hutch from Dinmo might look flimsy, but it offers everything your rabbit will need.
Hemmed in by transparent film, which in turn is propped up by black buckles, there are various doorways that serve to both provide obstacles for your rabbits and separate the area for them, giving them different sections of living space.
It all looks great, and is very easy to customize. Moreover, the fact that the material is see-through means you can see exactly what your rabbits are up to.
Obviously, this comes with its limitations. We can't see it holding up to a strong breeze, so definitely shouldn't be co-opted for outside use. Also, since there's no roof, this probably isn't the best option if you own cats or other pets who are partial to a bit of rabbit.
For solely indoor use, however, you can't go far wrong with this.
How to choose the best rabbit run…
Why you can trust PetsRadar Our expert reviewers spend hours testing and comparing products and services so you can choose the best for you. Find out more about how we test.
When it comes to picking the best rabbit run for your pet, then the bigger the better really. 8x4 is the absolute minimum space you should provide for your rabbits, but of course they are always going to appreciate more space if you can accommodate this. Wire pens are very popular as you can extend them by buying more panels as with the VivaPet Outdoor Octagon Rabbit Run, so if cost is a concern for you then these are a great option to consider, especially if you have more than two rabbits.
Remember to think about where you're going to put your rabbit run. If you have a small garden, then you may want to opt for a portable run which can be used both indoors and outdoors. If you're looking to buy a run with a hutch, then bear in mind these are either usually very small or extremely large, so be sure to consider how much space you're willing to give up for your pets.
You know your rabbits better than anyone, so if they have a tendency to gnaw and burrow, then be sure to opt for runs with mesh or high-quality wire to stop them chewing through the run. It is recommended that runs have a roof, to stop your bunnies from jumping out and to stop predators from getting in, but if you want easy access to your rabbit run then opt for ones with removable roofs which can be taken off during the day and under your supervision.
Get the best advice, tips and top tech for your beloved Pets
Sarah is a freelance writer and marketer, covering a variety of topics from lifestyle and fitness to sustainability and travel. When she's not writing for PetsRadar or other websites, she can be found looking after her pet chickens or relaxing with a cuppa and a cute doggo snoozing on her lap!