Best rabbit litter box: Keep your bunny clean and healthy
The best rabbit litter boxes offer a special place to do their business and keep their cage clean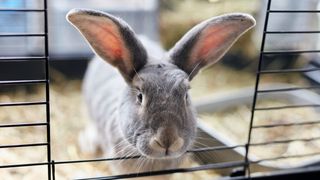 (Image credit: Getty Images)
The best rabbit litter boxes make sure that your cute and cuddly fur friend has a special place to do their business. Once you've got them potty trained, they'll know that their litter box is where they need to go to the toilet and stop making a mess everywhere else.
Keeping a cage clean is not only good for your rabbit's health, but it also makes an unpleasant job just that little more bearable. You won't have to clean out a soggy stinky mass of bedding, just your fur friend's litter box. This has the added bonus of saving you a few dollars and you get to do a quick and easy cleaning job. But what litter box will be best for your fur friend?
If you have a small rabbit and a small cage, a corner litter box or pan is a great space saver. They are triangular in shape and will fit neatly into a corner and attach to the bars of a cage to stop them from tipping over.
If you want something a little more sophisticated and hygienic, a litter box with an elevated wire or plastic floor is a good choice. If you have a large rabbit a bigger litter box is a must and you could try a sturdy, high-sided stainless steel litter box to stay as mess-free as possible.
There are a lot of choices to make, so we have put together this collection of top-notch rabbit litter boxes to help you make the right choice for you and your cute, cuddly bunny.
PetsRadar's pick of the best rabbit litter boxes
Best overall rabbit litter box: Scatterless Lock-N-Litter Small Pet Pan
Best budget rabbit litter box: Kaytee Long John Litter Pan
Best stainless steel rabbit litter box: Yangbaga Stainless Steel Litter Box
Best large rabbit litter box: CALPALMY Large Rabbit Litter Box with Bonus Pads
Best space-saving rabbit litter box: Lixit Corner Litter Pan for Rabbits
Best large rabbit litter box: Humorous.P Rabbit Litter Box
Scatterless Lock-N-Litter Small Pet Pan
Best overall rabbit litter box
Size: 9.25 x 12.75 x 6 inches | Color: Various | Weight: 12oz | Material: Plastic
Standard and jumbo sizes
Elevated wire floor
Cage locks
Not for large rabbits
Want to keep your pet rabbit's cage clean and odor-free? Then you need a litter box specially made to help you potty train your fur friend, keep them clean and make sure they are doing their business in one spot instead of all over the place.
The Scatterless Lock-N-Litter Pan measures 12.75 x 9.25 x 6 inches, which is ideal for small rabbits. It is made from a tough, durable plastic that is stain and odor-resistant and provides plenty of space for your fur friend's toilet deposits. There is a wireframe that sits a few inches above the floor and plenty of room to add training pads, hay, or litter to absorb any wee or poo.
The floor is neatly spaced to help your rabbit do its business and keep its feet clean. It's easy to pop out the wire floor to rinse it when needed and empty the litter box at the same time. Once clean, add your litter and pop the wire floor back in. There is a low entry point that boasts a plastic guard. This doubles up as a stomach protector when your fur friend is climbing in and a feet cleaner as well.
A high back ensures that any spray stays in the tray, even though the back is not as high as some other litter boxes, it still does a decent job. A couple of locks on the V-shaped back mean that you can attach it securely into a corner to keep it steady and stop it tipping over.
If you have a larger rabbit, but don't think the Scatterless Lock-N-Litter Small Pet Pan is going to be a good fit, then check out the Jumbo version. It has all the same features and attributes as the standard model but adds four inches to the width and a couple of inches to the depth and height to accommodate larger breeds.
Kaytee Long John Litter Pan
Best budget rabbit litter box
Size: 2.25 x 3.25 x 13.62 inches | Color: Assorted | Weight: 8oz | Material: Plastic
Specially designed for rabbit body shape
V-shaped back for space-saving
High back and low front
No good for large rabbits
Why pay over the odds for a rabbit litter box when you don't need to? This budget-friendly litter pan from Kaytee is simple, functional, and costs around the same as 5lbs of rabbit food. It is specially designed to conform to the long contour body shape of rabbits and ferrets. So it's perfect for rabbits and, if you have a ferret, you can get them one as well.
Made from easy-to-clean, high-sheen plastic, the back of the pan is V-shaped, which allows you to sneak it into corners to save some space in your rabbit's cage. At 7-inches high, it is the perfect height to keep any rabbit wee in the pan so it doesn't spray across the cage or, even worse, the floor or carpet.
Plus, it has a couple of hooks that are perfect for hanging off the side of a metal cage to help keep the pan solid and stop it from moving. Try and keep it as close to the ground as possible for the best results.
From back to front, the pan measures 11-inches, which is more than enough room for most rabbit breeds and allows your fur friend to sit comfortably while they are doing their business. The circular low front measures nine inches in width and is just high enough to keep any litter in and low enough to make it easy for your rabbit to get into the pan.
Yangbaga Stainless Steel Litter Box
Best stainless steel rabbit litter box
Size: 24 x 16 x 8 inches | Color: Silver | Weight: 5lbs | Material: Stainless steel
Environmental friendly
Scratch-resistant
Offers odor control
No good for small cages
Say goodbye to plastic litter boxes and say hello to stainless steel. These litter boxes from Yangbaga are made from high-quality stainless steel which is great for controlling odors, is extremely sturdy, long-lasting, and scratch-resistant. This makes it more durable, unlike plastic trays which eventually get scratched and retain unpleasant toilet odors, which makes it more difficult to clean and easier to retain unwanted germs.
By the nature of its makeup, stainless steel has a smooth surface, won't stain, and is non-stick. Any litter that you put in the bottom of the tray will simply slide off even when covered in rabbit mess. This makes it nice and easy to clean with a quick rinse, or it can be put in a dishwasher to give a germ-free clean.
The Yangbaga comes in two sizes, large and extra-large. The smaller of the two measures 20 x 14 x 8 inches, while the larger litter box measures an impressive 24 x 16 x 8 inches. These are not small litter boxes and both boast 8-inch high sides, which is great for making sure that no litter or wee makes it over the sides, but makes it difficult for small rabbits to actually get into the litter box.
It is easier for large rabbits, but the lack of a low side means there is no easy access for any size rabbit. Plus, you will also need a decent size cage to keep it in even if you choose the smaller size.
CALPALMY Large Rabbit Litter Box with Bonus Pads
Best large rabbit litter box
Size: 17.3 x 13.4 x 7.1 inches | Color: Cream, Blue | Weight: 2.53lbs | Material: Plastic
Large size
Includes 10 pet training pads
Removable tray
Needs a large cage
Have you got a big rabbit? Then you will need a large litter box to make sure that your fur friend can comfortably do their business without any hassle. That's exactly what you get with this roomy rabbit litter box from CALPALMY.
It measures 17-inches wide and just over 13-inches deep, which is commonly much larger than standard litter boxes that are typically 12 inches or less. So plenty of room for your rabbit when they need it. Make sure you measure up your rabbit's home before you buy to check that the litter box won't take over the cage.
In keeping with the bigger size, the litter box has a 3.5-inch deep bowl that is covered with a sturdy easy to stand on perforated plastic tray, each perforation measuring 1.2 x 4 inches to help any rabbit droppings and urine fall through to the bottom of the box. And as an added bonus, the litter box is supplied with 10 pet training pads that absorb any rabbit wee and help keep the smell down.
Lift up the toilet tray and simply take out the pad and toss it in the bin, replace it with a new one and slip the tray back into place and you are ready to go again. And if any mess does get left behind, the 100 percent non-toxic, BPA-free plastic litter box is easy to clean with a quick rinse under the tap. Or if the litter box needs a little extra help on the cleaning front throw in some washing-up liquid too.
Lixit Corner Litter Pan for Rabbits
Best space saving rabbit litter box
Size: 2.5 x 10.7 x 5.8 inches | Color: Blue, Green, Pink | Weight: 6.74oz | Material: Plastic
Triangle design to save space
Easy to empty and clean
High back/low front for rabbits with mobility issues
Not for large rabbits
If you want a simple, no-nonsense litter box that will easily sit in the corner of your fur friend's cage, then this uncomplicated but functional design could be just what you are looking for. On first viewing, it looks just like a triangular plastic washing bowl, but take a closer look and the simple design has plenty to offer.
Specially designed for rabbits and small pets, the Lixit Corner Pan measures 12.5 x 10.7 x 5.8 inches. Ideal for most rabbit breeds, but it won't be much good for a large rabbit. The triangular shape of the litter box means it will fit neatly into any corner of your fur friend's cage, making a space saver. It also helps it stay in position without the need for any fixing or securing. And it makes it quick and easy to lift out of the cage when it needs cleaning.
Made from durable, non-toxic, pet-safe plastic, the tray is easy to clean. All you need to do is empty out the hay or litter that you have lined the pan with it by tossing in the bin. Give it a quick rinse under the tap to remove any mess, then simply add new hay or litter and put it back in the cage. The high back and low easy-access front make it ideal for rabbits that have mobility issues.
Humorous.P Rabbit Litter Box
Best large toilet rabbit litter box
Size: 12 x 8.5 x 5.6 inch | Color: Green | Weight: 1.23lbs | Material: Plastic, Iron
Great starter litter box
Large toilet volume
High sides
Not ideal for adult rabbits
Cleaning out your fur friend's litter box isn't the most pleasant of tasks, but it's one that every owner has to do whether they like it or not. The beauty of this litter box is that it has a large toilet volume. You will still have to clean out the litter box, but at least you won't have to do it quite so often – a bonus if it's a job you aren't keen on.
But a large toilet volume doesn't mean a large litter box. Measuring 12 x 8.5 x 6 inches, this litter box is not ideal for most adult rabbit breeds, but it is still a great option when first training your fur friend to do their business in the right place.
The attached cage hooks hold the litter tray securely to your cage, while the durable and sturdy litter box is made from good quality pet-safe plastic. It has two low sides for easy access for your fur friend and two high sides to help stop any spray going across the rest of the cage. A full-sized metal mesh tray, coated in easy-to-clean plastic, is designed with just the right amount of space between the bars for feces to fall through and easy enough for your rabbit to stand on.
When it comes to cleaning, the mesh tray is simple to remove and rinse and the litter box is easy to empty and wash clean. You can get the litter box in three colors (green, pink, and yellow) and, as an added bonus, you get a mini-broom and dustpan, a color-coordinated bow tie, and a triangular neckerchief to dress up your fur friend for the perfect photo opportunity.
How to choose the best rabbit litter box
Size and height
The most important factor when considering a litter box is size. It will need to be at least big enough for your rabbit to sit on and do their business. If you have a large breed rabbit, a small litter box may be fine when they are young but as they grow they will need a larger litter box. So consider the size you'll need when your fur friend is fully grown. This means you'll only need to purchase a new litter box when you want to.
Consider the height as well as the size. Rabbits lift their tails when they urinate and if the litter box has low sides it could spray straight into the cage. A litter box with a high back is a good choice to help prevent this happening.
Fit and access
It may seem obvious, but you will need a litter box that fits comfortably inside your fur friend's cage. Note the measurements of the litter box you want and then use them to see how it fits into your rabbit's cage. Once you have the right litter box, think about access to the litter box, especially if your fur friend has mobility issues. A litter box with a low front and a high back is ideal for this.
Easy to clean
Litter boxes will get a lot of use, so need to be cleaned regularly. Is it easy to get out of the cage? Will the litter stick to the tray? Can it be put in a dishwasher if needed? Try a tray with a separate removable drawer. This means you can empty and clean regularly and do a thorough clean of the rest of the litter box occasionally.
Get the best advice, tips and top tech for your beloved Pets
Thank you for signing up to Petsradar. You will receive a verification email shortly.
There was a problem. Please refresh the page and try again.