The best flea medication for dogs: Pills to keep your canine free of critters
From topicals to tablets, the best flea medication for dogs will keep those unwelcome guests from hitching a ride in your hounds coat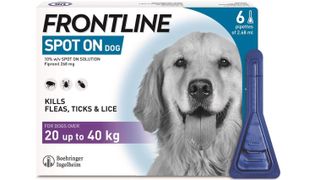 (Image credit: Amazon)
A good flea medication for dogs is one of those essential weapons every pet parent needs in their arsenal and investing in one will ensure your beloved canine companion stays happy, healthy and free from pesky parasites. But when it comes to choosing a flea medication, how do you know which one is right for your fur baby?
Well, first things first - let's distinguish between the best flea treatments for dogs and flea medications so you can understand the difference, because, let's face it, all these terms can be more than a little confusing! Basically, a flea treatment is anything that can be used externally while flea medications also include oral forms of treatment.
The best flea collars for dogs are a great example of a flea treatment, as are shampoos, sprays and topicals. The first three work to prevent fleas, while topicals also work to treat existing outbreaks and speaking of existing infestations, that's exactly where an oral medication can also come in handy.
Both topical treatments and oral solutions fall under the category of flea medications because they're much harder hitting than other methods, like flea collars. They're ideal for use when your canine companion is riddled with pesky parasites and you're looking for a fast-acting formula to get rid of them. While topicals are applied to the skin, oral solutions are given in either tablet or liquid form.
We recommend that when you're choosing a flea medication for your dog you consider whether you're looking just to treat a current outbreak or whether you're also wanting to prevent fleas from infesting your dog in the future. For a fast-acting one-off medication, you'll want to consider an oral tablet as these get to work within 30 minutes and can bring quick relief. Topicals take a little longer to work (around 24 hours) but these can be used long-term as a preventative as well as a treatment.
To help you choose the right flea medication for your dog, we've rounded up our favorite picks. If you're still in any way unsure about which option is right for your canine companion, speak to your vet who will be able to offer advice and guidance on the best course of action.
PetsRadar's pick of the best flea medication for dogs
Why you can trust PetsRadar Our expert reviewers spend hours testing and comparing products and services so you can choose the best for you. Find out more about how we test.
Best overall flea treatment for dogs
Reasons to buy
+
Can be used on lactating dogs
+
Approved by vets
+
Waterproof
Reasons to avoid
-
Higher price
-
Contains chemical pesticides
Frontline Plus Spot On treatment is a popular option for dog owners. It's easy to use, safe for dogs of almost all sizes, and works to kill both fleas and ticks at all stages of life. It's also waterproof from 24 hours after application, so as long as you keep your dog away from water for a day, it should be effective.
This veterinarian-recommended flea and tick treatment prevents flea infestation for eight weeks and tick infestation for four weeks, and treats flea and tick infestations for four weeks.
It contains two separate active ingredients that, together, kill fleas and ticks and their eggs and larvae with one, potent application.
The first active ingredient, fipronil, works to kill 98 to 100% of fleas within 24 hours, and ticks and biting lice within 48 hours. The second, (S)-methoprene, works to prevent the fleas multiplying by killing them in their immature stages, when they are eggs, larvae and pupae.
Frontline Plus is quick to work. It begins killing fleas after four hours, and within 12 hours it kills 100% of fleas on contact, so a flea doesn't have to bite your dog to become affected. However, the chemicals are hazardous to humans, so it's important to be very careful when you apply it.
The treatment comes in different doses for different size dogs, including two to 10 kg, 10kg to 20kg, 20 kg to 40kg, and over 40kg, so make sure you pick the right dosage for your dog.
Effipro Spot On Flea Treatment for Dogs
Best budget medication
Specifications
Kills fleas:
Within 24 hours
Reasons to buy
+
Fast acting
+
Affordable
+
Easy-to-use application
Reasons to avoid
-
Contains chemical pesticides
Effipro's flea medication for dogs promises to kill the fleas hitching a free ride on your dog within 24 hours, and banish ticks within 48 hours. It will protect your dog against fleas for eight weeks, and against ticks for four weeks.
This is thanks to the active ingredient in Effipro's treatment. The insecticide fipronil, which is fast, effective, and provides long-lasting protection. It's safe to use, as it isn't absorbed into your dog's bloodstream.
Effipro has a clear, non-drip pipette, thanks to 'drop lock' technology, which allows you to apply the product with more control and less mess – a bonus for squirmy dogs who like to make flea treatment-time as difficult as possible. This also help prevent you getting any of the treatment on your fingers. The clearness of the pipette also allows you to make sure you've applied all of the solution.
Effipro can be used on puppies from the age of two months old, or once they weigh more than one kg. They're available in packs of four or 24 pipettes, and you can choose between specially formulated pipettes for small, medium, large or extra-large dogs.
This treatment uses the same active ingredient as Frontline, which is one of the most popular flea medication for dogs on the market. It also has good reviews from happy customers; but it's a more affordable option than Frontline for those on a budget.
Advantage 40 Spot-On Flea Treatment
Best flea medication for small dogs
Specifications
Starts working:
Within 24 hours
Suitable for:
Dogs weighing under 4kg
Protects against fleas:
For 4 weeks
Active ingredient:
Imidacloprid
Reasons to buy
+
Vet-recommended
+
Can also be used on pet cats and rabbits
+
Easy to apply
Finding dog flea medicine for smaller dogs isn't easy, but Advantage 40 Spot-On treatment is specially formulated for dogs that weigh under 4kg.
This vet-recommended treatment gets to work within 24 hours of application, and works to protect your dog from fleas for four weeks, when you will need to apply it again.
Advantage spot-on treatment also kills flea larvae lurking around your home. It features an easy-to-use pipette, from which the formula is easily applied between your dog's shoulder blades.
When applied to your dog, the formula spreads along the water-resistant layer of their skin, spreading across the whole body. Fleas are then exposed to the active ingredient in the formula, imidacloprid, on contact with your dog, without them having to bite your dog first.
Imidacloprid is an insecticide that targets insects' central nervous systems. It can cause symptoms in humans including vomiting, headache and abdominal pain, so be careful when applying it to your dog. It was actually originally made by scientists to mimic nicotine, which is naturally found in plants including tobacco.
Advantage's treatment is a popular product, with lots of good reviews online. Happy customers say it's easy to use, and good value for money. If you're looking for a flea treatment that will work well for a smaller dog, this could be the product for you. It's especially well suited to small dog-owners who also have pet cats, as this formula won't pose any risk to them.
Capstar Fast-Acting Oral Flea Treatment for Dogs
Best oral flea medication for dogs
Specifications
Suitable for:
Dogs over 4 weeks old
Reasons to buy
+
Fast-acting
+
Kills 90% of fleas within 4 hours
+
Can be given daily
For a fast-acting flea treatment that quickly gets to work tackling current flea infestations, Capstar is hard to beat. Beginning to kill fleas within just 30 minutes, this tablet is a lifesaver when your canine companion is suffering the ill effects of unwanted hitchhikers.
Available in two formulas for dogs under and over 25lbs, Capstar can be given without a prescription and is 90% effective at killing all fleas on your furkid within four hours. For severe outbreaks, a daily dose can be given until your furbaby is flea-free.
The easy oral delivery means no mess and no rubbing off with the active ingredients spreading across your dog's body from the inside out. Suitable for dogs and puppies over 2lbs and four weeks of age, Capstar can also be used alongside other flea treatments for a complete flea management system.
Bob Martin Clear Flea Spot On Solution
Best long-lasting flea medication for dogs
Specifications
Protects against fleas:
For 8 weeks
Protects against ticks:
For 4 weeks
Reasons to buy
+
Safe to use around cats
+
Long-lasting protection
+
Reasonable price
Reasons to avoid
-
Contains chemical pesticides
Bob Martin Clear Flea Spot On Solution is a popular flea medication for dogs.
The treatment kills fleas for up to 24 weeks and protection against fleas for up to eight weeks, and kills ticks for up to 12 weeks and protects from ticks for up to four weeks. It also kills biting lice, larvae and eggs.
Bob Martin's formula contains active ingredients Fipronil and (s)-methoprene, which are the same active ingredients as Frontline's flea treatment for dogs. Fipronil attacks the nervous system in fleas and ticks, which causes them to die, while (S)-methoprene is an insect growth regulator that inhibits the development of flea eggs, larvae and pupae, which prevents re-infestation on your dog and their immediate surroundings, such as their bed and their favorite sofa (which they secretly sit on when you're at work).
The formula can be used on dogs over two months old, and is suitable for use in homes with both cats and dogs. This is important for households with cats, as not all flea medication for dogs is safe for cats to be around.
Bob Martin is a well established company – which may bring some peace of mind to some. It was founded in 1892 by Robert Martin, so it has been working to perfect its formula for more than a hundred years.
The range includes separate formulas for small, medium and large dogs, so be sure to pick the one that's best suited to your dog by weighing them first.
All Natural Flea Fighter for Dogs & Cats
Best natural flea medication for dogs
Specifications
Contains:
Quassia bark extract
Reasons to buy
+
Vet-recommended
+
All-natural ingredients
+
Affordable price
Reasons to avoid
-
Requires more applications
Most flea medication for dogs on the market are quite potent, with strong active ingredients that can sometimes cause irritation. But not all treatments for dog fleas on the market are chemical.
This product, from the Healthy Dog Co, uses all-natural ingredients, including quassia bark extract in an organic cider vinegar base, with a blend of natural oils. It is safe to use, non-toxic and non-irritating, paraben and GMO-free, completely chemical- and cruelty-free.
The treatment repels fleas, tick, lice and mites. It's used like other flea treatments: apply one squirt to the skin at the back of your dog's neck, but do this once a day for a week. After this first application, the Healthy Dog Co says you only need to use one application per week to prevent fleas from returning to the scene of the crime. The whole bottle should last for one year's worth of weekly applications, the Healthy Dog Co says.
The All Natural Flea is quite a popular option on Amazon, although its rating is just 3.7 out of five. Many reviews say it works well – some even pick up on it having a more pleasant smell than chemical flea treatments. The formula is vet-recommended; many natural flea medications for dogs cannot make this claim.
There aren't many chemical-free flea medications for dog on the market – and of the bunch, this one seems to tick the most boxes. It may not be potent enough to keep your dog and your home completely flea, lice and tick-free, but if you're not keen on using too many chemicals, it might be worth a try.
Get the best advice, tips and top tech for your beloved Pets
Jessica is a freelance features journalist. When she isn't writing, she's chasing after strangers' dogs in the park.