The best flea medication for dogs: Pills to keep your canine free of critters
The best flea medication for dogs, from budget, to natural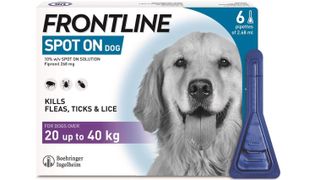 (Image credit: Amazon)
Finding good flea medication for dogs is essential. Fleas are the most common parasite your dog will come into contact with, so being clued up on flea treatments for dogs is par for the course. 
Fleas can live for between seven and 14 days, and in this time, they can do a lot of damage. Female fleas lay up to 40 eggs every day. These eggs, which hide in carpets and dog beds, can lie dormant for months before hatching and jumping onto your dog. Fleas can also cause all sorts of problem for your dog, including itchiness and skin allergies, and can even transmit tapeworm. 
This buying guide will offer a round up of the most popular flea medication, so you can make an informed decision about which is the best option for you and your dog. If you'd like to explore a wider range of options take a look at our guide to the best flea treatments for dogs which includes collars and shampoos as well.
As well as using flea medication, it's important to treat your house as well, ensuring all soft furnishings and carpets are regularly washed. This is because up to 95% of fleas actually live in your home, while the remaining five percent live on your dog. 
Remember, it's always advised to choose a vet-approved formula, and to consult them if you have any questions about which treatment would best suit your dog. 
PetsRadar's pick of the best flea medication for dogs
Frontline Plus Spot On
Best overall flea treatment for dogs
Usage: Fleas and ticks | Type: Topical | Lasts: 30 days
Can be used on lactating dogs
Approved by vets
Waterproof
Higher price
Contains chemical pesticides
Frontline Plus Spot On treatment is a popular option for dog owners. It's easy to use, safe for dogs of almost all sizes, and works to kill both fleas and ticks at all stages of life. It's also waterproof from 24 hours after application, so as long as you keep your dog away from water for a day, it should be effective.
This veterinarian-recommended flea and tick treatment prevents flea infestation for eight weeks and tick infestation for four weeks, and treats flea and tick infestations for four weeks.
It contains two separate active ingredients that, together, kill fleas and ticks and their eggs and larvae with one, potent application. 
The first active ingredient, fipronil, works to kill 98 to 100% of fleas within 24 hours, and ticks and biting lice within 48 hours. The second, (S)-methoprene, works to prevent the fleas multiplying by killing them in their immature stages, when they are eggs, larvae and pupae. 
Frontline Plus is quick to work. It begins killing fleas after four hours, and within 12 hours it kills 100% of fleas on contact, so a flea doesn't have to bite your dog to become affected. However, the chemicals are hazardous to humans, so it's important to be very careful when you apply it. 
The treatment comes in different doses for different size dogs, including two to 10 kg, 10kg to 20kg, 20 kg to 40kg, and over 40kg, so make sure you pick the right dosage for your dog. 
Effipro Spot On Flea Treatment for Dogs
Type: Topical | Application: Pipette | Kills fleas: Within 24 hours
Fast acting
Affordable
Easy-to-use application
Contains chemical pesticides 
Effipro's flea medication for dogs promises to kill the fleas hitching a free ride on your dog within 24 hours, and banish ticks within 48 hours. It will protect your dog against fleas for eight weeks, and against ticks for four weeks.
This is thanks to the active ingredient in Effipro's treatment. The insecticide fipronil, which is fast, effective, and provides long-lasting protection. It's safe to use, as it isn't absorbed into your dog's bloodstream.
Effipro has a clear, non-drip pipette, thanks to 'drop lock' technology, which allows you to apply the product with more control and less mess – a bonus for squirmy dogs who like to make flea treatment-time as difficult as possible. This also help prevent you getting any of the treatment on your fingers. The clearness of the pipette also allows you to make sure you've applied all of the solution. 
Effipro can be used on puppies from the age of two months old, or once they weigh more than one kg. They're available in packs of four or 24 pipettes, and you can choose between specially formulated pipettes for small, medium, large or extra-large dogs. 
This treatment uses the same active ingredient as Frontline, which is one of the most popular flea medication for dogs on the market. It also has good reviews from happy customers; but it's a more affordable option than Frontline for those on a budget.
Advantage 40 Spot-On Flea Treatment
Best flea medication for small dogs
Starts working: Within 24 hours | Suitable for: Dogs weighing under 4kg | Protects against fleas: For 4 weeks | Active ingredient: Imidacloprid
Vet-recommended 
Can also be used on pet cats and rabbits
Easy to apply
A bit more expensive
Finding dog flea medicine for smaller dogs isn't easy, but Advantage 40 Spot-On treatment is specially formulated for dogs that weigh under 4kg. 
This vet-recommended treatment gets to work within 24 hours of application, and works to protect your dog from fleas for four weeks, when you will need to apply it again. 
Advantage spot-on treatment also kills flea larvae lurking around your home. It features an easy-to-use pipette, from which the formula is easily applied between your dog's shoulder blades. 
When applied to your dog, the formula spreads along the water-resistant layer of their skin, spreading across the whole body. Fleas are then exposed to the active ingredient in the formula, imidacloprid, on contact with your dog, without them having to bite your dog first. 
Imidacloprid is an insecticide that targets insects' central nervous systems. It can cause symptoms in humans including vomiting, headache and abdominal pain, so be careful when applying it to your dog. It was actually originally made by scientists to mimic nicotine, which is naturally found in plants including tobacco. 
Advantage's treatment is a popular product, with lots of good reviews online. Happy customers say it's easy to use, and good value for money. If you're looking for a flea treatment that will work well for a smaller dog, this could be the product for you. It's especially well suited to small dog-owners who also have pet cats, as this formula won't pose any risk to them. 
NexGard Chewables
Best tablet flea medication for dogs
Safe to use: Around dogs and cats | Suitable for: Dogs over 8 weeks old | Protects against fleas: For 4 weeks | Works: Within 24 hours
Beef-flavored
Month long protection
Only works on fleas that bite your dog
Bit more expensive
NexGard's chewable tablets kill fleas before they can lay eggs, prevent flea infestations and last for one month, meaning you only need to give your dog a tablet every four weeks. It also kills pesky ticks. 
And, as a nice added bonus for your dog, the tablets are beef flavored, so you won't have to bury them in your dog's food bowl at dinner time. NexGard found in a survey that 89% of dogs will happily eat a tablet.
NexGard's tablets contain the active ingredient afoxolaner, which is a recently discovered insecticide. It's FDA-approved and is safe for use in dogs.
Once your dog has swallowed the tablet and afoxolaner reaches a dog's bloodstream, it is distributed throughout the body and attacks fleas' nervous systems, killing them within 24 hours. 
Unlike topical treatments, these tablets only work when the flea actually bites your dog and ingests the insecticide. It's not yet known if the fleas are killed before they get a chance to transmit any diseases to your dog, such as tapeworm. 
There are many flea medications for dogs in tablet form – although, they're not as popular as spot-on treatments. 
But tablets can be a much easier way to administer flea treatment to your dogs, especially if you don't like the mess spot-on treatments can cause, or find it difficult to get your dog to sit still for long enough. Some dogs can have reactions on their skin to topical treatments, which tablets also avoid. 
NexGard is one of the best tablet treatments when it comes to bang for your buck, and has plenty of positive reviews. 
Bob Martin Clear Flea Spot On Solution
Best long-lasting flea medication for dogs
Protects against fleas: For 8 weeks | Protects against ticks: For 4 weeks | Application: Pipette
Safe to use around cats
Long-lasting protection
Reasonable price
Contains chemical pesticides
Bob Martin Clear Flea Spot On Solution is a popular flea medication for dogs. 
The treatment kills fleas for up to 24 weeks and protection against fleas for up to eight weeks, and kills ticks for up to 12 weeks and protects from ticks for up to four weeks. It also kills biting lice, larvae and eggs.
Bob Martin's formula contains active ingredients Fipronil and (s)-methoprene, which are the same active ingredients as Frontline's flea treatment for dogs. Fipronil attacks the nervous system in fleas and ticks, which causes them to die, while (S)-methoprene is an insect growth regulator that inhibits the development of flea eggs, larvae and pupae, which prevents re-infestation on your dog and their immediate surroundings, such as their bed and their favorite sofa (which they secretly sit on when you're at work).
The formula can be used on dogs over two months old, and is suitable for use in homes with both cats and dogs. This is important for households with cats, as not all flea medication for dogs is safe for cats to be around. 
Bob Martin is a well established company – which may bring some peace of mind to some. It was founded in 1892 by Robert Martin, so it has been working to perfect its formula for more than a hundred years.
The range includes separate formulas for small, medium and large dogs, so be sure to pick the one that's best suited to your dog by weighing them first.
All Natural Flea Fighter for Dogs & Cats
Best natural flea medication for dogs
Contains: Quassia bark extract | Ingredients: All natural | Vet-recommended: Yes
Vet-recommended
All-natural ingredients
Affordable price
Requires more applications
Most flea medication for dogs on the market are quite potent, with strong active ingredients that can sometimes cause irritation. But not all treatments for dog fleas on the market are chemical. 
This product, from the Healthy Dog Co, uses all-natural ingredients, including quassia bark extract in an organic cider vinegar base, with a blend of natural oils. It is safe to use, non-toxic and non-irritating, paraben and GMO-free, completely chemical- and cruelty-free. 
The treatment repels fleas, tick, lice and mites. It's used like other flea treatments: apply one squirt to the skin at the back of your dog's neck, but do this once a day for a week. After this first application, the Healthy Dog Co says you only need to use one application per week to prevent fleas from returning to the scene of the crime. The whole bottle should last for one year's worth of weekly applications, the Healthy Dog Co says. 
The All Natural Flea is quite a popular option on Amazon, although its rating is just 3.7 out of five. Many reviews say it works well – some even pick up on it having a more pleasant smell than chemical flea treatments. The formula is vet-recommended; many natural flea medications for dogs cannot make this claim.
There aren't many chemical-free flea medications for dog on the market – and of the bunch, this one seems to tick the most boxes. It may not be potent enough to keep your dog and your home completely flea, lice and tick-free, but if you're not keen on using too many chemicals, it might be worth a try.
Get the best advice, tips and top tech for your beloved Pets
Thank you for signing up to Petsradar. You will receive a verification email shortly.
There was a problem. Please refresh the page and try again.