A sneaky cat got caught stealing his neighbors' laundry in Louisiana
"My cat is stealing your laundry," wrote Heather Bardi to her neighbors on Facebook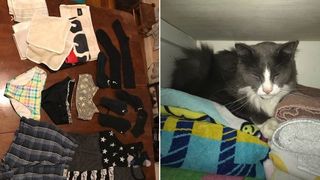 (Image credit: Heather Bardi/Facebook)
A cat has recently taken up a life of crime by stealing his neighbors' laundry and bringing it back to his home.
Admiral Galacticat lives in Louisiana, and he spent his four years with his family as an indoor cat until COVID-19 quarantine saw him growing "sick" of spending so much time with his family. He began to beg and plead to go outside, so owner Heather Bardi began letting Admiral go on outdoor adventures. Soon after, she started noticing freshly cleaned laundry on her front porch, but she didn't immediately put two and two together.
The clean-smelling clothing included tank tops, boxers, bathing suits, and an extensive collection of Nike socks – Bardi initially thought a drunk person was leaving these items on her porch after a night out at a local bar. So she bought security cameras to find the culprit, and lo and behold, the thievery was coming from inside the house.

"ANYWAY I got security cameras and lo and behold, it is MY CAT that is stealing SOMEONE's clean laundry and bringing it home," Bardi wrote on a local Facebook group page. "Now I am grateful it's not a dead sparrow or mouse, but I am sure someone is at home scratching their head as to where their clothes keep disappearing to."
She added, "Trust me, it is not the dryer monster, but Admiral. If you would like to retrieve your items I have been collecting them and I will wash them again cause, cat spit, but you are more than welcome to come by and grab the bag and shame my cat if he is around. Also, sorry my cat is a kleptomaniac."
How's that for a cat burglar?
Get the best advice, tips and top tech for your beloved Pets