10 great dog bath, grooming, and clean up products
Keep your messy mutt looking their very best with these perfect dog bath grooming essentials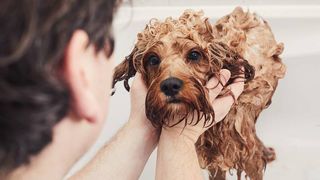 (Image credit: Getty Images)
Whether your dog acts like the perfect pooch at the very sight of water or likes to be a bit mischievous and splash around, these super handy dog bath grooming products will make every bath time a breeze.
From brilliant brushes to top towels, it's always a good idea to stock up on some of your favorite clean up products when a messy mutt is around!
How often you bathe your dog depends on your pup's needs, but establishing a good routine armed with the perfect accessories will ensure your canine feels like top dog receiving five-star spa treatment.
Brushing your dog's hair before and after bathing them is a great way to get rid of any excess dead hair before shampooing, and you can always bring out the dog nail clippers and give them their very own perfect pedicure too.
In this guide, we've found everything from the best dog shampoo to super convenient dog bath grooming supplies on the move, so your canine will always look their best whether it's bath time inside or outdoors.
Best dog bath grooming products in the US
Why you can trust PetsRadar Our expert reviewers spend hours testing and comparing products and services so you can choose the best for you. Find out more about how we test.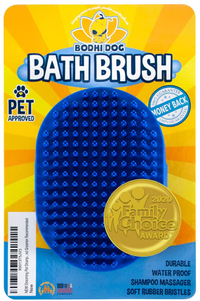 Bodhi Dog New Grooming Pet Shampoo Brush
If you're looking for an inexpensive way to gently deep clean your pup's coat then look no further than the Bodhi Dog New Grooming Pet Shampoo Brush.
This award-winning dog brush fits comfortably in the palm of your hand and holds in place with the loop handle, allowing you to easily clean using a circular motion that is highly effective at removing dirt and fur in an efficient manner.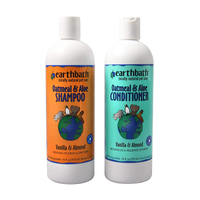 Earthbath Oatmeal and Aloe Natural Pet Shampoo in Vanilla and Almond
Our top choice for best dog shampoo, Earthbath Oatmeal and Aloe Natural Pet Shampoo is a true classic that has stood the test of time.
It's excellent for canines with itchy and dry skin conditions such as allergies, dandruff, and bacterial dermatitis, which can cause your pooch pal to incessantly itch.
If your dog has particularly long hair, it can help clean and detangle impressive manes.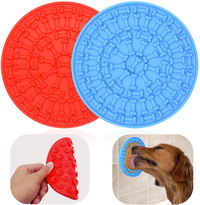 Does your pooch never stay still in the tub? Then you need this genius dog lick pad.
Simply spread wet dog food or your dog's approved treats on the mat and stick to a tub, counter, or any smooth surface to reduce their stress and anxiety instantly.
It's a super handy way to groom your dog too; whether it's a nail clipping or a brush required, your canine will be too busy eating to notice.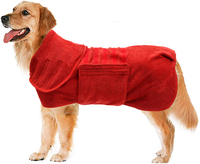 Looking to dry your dog in a flash? Invest in a microfibre fast drying towel and you won't have to worry about being hit by pesky water and mud showers.
The Geyecete Dog Drying Coat comes in a variety of stylish colors and is super luxurious to the touch for pampered pooches.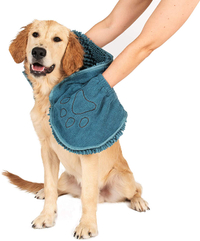 The Original Dirty Dog Quick Drying Towel with Hand Pockets
Stylish and wonderfully convenient for throwing into a bag and heading to the beach too, the Original Dirty Dog Quick Drying Towel features helpful hand pockets for reaching in and giving your pooch's fur a good rub down after a bath.
It's made from of super absorbent microfiber that absorbs more than 20 times more water, mud and dirt than other brands.
Best dog bath grooming products in the UK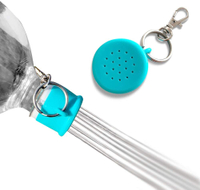 Wild Barkers Portable Dog Shower Head
Looking to keep your pup looking their best on the move? This incredible portable dog shower head looks like a keyring but is so multi-functional, it'll take care of more than your dog's grooming needs.
This bathing tool is a must-have dog camping accessory, but it also turns into a drinking fountain and dog toy rinser too.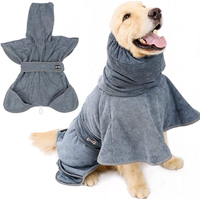 If you're looking to combine great functionality with super style, a hoodie dog bath robe is a must.
It's a great way to wrap your dog up as soon as they leave the tub and they can always lounge in comfort on the sofa too.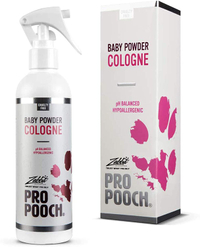 Freshen up your dog with this calming cologne that deodorizes your pooch, whilst providing a conditioning, nourishing boost suitable for every coat.
Simply spritz after a shampoo, misting over your dog's fur between baths, whilst traveling or after walks.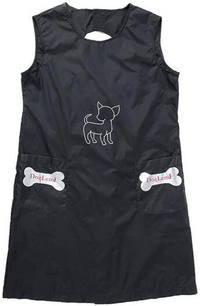 DogLemi Waterproof Dog Grooming Apron
Protect your clothing from the dreaded dog mud splashes with this handy waterproof dog grooming apron.
It's perfect for a multitude of pet grooming tasks including bathing, clipping or when you want to hold your pet to cut nails.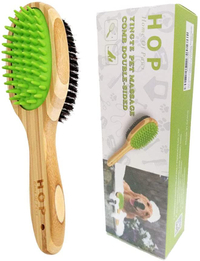 This double-sided stylish pet brush can easily remove loose fur and help to produce a deep cleaning massage without damaging the pet's skin.
Made from natural wild boar bristle with a comfortable bamboo handle, it's ideal for bathing and massaging with ease and convenience.
Get the best advice, tips and top tech for your beloved Pets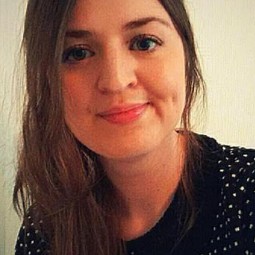 Ashleigh is Digital Editor on PetsRadar. With over 8 years of experience in print and digital media, she has acted as an editorial lead on a variety of projects, with animal themes a keen interest. As an avid animal lover, you can often find Ashleigh checking out the newest trends in animal care or looking at cute cat videos on TikTok.