Bodega cats have their own Twitter account and it is glorious
Check out the Twitter account dedicated to the feline friends you find in your local corner store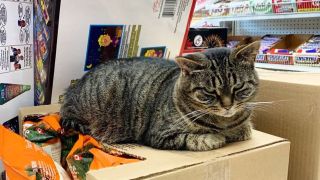 (Image credit: Twitter user @sarrlees)
If you've ever been to New York City and walked into a bodega looking for a bottle of water, you've probably encountered a bodega cat. If you're outside of New York City, these cats can be known as deli cat, store cat, or shop cat, and they're basically just cats who have adopted a store as their home, often used by store owners as pest control.
Naturally, Bodega cats have their own Twitter account, and it's full of hilarious follower-submitted pictures and videos of run-ins with sometimes friendly, always adorable bodega cats. Even though the account is called Bodega Cats, which is an entirely New York City phrase, pictures of shop cats come in from all over the world, proving that cats will live wherever they damn well please.
The mysterious bodega cat is certainly worth a closer look, so spend some time scrolling through the Twitter account for some gems. Take a look at this guy, for instance, who is clearly getting his daily water intake by licking the condensation on the outside of a bodega fridge.
One of the funniest things about bodega cats is that they're just like any other cat, but they're behaving as such in a hilarious setting. They'll clean themselves in bizarre positions, lay in places that seem so uncomfortable, and play with whatever interests them. Just today I saw my bodega cat hiding under a basket of fruit, ripping the napkin covering the bottom of the basket to shreds.
It's hard not to laugh with pure joy when you turn down the aisle of your local store to grab some chips and there's a cat asleep on the shelf.
If you encounter a bodega cat, make sure you snap a picture and send it to the Twitter handle @BodegaCats_ for a chance to get featured!
Get the best advice, tips and top tech for your beloved Pets