Cat and cow strike up an unlikely friendship on the farm
The surprising pair's playful antics has Instagram users saying pull the udder one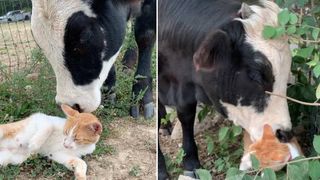 (Image credit: Instagram / @a_cow_and_her_cat)
We've all seen the Disney movies where animals unexpectedly band together to help each other through tough times and this cozy cat and cow duo proves it happens in real life too.
Based on a farm in Indiana, Hershey the cow and Rhys the cat have formed an inseparable bond and watching them nuzzle, groom and play with each other is enough to warm the cockles of even the most jaded pet lover. From the moment they met they were inseparable, and now they are often found grooming each other and napping together - it's a moo-mentously moo-ving sight!
To celebrate the unlikely friendship of these barnyard buddies, Rhys's owner Sandy Powell has created a Cow and her Cat Instagram page where almost 7000 fans regularly tune in to catch up with what the duo are up to.
Sandy told The Metro: "They've always been close. When I brought Hershey home she was only a baby and she was really shy. Rhys just reached out to her and it was like an instant connection they had right from the start.
"It was almost like Rhys helped her come out of her shell."
We've seen unexpected animal friendships before, of course, like between dogs and dolphins, but the closeness of this pair is a sight to behold. Rhys likes to keep tabs on all the animals on the farm, but it's Hershey that Rhys has a special bond with.
Sandy explains: "Hershey always licks Rhys, or they lay down together and have a nap. If Hershey is eating Rhys will just sit and watch her because she's interested in what she's doing."
As well as playing, Hershey will do anything to make Rhys more comfortable, including trying to take off her collar!
And Hershey hates when they are separated, even paying attention to Rhys's sibling after they had spent some time apart.
Sandy is pleased that people are getting such joy from these firm farm friends on Instagram: "People just love it. I didn't know it was a thing between cows and cats that they could be so close.
And they really do, with @canadiangeordie commenting "That made my morning!!"
While @instacatgrumpy said "Oh my heart.....That's the cutest thing I've ever seen...."
Sandy adds, "Members of my extended family and like long lost friends have followed it and they love it. We even have a whole group chat at work for everyone to talk about Hershey and Rhys every day."
Let's hope this special relationship continues as the cuteness factor is almost too much to bear.
Get the best advice, tips and top tech for your beloved Pets
Jamie Middleton is a freelance editor and writer who has been editing and creating content for magazines and websites for over 20 years. As well as writing about the pets he loves, he has helped create websites about tech and innovation like TechRadar.com, Innovate UK and TechSPARK, written programmes for music festivals, books on inventions and architecture, TV listings magazines, and edited publications about cars such as Lexus, Toyota and Jaguar. In his spare time he writes fiction books and poetry - or at least he does when he is permitted to by his cat Pirate, who enjoys the warmth of laptops too much to allow being creative to get in the way.