Cute spaniel and wild dolphin become best of friends
Whenever they see each other these two water-loving buddies delight in swimming and playing together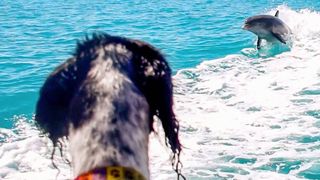 (Image credit: Instagram: @JoJothedolphin)
They are not the most obvious of swimming companions – a wild sea-faring dolphin living free with its pod in the Atlantic ocean, and a much-loved nine-year old dog who usually stands guard on a boat – but Jojo the bottlenose dolphin and Zyzz the spaniel are living proof that true friendship knows no bounds.
As Zyzz's owner, Mark de Fraine, told Unilad: "They always get so excited to see each other and you can see the both of them speed up and start circling and getting excited to meet – Zyzz can often see Jojo from the boat so he gets excited first.
"Jojo comes right up to the back of our boat and pokes his head out of the water to see if Zyzz is standing there. Zyzz and Jojo get to play whenever we take Zyzz out on the boat with us on our days off."
It's a friendship that has only become stronger in the seven years since they first came face to face in a chance encounter: "They met for the first time when we were anchored up floating and snorkeling around the boat, " Mark explains. "Jojo pulled up whilst Zyzz was out with us, and Zyzz immediately got excited and ran to the back of the boat to check Jojo out. Jojo has been known to play with other dogs so was excited to see Zyzz jump in, and they just began circling each other and kind of playing a game of chase."
Sadly, because of ear infections and age, Zyzz can't play with JoJo as much as he'd like to, but he's still incredibly happy to see his dolphin pal and still takes a dip with his friend every chance he gets – spending a good hour swimming around and playing with JoJo. JoJo's daughter is also keen to get involved with the play, so let's hope this friendship continues throughout the generations!
You can see more of their exploits on their respective Instagram channels: @Zyzzraham and @Jojothedolphin.
Get the best advice, tips and top tech for your beloved Pets
Jamie Middleton is a freelance editor and writer who has been editing and creating content for magazines and websites for over 20 years. As well as writing about the pets he loves, he has helped create websites about tech and innovation like TechRadar.com, Innovate UK and TechSPARK, written programmes for music festivals, books on inventions and architecture, TV listings magazines, and edited publications about cars such as Lexus, Toyota and Jaguar. In his spare time he writes fiction books and poetry - or at least he does when he is permitted to by his cat Pirate, who enjoys the warmth of laptops too much to allow being creative to get in the way.