Save on Cat Toys: Amazon Prime Day Deals
By Steve Wright published
Find the best deals on cat toys Amazon Prime has to offer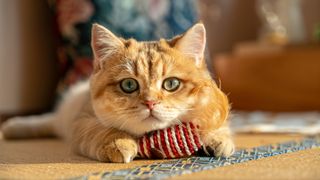 (Image credit: Getty Images)
Looking for the best deals on cat toys Amazon Prime has to offer? You've come to the right place! With savings of up to 63% on some of the best cat toys around, there's never been a better time to bag yourself a bargain.
Every cat needs a collection of toys – the more the merrier, in our book. Whether it's a humble stuffed mouse or one of the best laser cat toys, keeping that toy box full and varied is the key to a happy kitty.
Fun toys are a great way to bond with your feline furkid and even better? Some of the cat toys Amazon sells are interactive and designed to be operated by them when you're not around, so you don't have to feel guilty about leaving them at home alone for the day. Now that's what we call a win-win!
With this in mind, take a look at the five best deals on cat toys Amazon Prime Day has to offer. Your cat will thank you for it.
PetsRadar's pick of the best cat toys Amazon has to offer
Beewarm Flopping Fish Cat Toy
RRP: $15.99 | Now: $9.58 | Save: $6.41
Made from quality cotton and short plush material, this flops around and wags automatically, making it an enticing prospect for your cat to attack and throw around. It can be easily charged via USB, and serves as a great stress and mood reliever.
YVE LIFE Cat Laser Toy
RRP: $25.00 | Now: $20.00 | Save: $5.00
This great value laser toy features five adjustable circling ranges, fast and slow modes, and random patterns that'll keep your kitty enraptured. The silent motor means your furkid won't be distracted or put off by noise, and the laser will automatically shut itself off after 15 minutes, turning itself on again every three hours.
Tempcore Pet Cat Tunnel Tube
RRP: $15.99 | Now: $11.99 | Save: $4.00
You've probably noticed that your cat loves running behind things and getting into boxes. This gives you the best of both worlds, providing a three-way tunnel for them to run through. It's collapsible, so easy to transport, and is made from durable, tear-resistant polyester material.
UPSKY Cat Toy Roller 3-Level Turntable Cat Toy
RRP: $10.99 | Now: $8.79 | Save: $2.20
Another interest of cats is to bash balls around. With this turntable device from UPSKY, they can do that without you constantly treading on whatever they leave lying around! Ultra-strong and resistant, this can be played with both inside and outside, and is great for multiple cats playing together.
Migipaws Cat Toy
RRP: $39.99 | Now: $24.99 | Save: $15.50
With brightly colored feathers that randomly move in and out of seven strategically placed holes, this unpredictable game is bound to be a hit with your kitty. Designed to stimulate their natural curiosity and hunting instincts, it has a rechargeable battery, an infrared sensor that switches the toy on when your furkid gets close and is pre-programmed for five-minute bursts of play.

When is Amazon Prime Day 2021?
Sale time has come early this year, with Amazon's two-day price plummeting extraveganza moving from it's usual mid-July spot to June 21st and June 22nd. Woohoo!
With new deals being added every single hour until the Prime Day sale closes, we'll be keeping our pages updated with the latest and best buys across everything from pet supplies to accessories.
How Amazon Prime Day works
Basically, the Amazon Prime Day sale sees prices slashed across every department, with savings on pet products being as high as 80%. It's the perfect time to bag a bargain on items that might otherwise blow your budget.
Sound too good to be true? We promise it's not, but there's one small catch - you need to be an Amazon Prime member to claim the discounts. You can do that easily by visiting the Prime free trial page and there's zero obligation to continue after the sale ends - try it for 30 days for free and if you're not happy, simply cancel it.
It's worth noting that it's not just the annual sale you'll benefit from as a Prime member. As well as unlimited free delivery on almost any Amazon purchase, you also get access to Prime Video, Amazon Music, Prime Reading and more.
How to get the best Amazon Prime Day pet deals
Keep this page open or bookmark it so you can check it regularly. We'll be updating it continuously throughout the two-day sale to make sure you always have access to the biggest and best deals.
And why not create an Amazon wishlist? Save your most wanted/needed items to your Amazon account in a new wishlist called "Amazon Prime Day Deals 2021" so that you can monitor any price changes to your dream items and quickly move them to your basket for an easy check out when you've finished shopping.
Make sure you get in quick when you spot something you like as sought-after items with big reductions will sell out quickly.
Want more great deals? Check out our guide to the best Amazon Prime Day pet deals 2021 and these great Prime Day dog deals.
Steve writes and proofreads buying guides, news stories and advice for Pets Radar, drawing on his lifelong experience as a pet owner. Currently sharing his house with two cats and a dog, he draws on the many highs and occasional lows of pet ownership he has borne witness to in his writing. He has worked in publishing for 15 years as an editor, sub editor and writer on a range of titles, such as SciFiNow, How It Works, All About History, Real Crime and Horrorville. You can follow him on Twitter @stevewright22
Get the best advice, tips and top tech for your beloved Pets
Thank you for signing up to Petsradar. You will receive a verification email shortly.
There was a problem. Please refresh the page and try again.