Amazon Prime Day pet deals 2022: Bag a mammoth final day bargain
From beds and bowls to toys and treats, the last of the Prime Day pet deals are being rolled out now, with impressive savings of up to 60%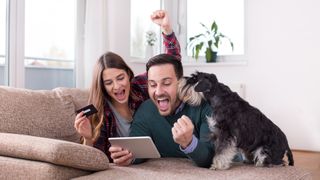 (Image credit: Getty Images)
What's better than one round of bumper Amazon Prime Day pet deals? Why, two of course! And that's exactly the treat that Amazon are dishing up this year with the recent announcement that July's monster sales event was to be repeated.
And while we might be in the final day of this sales extravaganza, there are still plenty of great savings up for grabs.
From the best flea treatments for cats to the best pet trackers that will let you keep track of your fur friends whereabouts and activity levels, this pre-Christmas sale is the perfect opportunity to grab yourself a bargain on quality items that normally come with far bigger price tags.
But while it's great to purchase these typically more expensive items when they're on sale, the focus of the Amazon Prime Day pet deals isn't solely focused here. If you're after savings on items that are generally more affordable, you'll find these slashed in price too - meaning it's a great time to stock up on all those essentials.
As we head into the last day of this bumper annual sale, now's your chance to score a great deal on a huge selection of pet products and accessories, so be sure to get in quick as in a few hours we'll be back to seeing those regular price tags!
PetsRadar's pick of the best Amazon Prime Day pet deals
Best Prime Day deals at Amazon US
Best Prime Day deals at Amazon UK