No cats in the White House: President's executive abode to remain feline free under new administration
Democrats continue break from the tradition of cats in the White House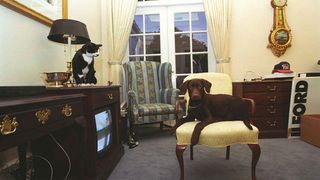 (Image credit: Getty)
There's been a lot of news about Joe Biden's dogs, but what about cats in the White House? Is America's most popular pet also going to be represented at the president's executive mansion when he takes over? Okay, okay, there are technically less US households that own cats compared to dogs (30 million compared to 50 million) but cat owners prefer owning them in bigger numbers so there really are more pet cats than dogs. So, surely they should be represented in the most famous home in America?
Donald Trump was the first US president in 100 years to not bring a pet with him to the White House at all, Obama just had a dog, and it seems that, sadly, the White House is going to remain a feline-free zone under President Biden. That's not to say he isn't a cat lover though, he even enlisted cute 'Demo-cat' volunteers in his presidential campaign:
We've got to come together to defeat Donald Trump –– Democrats, Independents, Republicans, and yes, even Demo-cats. pic.twitter.com/LtsTWy7MmIOctober 17, 2020
The last time a kitty joined a president when taking office was back in 2001. President George W. Bush arrived with his family cat India "Willie" Bush when he took over the White House. Despite being shy and reclusive, and choosing to hide in the presidential library away from prying eyes, she still was the star of her own page on the White House website.
Socks the White House cat
Previous to that there was a much more famous White House cat: back in 1993 an adopted stray cat named Socks helped Bill Clinton settle into his new home during his first term. Socks wasn't just a pet, he also became the host of the children's version of the White House website, was named principal pet of the first family, and his fights with his nemesis Buddy, a Labrador Retriever who also lived at the White House, made headlines in the New York Times. You can see one of their clashes captured by The Associated Press below:
Hilary Clinton even wrote a book about Socks and Buddy to explain how letters to the pair were answered and details of their rivalry. He also appeared with Bill Clinton on stamps issued in the Central African Republic, and the much-loved kitty inspired a song on the Oscar Brand album I Love Cats! All in all, Socks was an essential part of the White House, even sleeping next to Bill Clinton when his wife wasn't home.
'Royal' Siamese cats in the White House
Other presidents also had famous and distinguished cats, including the distinctively named Misty Malarky Ying Yang who joined President Jimmy Carter back in the 70s. The Siamese cat's unique name also inspired a song, this time an instrumental piece by Gabor Szabo, and she became known for yowling along with his daughter's – Amy Carter's – violin lessons.
Before that President Gerald Ford also brought a Siamese cat called Shan Shein into the presidential mansion, carrying on a tradition of 'Royal' Siamese cats in the White House which was started when President Rutherford Hayes' wife Lucy was gifted a cat called Siam by the American Consul in Bangkok in 1878.
Siam was the first documented Siamese cat to reach the United States after making a two-month journey from Thailand, and was known for making grand entrances during her stay at the White House. Siam completed a presidential menagerie of two dogs, a goat and a mockingbird causing President Hayes to remark that owning all these animals "gives a Robinson Crusoe touch to our mode of life."
Theodore Roosevelt also brought two cats to the presidential palace – Slippers and Tom Quartz, the latter named after a character in the novel 'Roughing it' by Mark Twain, of whom President Roosevelt was a big fan. Slippers was a six-toed gray cat known for sleeping in the hallways of the White House, meaning guests had to tiptoe around her on their way to meetings.
The first ever White House cat
The first president known to bring a feline to the White House was renowned cat lover President Abraham Lincoln. His affection for cats was legendary, regularly bringing strays home and he was known for playing with his feline friends for hours. So much so that when his wife Mary Todd Lincoln was asked if he had any hobbies, she simply replied 'Cats'. She also wrote in a letter to her husband that his son had taken up 'his hobby' when he adopted a stray cat himself.
The first White House cats were called Tabby and Dixie and were held in high regard, with Tabby taking its own place under the table at some White House dinners where Lincoln would feed his furry friend with a gold fork. When his wife mocked him for it, he replied, "If the gold fork was good enough for former President James Buchanan, I think it is good enough for Tabby."
Don't worry though, he loved Dixie too – he was once heard to exclaim, "Dixie is smarter than my whole cabinet. And furthermore, he doesn't talk back!"
With such a history of distinguished White House cats, let's hope President Elect Biden soon realizes his mistake and gets a cat-in-chief to help keep his dogs in order. Paws crossed!
Get the best advice, tips and top tech for your beloved Pets
Jamie Middleton is a freelance editor and writer who has been editing and creating content for magazines and websites for over 20 years. As well as writing about the pets he loves, he has helped create websites about tech and innovation like TechRadar.com, Innovate UK and TechSPARK, written programmes for music festivals, books on inventions and architecture, TV listings magazines, and edited publications about cars such as Lexus, Toyota and Jaguar. In his spare time he writes fiction books and poetry - or at least he does when he is permitted to by his cat Pirate, who enjoys the warmth of laptops too much to allow being creative to get in the way.