First ever scientifically-researched Christmas song for dogs is out now
Christmas song for dogs hopes to spread festive canine cheer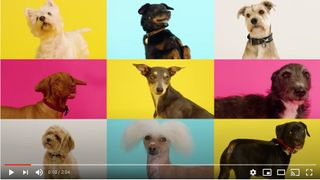 (Image credit: tails.com UK)
The world's first Christmas song for dogs has been pricking up dog's ears with its squeaky toy noises and common phrases since becoming available to stream across all popular music platforms.
The song, called 'Raise The Woof!', is made up of a variety of squeaky toys, high-frequency sounds, and classic canine phrases such as sit, treat, and good boy to help get tails wagging.
This reggae-based track, which was mastered at one of the world's most famous music studios, Abbey Road, was produced with the help of scientists, vets, and animal behaviourists in the hope it will help dogs feel 'happy and content'.
"Creating a song just for dogs to enjoy with their families seemed an ideal way to bring some light-hearted fun to a difficult year and get tails wagging nationwide", explains animal behaviourist, Carolyn Menteith.
And it sounds like it's been working a treat! One listener explained how they wished they'd heard it through their headphones first - "now my puppy Daisy thinks she's going for a walk to chase squirrels with her squeaky toys and then have dinner and a treat and it's only 8:45!"
So what are you waiting for? Play it for your dog and let us know what they think.
Get the best advice, tips and top tech for your beloved Pets
Chloe is a freelance writer, editor, and proofreader, who has more than ten years' experience in creating animal-focussed content. From National Geographic to Animal Planet, Chloe's passion for creating fact-filled features all about wildlife and the environment is evident. But it's not just wild animals that Chloe's fascinated by. Having written more than 75 articles for PetsRadar - and having her very own four-legged friend by her side - it's no wonder that her love of dogs (and, of course, cats) has grown exponentially.
Her website, www.chloemaywrites.com, and social media pages - @ChloeMayWrites on Instagram, Facebook, and Twitter - showcase her knowledge through daily facts and trivia tidbits. For example, did you know that snails have teeth?!