Meet the couple sharing their studio apartment with a cougar
Alexandr Dmitriev and his wife Mariya share their small home with Messi, their two-year-old adopted cougar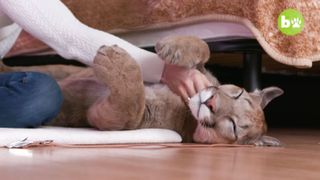 (Image credit: Future/Barcroft)
A small studio apartment in Penza, Russia might not seem the ideal place to keep a cougar, but after falling in love with the big cat at a petting zoo, Alexandr Dmitriev and his wife Mariya decided to give the runt a home – and he's slotted into life as a house pet with ease, even getting along swimmingly with his much smaller sphynx cat sibling!
The playful two-year-old big cat is not your average sized puma – he's a little small compared to his pals living out in the wild, he's also incredibly intelligent and incredibly domesticated, unlike the poor cats forced to be cooped up with Joe Exotic. In fact, Messi acts like the perfect blend between a cat (he purs and likes some alone time) and a dog (he responds to sit and goes out to play on a leash).
Although he might look frightening, often getting fearful reactions from people when taken on walks, he's a big softie at heart, displaying an exceptional level of affection towards his owners.
It's a full-time job caring for such a large animal though, and costs the couple a small fortune to keep his diet varied and tailored to a fussy mammal who needs a high level of protein and nutrients to keep him healthy. Alexandr also bathes the feline, trims his claws carefully every two weeks, checks his teeth regularly and grooms his fur every other day. In return, he is showered with love and licks from Messi.
The unusual pet kitty has, understandably, become somewhat of a local celebrity and accumulated a massive social media following via Instagram and YouTube channel, where Alexandr and Mariya document Messi's antics and adventures, from playing with puppy pals to donning his onesie to keep warm in the snow.
Get the best advice, tips and top tech for your beloved Pets