World's largest 10K run is on track to return thanks to COVID sniffing dogs
A recent study found that COVID sniffing dogs could detect positive samples with 96% accuracy – could they be key to the return of big events?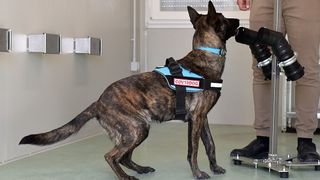 (Image credit: Gretty)
Adding to the long list of amazing ways dogs can use their sense of smell, COVID sniffing dogs are showing promise in the quest for the safe return of large events. With noses around 1,000 more sensitive than ours, dogs are already putting their sniffing abilities to use in the detection of explosives, drugs, low blood sugar in diabetics, and even some forms of cancer. Scientists were hopeful that the canines would also be capable of learning the scent of SARS-CoV-2 – the virus that causes COVID-19 – and the first recruits haven shown they're up for the challenge.
Around the world, training programmes have been set up to teach dogs to sniff out positive cases of COVID-19 using urine and sweat samples. In a new study, researchers at the University of Pennsylvania's School of Veterinary Medicine trained nine dogs with no previous medical detection experience. After just three weeks all nine were able to detect positive samples with an average accuracy rate of 96%, and faster than standard COVID-19 tests too. Sadly, though, there were limits to their abilities; this accuracy could only be achieved with the samples used during training, not new and unfamiliar ones, and the pups were confused by the scent of a person who was negative for the virus when they gave their sample but had recently caught and recovered from it. The Penn researchers believe there's still a long way to go before COVID detection dogs fully master the complex task and can be considered a reliable and practical way of testing for COVID-19 in public spaces.
Despite this, some event organizers are beginning to share their plans to return in a COVID-safe way with the help of the clever canines. The organizers of the Atlanta Journal-Constitution Peachtree Road Race announced at the weekend that the annual 10km running race will be going ahead on July 3 and 4 (split over two days to reduce numbers on the route), with COVID detection dogs listed among its planned safety precautions. Now in its 52nd year, the race began as a Fourth of July fun run but now holds the title of the world's largest 10K. Since 2011, organizers have allocated 60,000 places in each race through a lottery system. Many runners have expressed their excitement at the return of the race, but others have shared concerns over the health risks of such large crowds of people.
COVID sniffing dogs are likely to remain divisive for some time, and the science suggests they're not quite ready yet. But if training can be fine-tuned and studies continue to report high levels of accuracy, man's best friend could help large-scale events return safely and responsibly.
Get the best advice, tips and top tech for your beloved Pets
Victoria is a writer, author and communicator with a background in science and has recently completed an MSc in Science Communication. She also has a degree in Evolutionary Biology and has written for magazines including World of Animals, How It Works and Science+Nature. She grew up with rabbits and a spaniel, and has had her horse, Bernie, for 11 years.