Dana Perino's dog Percy rushed to vet after eating marijuana
Dana Perino's dog Percy was treated for showing symptoms of marijuana poisoning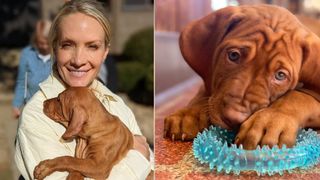 (Image credit: Twitter / @DanaPerino / Fox News)
Veterinarians across the country are reportedly treating an alarming number of dogs with marijuana poisoning. This comes after Dana Perino's dog Percy was rushed to the vet after he was experiencing symptoms of ingesting marijuana.
The popular TV host had noticed her four-month-old, Vizsla puppy displaying worrying behavior, such as difficulty walking, wobbling while resting and dilated pupils. After rushing Percy to her vet, the symptoms were immediately detected as the classic signs of ingesting some form of marijuana. According to Perino, this might have been caused from an edible that was discarded on the street or "a joint thrown down like a cigarette butt".
Fortunately, her beloved pup made a full recovery, but had to spend one night in the animal hospital with an IV to flush out the toxins. Providing much relief for Perino who believed Percy wasn't going to make it.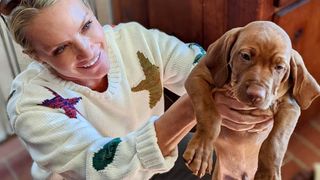 Percy's scare has highlighted the increase of similar cases, raising questions of how to treat your pets for marijuana poisoning. In fact, according to the Animal Poison Control Center, reports for pets eating marijuana were up 765% since 2019.
So what steps should be taken if you think your pooch has eaten marijuana? "If your dog has eaten weed you should call your veterinarian immediately," advises Dr. Joanna Woodnutt MRCVS, "They may ask you to induce vomiting with hydrogen peroxide, but you shouldn't do this except under the direction of a vet. It is more likely that they will recommend that you visit the clinic for further treatment, as vomiting alone is not usually sufficient."
Other symptoms of marijuana toxicity include shaking, urinary incontinence, agitation and vomiting, so it's vital for pooches to be treated immediately. "Intravenous fluids are very important for dogs with marijuana toxicity," continues Dr. Joanna Woodnutt MRCVS, "and a urinary catheter usually has to be placed to prevent the body from re-absorbing any marijuana that is excreted by the kidneys."
In the meantime, the entire nation can breathe a sigh of relief that their beloved Percy the pup is fully recovered and back on top form again!
Get the best advice, tips and top tech for your beloved Pets
Cynthia Lawrence is freelance lifestyle journalist. Starting off her career in national magazines, she moved to digital and e-commerce publications. When she's not reviewing exciting products, she is obsessed with home interiors and her neighbour's cat!