TikTok star Dexter the dog walks on two legs following tragic accident
Dexter the dog was hit by a van but taught himself to walk on his hind legs, and now he's an Internet star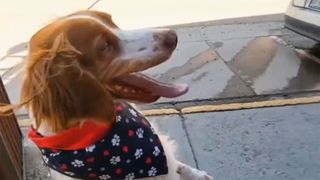 (Image credit: TikTok / @dexterdogouray)
Dexter the dog can be a surprising sight to come across if you catch him out for a walk in his hometown of Ouray, Colorado. The seven-year-old Brittany Spaniel is easy to spot when he's out and about, because he walks on his hind legs like a human, as a result of an accident when he was a puppy, and he's become quite the celebrity.
Dexter was just eleven months old when he escaped from his owners' yard in 2016 and was hit by a van; luckily for him he was found by his owner and rushed to a vet who saved his life. Sadly Dexter lost one of his front legs and the other was badly damaged and had to be pinned at the elbow, however that wasn't going to hold him back.
It wasn't long after surgery that Dexter first attempted to walk on his hind legs, and he quickly taught himself to walk upright rather than use the wheelchair that he'd been provided with. He's been doing it ever since, and gathering plenty of fans along the way.
While he remained more of a local celebrity for a few years, it all took off for Dexter the dog in June 2020 when he was filmed by a tourist while out for a walk and the footage was shared on social media.
Ever since then he's built a sizeable social following of his own, with 790,000 followers on TikTok and 147,000 followers on Instagram who can't get enough of his antics.
And his shortage of legs doesn't slow him down very much at all; he can walk at quite a pace, and he can run as well, faster than most people can manage. He loves to play and chase chipmunks and deer, and he also loves to snuggle and give hugs while standing up. What a sweetie!
You can see much more of Dexter the dog over on his TikTok page; he's also on Instagram and has his own website too. But if you want to see him in person, your best bet would be to take a trip to Ouray; he's a hard dog to miss when he's out for a run!
Get the best advice, tips and top tech for your beloved Pets
Jim is a writer, performer and cat-wrangler based in Bath, who last year adopted a pair of sibling rescue cats who turned out to be effectively feral, and has spent a lot of time since then trying to get them accustomed to people (some success) and each other (ongoing project).