Dating dog owners: Find out which dogs can increase your chances of finding love
Survey reveals the dog breeds that make you more attractive to the opposite sex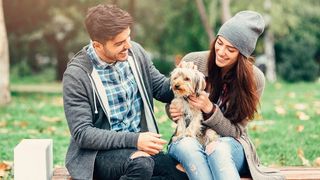 (Image credit: Getty)
Dating dog owners is an enticing prospect for some, believe it or not. It shows your caring, gentle side, and immediately marks out something you have in common.
Those of you on dating apps will have likely added some snaps of you and your dog enjoying the best of times and, with Valentine's Day approaching, you may find yourself rotating which pics you have on display. But is there a special formula for dating success? Or is there a particular breed that is more likely to help you find love by virtue of your shared association?
According to dog-friendly holiday specialists Canine Cottages, there is. They went to the effort of using the photos of one male and one female participant posing with a number of different dog breeds across a variety of dating apps, such as Tinder, Bumble, and Hinge, and checked out which breeds brought in the most matches.
Speaking to the Manchester Evening News, Shannon Keary, the campaigns manager at Canine Cottages, said: "We are truly a nation of dog lovers, and many people are more drawn to people with pet dogs as they are generally seen as more affectionate and loving.
"Ahead of Valentine's Day, we wanted to reveal exactly which dog breeds are the most 'swiped' on dating apps and see if there are any differences between the way men and women interpret different dog breeds."
The results for male voters swiping on women's profiles are:
Staffordshire Bull Terrier (121 swipes)
Chihuahua (110 swipes)
Mixed Breed (104 swipes)
Cockapoo (101 swipes)
Jack Russell (90 swipes)
German Shepherd (84 swipes)
Cocker Spaniel (82 swipes)
Labrador (70 swipes)
French Bulldog (65 swipes)
Shih Tzu (62 swipes)
While for female voters swiping men's profiles, the rankings were:
Jack Russell (20 swipes)
Cockapoo (19 swipes)
Labrador (18 swipes)
Mixed breed (17 swipes)
German Shepherd (15 swipes)
French Bulldog (13 swipes)
Chihuahua (12 swipes)
Shih Tzu (11 swipes)
Cocker Spaniel (10 swipes)
Staffordshire Bull Terrier (9 swipes)
So there you have it: guys, if you don't have a Jack Russell handy, borrow a friend's, and try to keep up the increasingly futile pretence that it actually belongs to you. We're sure that nothing will go wrong.
Ladies, men seem to respect you handling a Staffie. Although since most of the breeds included here seem to have a large number of swipes, it doesn't seem like you can go far wrong whoever you choose.
Get the best advice, tips and top tech for your beloved Pets
Steve writes and proofreads buying guides, news stories and advice for Pets Radar, drawing on his lifelong experience as a pet owner. Currently sharing his house with two cats and a dog, he draws on the many highs and occasional lows of pet ownership he has borne witness to in his writing. He has worked in publishing for 15 years as an editor, sub editor and writer on a range of titles, such as SciFiNow, How It Works, All About History, Real Crime and Horrorville. You can follow him on Twitter @stevewright22