$1,000 reward offered for stolen dog collar that belonged to President's pooch
New hope in locating priceless stolen dog collar is offered by a radio station serving listeners in the former President's hometown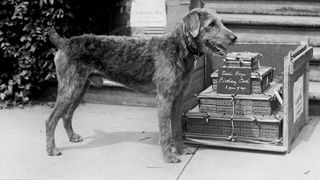 (Image credit: Getty)
WWGH-FM, a radio station based in US President Warren G Harding's birthplace of Marion in Ohio, had one of their listeners come forward with the reward money in the hopes of returning the famous dog collar to it's historic home.
This antique collar was worn proudly by the 29th US President's pet pooch, Laddie Boy - an Airedale Terrier who was only six months old when he arrived at the White House and became known as the "first dog". Handmade in 1923, the collar featured the pooch's name engraved on it surrounded by hearts.
However, in 2012, a groundskeeper spotted a ladder on the outside of the former President's home, resting next to a second-story window.
Upon investigation, it was discovered that the collar had been stolen and, because of the ladder's placement, this stirred speculation that the thief must have visited the property before the crime and knew exactly where to find the cherished item.
Radio show host, Scott Spears, revealed the concerned listener's generosity recently on his morning show, called Now With Scott Spears.
Scott confirmed that the radio show deposited the reward money into a local bank and that they will not benefit from this, acting solely as an intermediary with the information they receive in order to solve the mystery once and for all.
For anyone who has information that could help solve the mystery, people are encouraged to get in touch with the radio station or Marion (Ohio) Police Department on 740-387-2525.
Get the best advice, tips and top tech for your beloved Pets
Chloe is a freelance writer, editor, and proofreader, who has more than ten years' experience in creating animal-focussed content. From National Geographic to Animal Planet, Chloe's passion for creating fact-filled features all about wildlife and the environment is evident. But it's not just wild animals that Chloe's fascinated by. Having written more than 75 articles for PetsRadar - and having her very own four-legged friend by her side - it's no wonder that her love of dogs (and, of course, cats) has grown exponentially.
Her website, www.chloemaywrites.com, and social media pages - @ChloeMayWrites on Instagram, Facebook, and Twitter - showcase her knowledge through daily facts and trivia tidbits. For example, did you know that snails have teeth?!