Cat tree Black Friday deals - last chance to grab a bargain
The last of the cat tree Black Friday deals are still to be had. Grab them before they are gone forever!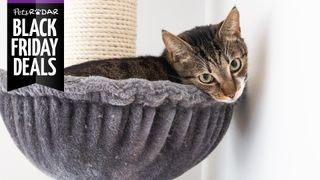 (Image credit: Getty Images)
There's still some great cat tree Black Friday deals to be bagged if you're quick enough so take a look through this updated list to see if there's one that catches your, or your cat's, eye.
Some of the best deals from the major retailers see them offering up to 40% off amazing-looking cat condos that feature observation platforms, hideaway caves and all manner of dangling toys to practice pouncing on.
As well as providing your feline with some fantastic playtime, these handy pieces of kit come complete with the best cat scratching posts to save your furniture from scratches and tears. Take a look through our list of bargains and find the perfect cat tree for your feline friend.
PetsRadar's best cat tree Black Friday deals
The best Cat tree Black Friday deals in the US
The best Cat tree Black Friday deals in the UK
Black Friday pet deals from around the web