Five great dog movies to watch over the holidays
These fantastic feel-good dog movies will have you crying and laughing during the holiday season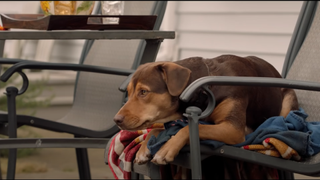 (Image credit: YouTube)
What better way to spend the holidays than by watching the best dog movies around? So grab yourself a cup of eggnog, get cozy on the couch, and take your pick. Enjoy!
Togo (2019)
Based on the true story of a Siberian Husky sled dog who defied the odds by traveling the longest leg in the 1925 Great Race of Mercy. His mission - to get the antitoxin to a remote part of Alaska before the diphtheria outbreak destroys the lives of thousands.
A Dog's Purpose (2017)
A Dog's Purpose follows the reincarnations of a canine, whose primary existence is to improve the lives of every human he encounters, and it all begins with the young boy who rescued him in 1962.
Lady and the Tramp (2019)
A family classic retold in a seemingly brand-new way. This live-action version of the Disney movie follows the same story of the pampered Cocker Spaniel and a streetwise Mutt but with added adventure and charm.
Hachi: A Dog's Tale (2009)
Based on a true story, the movie stars an Akita puppy (called Hachi) who is rescued by a music professor. The pair form a strong bond with Hachi even spending each evening waiting for the professor at the train station. However, after disaster strikes, Hachi refuses to accept that his beloved owner will never return.
A Dog's Way Home (2019)
Bella has a wonderful life with owner Lucas but when the two become separated, she must embark on a 400-mile journey before the pair can be reunited once again. On her expedition, Bella makes a host of new friends and helps bring joy to them all.
Chloe is a freelance writer, editor, and proofreader, who has more than eight years experience in media. With a passion for creating content all about wildlife and the environment, she can be found at www.chloemaywrites.com or @ChloeMayWrites on social media.
Get the best advice, tips and top tech for your beloved Pets
Thank you for signing up to Petsradar. You will receive a verification email shortly.
There was a problem. Please refresh the page and try again.