Revealed! The most popular dog breeds of 2020
As the year draws to a close, we take a look at 2020's most popular dog breeds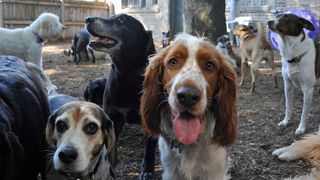 (Image credit: Getty)
Trying to decide on the most popular dog breeds can be a tricky task when you take into consideration just how many adorable types there are to choose from.
Thankfully, you don't have to decide! Every year, Rover (a network of pet sitters and dog walkers) compiles an official list to find out the country's consensus on the top dog breeds.
In the top spot for this year's most popular dog breed in the US, is "Mixed Breed". With plenty of other nicknames, such as mutt, mongrel, crossbreed, and designer, a mixed breed is a dog of multiple breeds. Often overlooked, mixed breed dogs tend to have fewer health problems, can live longer, and can also prove easier to train.
Ranked in second is the Labrador Retriever - a high-spirited sporting dog that makes for ideal companions for those who are active and enjoy spending time in the great outdoors.
Voted third in this year's list is the Chihuahua. This breed may be small but there's no denying that they are full of personality.
Fourth in Rover's list is the intelligent and protective German Shepherd, famous for becoming trusty, hard-working service dogs.
Last but not least in the five most popular dog breeds for 2020 is the Golden Retriever. Originally bred to gather fowl for hunters, this golden breed has grown out of its traditional role and become more of a home-loving, family breed.
Get the best advice, tips and top tech for your beloved Pets
Chloe is a freelance writer, editor, and proofreader, who has more than ten years' experience in creating animal-focussed content. From National Geographic to Animal Planet, Chloe's passion for creating fact-filled features all about wildlife and the environment is evident. But it's not just wild animals that Chloe's fascinated by. Having written more than 75 articles for PetsRadar - and having her very own four-legged friend by her side - it's no wonder that her love of dogs (and, of course, cats) has grown exponentially.
Her website, www.chloemaywrites.com, and social media pages - @ChloeMayWrites on Instagram, Facebook, and Twitter - showcase her knowledge through daily facts and trivia tidbits. For example, did you know that snails have teeth?!