Friendship between elderly neighbor and two dogs will melt your heart
A viral video showing the love between an elderly neighbor and two dogs who live across the fence is a powerful reminder of the bond between man and his best friend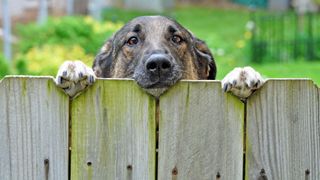 (Image credit: Getty Images)
The heartwarming friendship between an elderly neighbor and two dogs has netizans around the world feeling all the feels in a clip that's already been watched more than 2 million times.
Shared on TikTok, the viral video depicts a series of daily meetings between a man named Joe and two dogs that live on the other side of his garden fence.
In a range of scenes, Joe is seen petting the brown and black dogs, throwing treats to them and mowing his lawn as the two walk alongside the fence beside him.
As the montage takes us through winter and into summer, we're treated to a glimpse of this enduring friendship that spans the seasons.
The video, captioned with the words "We love neighbor Joe" and set to the music of "You've Got a Friend In Me", was posted on November 11 and has received hundreds of thousands of comments and shares.
TikTokers have flooded the sweet clip with comments, with one user writing: "This is the most precious video I've ever seen." Another fan wrote: "You can tell if a person is good based on how they treat animals. This guy is awesome."
While people have doled out plenty of love for the two dogs in the clip, it's Joe who has really stolen the show, with one person summing everyone's feelings up beautifully: "Take care of Joe! He's one in a million!" Amanda Lin, who posted the video that stars her two dogs replied with: "He really is."
Here's hoping we see a lot more of Joe's adorable relationship with these two dogs in future videos, because, let's face it, every canine and their human needs a neighbor like him.
Kathryn is a freelance writer with a passion for creating health and wellness, travel and wildlife content. Originally from New Zealand, her nomadic lifestyle has her currently fur baby-less. She scratches her pet parent itch by stealing frequent cuddles with any neighbourhood cat kind enough to indulge her.
Get the best advice, tips and top tech for your beloved Pets
Thank you for signing up to Petsradar. You will receive a verification email shortly.
There was a problem. Please refresh the page and try again.