Cats versus Christmas trees: 7 videos full of festive chaos
When it comes to cats versus Christmas trees, there can only be one winner…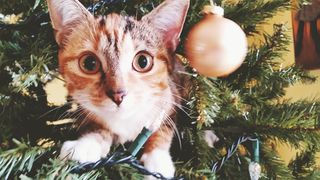 (Image credit: Getty)
Cats versus Christmas trees is a battle that seems to take place every year. There are ways to avoid this annual encounter, of course – read our guide to the seven ways to cat proof Christmas trees to find out more.
Regardless, we can't deny how amusing the results are – just as long as it isn't our tree being demolished, of course. We have a suspicion that the cats occupying these seven vides won't be getting any of the best cat toys as a reward for good behavior any time soon.
While pet safety at Christmas foremost is of course paramount, we wouldn't think any less of you should you choose to take a look at these videos of cats causing Christmas chaos in the vicinity of their Christmas trees. Here are the seven best that we've discovered...
1. Tux v tree
Tux is a cute little demolition expert who treats the Christmas tree like his very own activity gym. Bauble, beads, and lights make a great stand in for the best interactive cat toys, and even his owner can't resist letting him have a little fun before telling him "no!".
2. Cat Christmas tree disaster
Let's face it: there is something pretty cute about a cat in a Christmas tree, up to a point… For the owners of Sesshomaru, that point comes at about 59 seconds into this video when he/she brings the whole thing crashing to the floor.
3. Disaster strikes quickly
It's only four seconds long, but there's a lot to like about this video. Firstly, it's a beautiful-looking tree that gets felled after the cat leaps from the top. Secondly, the dog seemed to know it was coming a good three seconds before the owner, and finally, the owner's dismayed "NO!" as the tree comes crashing down.
4. Jazzy's Xmas mishap
Some cats manage to scale the heights of the Christmas tree, making it all the way to the top before bringing the whole thing down. Poor Jazzy here didn't even manage to get her back feet off the ground before the tree landed on her.
5. Christmas cat mishaps galore
You can't beat a compilation of Christmas cat carnage, so here's our favorite one in the form of Cats vs Christmas trees. Four and half minutes of festive feline fun that's guaranteed to raise a smile from all who watch it.
6. So much for 'cat-safe' Christmas trees...
This household decided to opt for a hanging Christmas tree this year, thinking it would be safe from the clutches of their cats. As you can see, they were wrong. Terribly, terribly wrong...
7. Cat vs miniature Christmas tree
We've seen them see of full-sized Christmas trees, so surely there's nothing to fear from a miniature incarnation of this festive pine, right? Wrong – there's a surprise in store for this inquisitive feline...
Keeping your cat safe at Christmas
The videos here are all good fun, but it would be remiss of us not to mention the danger that Christmas trees can pose to cats. Here, The Blue Cross offer some warnings on how to keep your cat safe at Christmas that include:
Get the best advice, tips and top tech for your beloved Pets
Dave has over 20 years experience in publishing during which he launched many successful magazine titles including How It Works, All About Space and All About History. He's also pet parent to a retired police dog called Rebel, who can't work anymore due to a health condition. When's not busy trying to amuse a boisterous, three-year-old German Shepherd, Dave's the Editor on PetsRadar.