It's Pet Tech Week on PetsRadar!
Welcome to Pet Tech Week, seven days of expert advice on how technology can help you and your pet live happily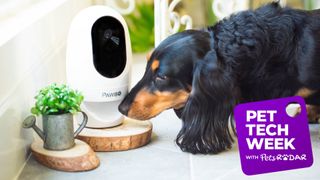 (Image credit: Pawbo)
Today marks the very first day of the very first Pet Tech Week on PetsRadar, and over the next seven days we'll be showcasing the many ways in which pet technology can improve the lives of pets and owners alike.
Visit every day this week, and you'll be able to enjoy a huge range of articles. We have buying guides, reviews and expert advice covering the latest in pet technology, including the best pet trackers, the best automatic pet feeder, smart bowls, the best pet camera, apps, and other high-tech kit including the best microchip cat flap. We'll also look at some real-world examples of how technology is helping animals and owners in everyday life. Each day will be themed around a core area of pet technology:
Monday: Pet tech for the home
Advice on the best kit for making your home a safe, secure and hygienic place for pets
Tuesday: Pet tech for health and wellness
Gadgets and kit to ensure that your pets are healthy, well-groomed and stress-free
Wednesday: Pet tech for food
The latest tech around feeding and nutrition, including smart bowls, feeders and online food subscriptions
Thursday: Pet tech for tracking
Tech dedicated to making lost pets a thing of the past
Friday: Pet tech for fun
High-tech toys for cats and dogs
Saturday: Pet photography
Advice and techniques for taking the perfect pet portrait or Insta snap
Sunday: Pet tech gifts for Christmas
From the functional to the frivolous, ideas for spending cash on your pet this Xmas
Win! Win! Win!
We'll also be running a competition every day during Pet Tech Week to give our readers the chance to win some fantastic pet tech prizes. You'll find the competitions here on the site, or on our Twitter and Instagram pages, and we'll let you know more details at the start of each day. Prizes include:
Pet Tech Week is a great opportunity to discover how this emerging technology can have a positive impact on the lives of you and your pets. From monitoring health habits and nutritional intake to fun toys for play time, PetsRadar will show you how technology can help owners to ensure that their pets are healthy and happy.
Get the best advice, tips and top tech for your beloved Pets
Dave has over 20 years experience in publishing during which he launched many successful magazine titles including How It Works, All About Space and All About History. He's also pet parent to a retired police dog called Rebel, who can't work anymore due to a health condition. When's not busy trying to amuse a boisterous, three-year-old German Shepherd, Dave's the Editor on PetsRadar.