Labrador dog visits his duck friends in the rain with his little bag of feed
TikTok video of excited Labrador going out in the rain to visit his ducks breaks the Internet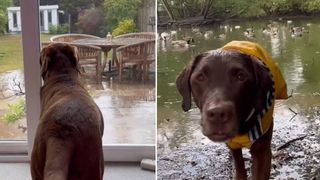 (Image credit: TikTok / @good.boy.ollie)
A TikTok video of a dog going out in the rain to visit his duck friends has gone viral, and has touched the hearts of many.
Ollie the Labrador is now an Internet star thanks to his heartwarming story shared on his TikTok page under the username @good.boy.ollie.
The video begins with Ollie staring out into the rain from indoors, with the caption, 'Oh goody, it's raining. Do you know who loves the rain? My ducks!'
We then see Ollie getting prepared to venture outdoors, armed with his little, yellow rain jacket, and 'special bag' filled with duck food.
Once Ollie is dressed, he trots out into the rain, until he comes across a group of his duck friends, waddling around in the rain, and swimming in the pond.
As Ollie looks on at his pals, the caption says, 'I like to watch them nice and peacefully', before the clip ends with, 'I wish I could be a duck boy everyday!'
It's no surprise that Ollie's adorable visit garnered over 17.8 million views and was shared 85.4k times. Out of the 14.1k comments, many netizens shared how impressed they were with Ollie's impeccable behavior, with one saying, 'Good boy Ollie. Most Labradors would not be able to stand and watch'.
Another commenter suggested, 'This should be a children's book', while a user shared her joy, 'Ollie genuinely gives me life. No matter how horrible my day is, when I go to bed and watch his little adventures, I feel so much better!'
Let's hope we do see more of Ollie and his duck tales!
Get the best advice, tips and top tech for your beloved Pets
Cynthia Lawrence is freelance lifestyle journalist. Starting off her career in national magazines, she moved to digital and e-commerce publications. When she's not reviewing exciting products, she is obsessed with home interiors and her neighbour's cat!