Monster the dog swims five miles back to shore after falling off her owner's boat
After being left heartbroken thinking he'd lost her forever, the dog's owner discovered she'd made her way back to dry land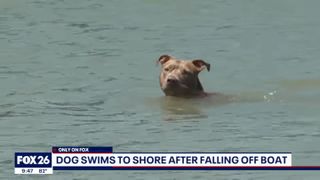 (Image credit: Fox26)
When Captain Keith "Kiwi" Soffes took his dog, Monster, out for one of their regular jaunts on his shrimp boat in San Leon, Texas, he didn't expect to be returning to land without his precious pooch - but, unfortunately, that's exactly what happened!
Keith told Fox News: "We just headed back to the dock. Monster was doing her regular old thing that she's always done, she just, like, goes back there are barks at the birds, does the Monster thing."
But suddenly, his canine pal was nowhere to be found. "We got to where we're going to load the net up on the back of the boat to come home, and she always goes back there, grabs the net, and starts pulling on it," Keith explained.
"And when she wasn't there for the normal procedure, I said, 'Where's she at?' It was in the middle of the bay pretty much, I mean open water, four or five miles from any type of land."
When he realised Monster was missing, Keith was absolutely heartbroken: "My heart just fell. I couldn't even speak, but I turned around, I got my GPS coordinates, and I said, 'We're going to find her.' I looked up and down the coast."
But after searching the coastline of Galveston Bay, Keith had no luck in finding Monster, leading him to post a picture of him and his beloved pup to Facebook in order to reach out:
"I lost the one thing in this world that I truly loved," the post read. "My best friend. Monster dog. We don't really know what happened. We think she fell off the boat on a slick calm day.. she had been on the boat her whole life cent she was a puppy."
He continued, asking if any of his Facebook contacts could keep an eye out: "I searched and searched.. hopefully somebody picked her up. We were around marker number 71. If anyone here's any talk about her please contact me. Totally heartbroken"
Keith's post got a ton of reactions, and five days after continued reaching out, he finally had a lead when a lady responded to his Facebook post.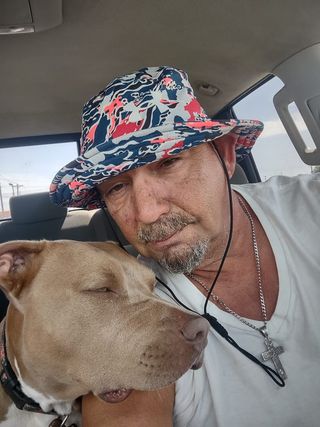 "A lady said, 'I saw a dog like that at the park.'" Keith explained to Fox. "I said, 'She couldn't have made it that swim. There's no way that dog swam that far. I said, 'I'm gonna look anyway. So, I started going house to house, and a lady said, 'I seen that dog swimming across the bay.' And I started crying, and I said, 'Man, at least I know she's alive."
Keith went to a trailer park across the street, where people had reported seeing his dog, offering a cash reward for Monster's safe return. Eventually he found the man who had found her, and saw her safe and sound tied up on a leash with the man's own dog, excited to see her owner.
"According to my GPS I think she swam between five and six miles, four, five, six miles," Keith commented – and he's incredibly thankful to everyone who helped him locate his beloved mutt.
"I think her swimming everyday saved her life. Just her being on a boat, her being used to the water."
Needless to say, Keith won't be taking her out on the water without a life jacket or tracking device again!
Get the best advice, tips and top tech for your beloved Pets