Loyal dog swims across lake everyday just to receive cuddles
Thunder the dog swims across great lengths to greet the neighboring campground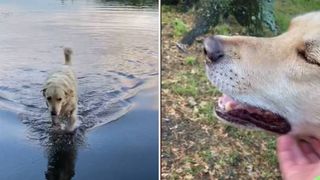 (Image credit: Amanda Vermeer / TikTok)
Thunder the dog is a frequent visitor to the neighboring campground; in fact this loyal Labrador Retriever swims across lake everyday to greet his human companions.
In footage captured by TikTok user Amanda Vermeer, this determined dog can be seen effortlessly swimming his way across a deep lake in order to reach the other side.
"There's a dog who lives across the lake from the campground where my family and I have been camping since I was little," Vermeer explains in-video. "His name is Thunder. He's 10 years old and he swims across the lake almost every single day. Rain or shine, Thunder will be coming."
"His favorite thing to do is swim across the lake, have a jaunt through the campground, get pets from all the people and all the kids, and get some treats if people are willing to share. Sometimes he even make it as far as the petting zoo."
"Whenever we see him, we grab him. We clip a leash on him and we call his dad. He's got his number written on his collar in sharpie but I also have it saved in my phone because he does this so often. And then we wait for his dad to come pick him up and we give him so many pets knowing full well we'll probably see him again the next day."
The video footage will come as no surprise to owners of Labrador Retrievers. One of the friendliest dog breeds, it's in their very nature to swim long distances and be completely devoted to people.
Yet, Thunder has another twist in his genetic make-up. He is half Labrador, half Husky meaning he has a streak of adventure and strong athletic ability baked into his very DNA.
"My neighbor's lab used to swim across the lake to the boat landing for the same reasons," commenter @squirrel1115 wrote. "At the end of the day the police car would bring him home!"
"That's such a long swim for a young dog, never mind a 10 year old one, he must be so fit to do this everyday," another TikToker said.
Amanda has since posted a few more videos of the hound making it to shore, and we hope he'll be having even more adventures in years to come!
Get the best advice, tips and top tech for your beloved Pets
Ashleigh is Digital Editor on PetsRadar. With over 8 years of experience in print and digital media, she has acted as an editorial lead on a variety of projects, with animal themes a keen interest. As an avid animal lover, you can often find Ashleigh checking out the newest trends in animal care or looking at cute cat videos on TikTok.