Pyrenees pup Murphy already weighs a staggering 86lb - and still growing
At 10 months old, Murphy the Great Pyrenees already weighs more than most other dogs, and his story's delighting the Internet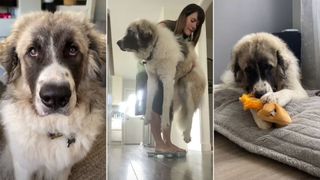 (Image credit: TikTok / Jade Stuart)
Puppies grow up so fast, don't they? One minute they're adorable little bundles of fur, the next they're fully-grown dogs, dragging you around by their leashes and guzzling their way through bowls of the best dog food. But if you think your dog's a little on the large side, spare a thought for the owners of Murphy.
Murphy's a 10-month-old Great Pyrenees-Anatolian Shepherd cross, and if you're down with lovably large dogs, you'll know that both the Great Pyrenees and Anatolian Shepherd are two of the biggest dog breeds in the world.
Jade Stuart and her family adopted Murphy when he was eight weeks old, at which point he weighed in at around 20lbs.
And since then, as puppies tend to do, he's just kept on growing. Right now Murphy weighs 86lbs, and he still has a long way to go before he reaches full size.
A fully-grown male Great Pyrenees can weigh anything between 100-160lbs, while an adult male Anatolian Shepherd will tip the scales at around 120-150lbs.
And so even though Murphy's already heavier than most dogs, he's probably a little over halfway to his final weight. That's a whole lot of dog.
Murphy appears to have inherited both Great Pyrenees and Anatolian Shepherd personality traits; he's a calm and gentle dog like most Great Pyrenees, and great with Jade's kids, but he definitely has a streak of that Anatolian Shepherd stubbornness.
And as you might expect he has an enormous appetite, but even he was a bit fazed by the appearance of a giant bone:
Murphy's also chewing his way through toys at a rate of knots, and also needs a serious amount of brushing every week to keep his coat in the best condition.
But despite all the work that owning such an enormous dog involves, Jade and her family wouldn't be without Murphy.
If you want to keep up with his growth, you can find him on Jade's TikTok and Instagram accounts.
Get the best advice, tips and top tech for your beloved Pets
Jim is a writer, performer and cat-wrangler based in Bath, who last year adopted a pair of sibling rescue cats who turned out to be effectively feral, and has spent a lot of time since then trying to get them accustomed to people (some success) and each other (ongoing project).