Pebbles the oldest living dog in 2022 snatches title from TobyKeith
When the oldest living dog was named in April, another older dog staked a successful claim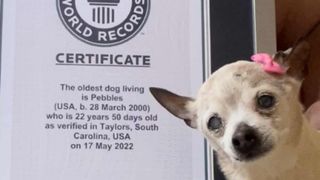 (Image credit: Guinness World Records)
The world's oldest living dog was only named last month but another cool canine has already taken the record after being found to be more than a year older.
Pebbles, a four-pound Toy Fox Terrier living in South Carolina, is 22-years and 63 days old today making her more senior than an adorable Chihuahua TobyKeith from Florida who is 21-years and 141 days right now!
The potential record was discovered by Pebbles' owners, Bobby and Julie Gregory. They saw a news report about TobyKeith and quickly realized their dog was older.
Having dug out evidence, Guinness World Records agreed and quickly amended the entry. TobyKeith entered the world on January 9, 2001 but Pebbles was born on March 28, 2000.
"Bobby was sitting on the couch, and friends and family started texting and calling about a story they saw about a 21-year-old dog getting the record," Julie told Guinness World Records. "When I saw TobyKeith's story all over the news, I applied."
Before the couple took Pebbles into their home, they had been looking for a large-breed dog. Pebbles, however, soon caught their attention.
"She was jumping and barking so much at Bobby that he had no choice but to pick her up and check her out," Julie said. "It was instant love the second the two met."
Remarkably, Toy Fox Terriers have an average lifespan of 13 to 14 years so Pebbles is doing extraordinarily well. She's also in good health so he should enjoy life for some time to come.
That means plenty of time to indulge her cozy lifestyle. Calm and loving, she spends her days listening to country music – especially Dwight Yokum and Conway Twitter – and sleeps until 5pm. She's cranky when woken but eats and drinks before staying up all night.
Julie says the secret of the pooch's longevity is likely to be plenty of love, attention and an abundance of food. Indeed, she celebrated his 22nd birthday with a bubble bath and meal of ribs, although her normal meals includes cat food because they are said to be higher in meat-based proteins rather than dog food!
"Occasionally she will sneak in a hamburger or hot dog," Julie said.
As for the record, the family are really pleased. "We are truly honored," said Julie. "Pebbles has been with us through everything: ups and downs, good times and bad, and she has always been the beacon of our lives."
Get the best advice, tips and top tech for your beloved Pets
David Crookes has been a journalist for more than 20 years and he has written for a host of magazines, newspapers, websites and books including World of Animals, BBC Earth, Dogs and Canines, Gadget and The Independent. Born in England, he lives in a household with two cats but he's also keenly interested in the differences between the huge number of dog breeds — in fact, you can read many of his breed guides here on PetsRadar. With a lifelong passion for technology, too, he's always on the lookout for useful devices that will allow people to spend more time with their pets.